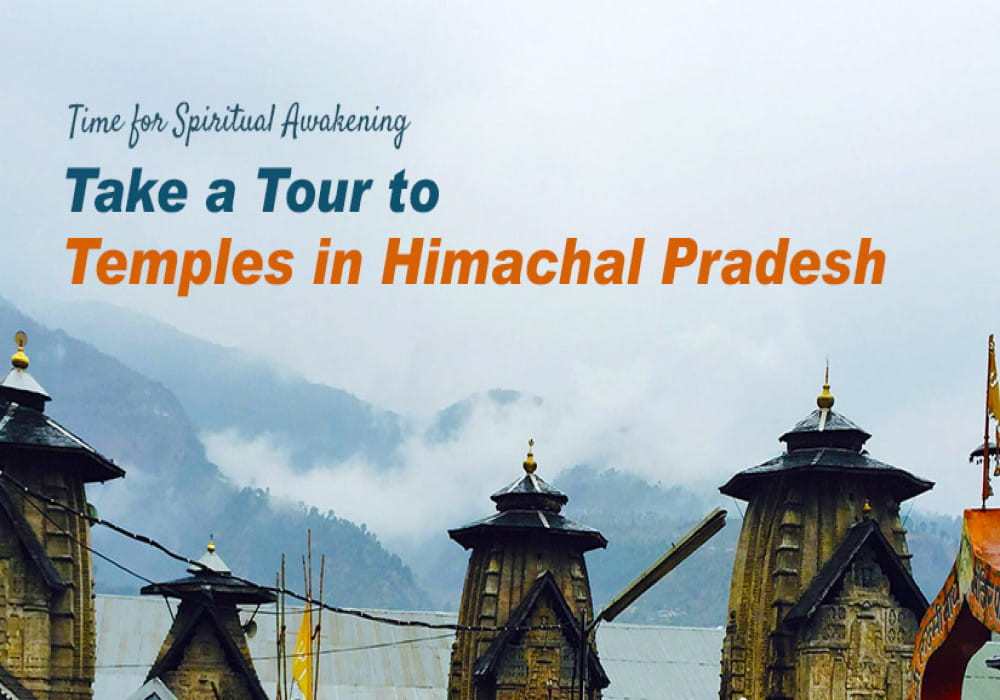 Top 10 Significant Temples of Himachal Pradesh
The Land of Gods, Himachal Pradesh is famous for many significant temples in India. Also famous as Dev Bhoomi, it indeed is a little piece of heaven where Gods chose to reside. This sacred land is a shelter for many celestial beings and has an intriguing mythical past.
One of the most significant mythological fables that are attached to many temples says that grief-stricken Lord Shiva was performing Tandava by carrying the corpse of his beloved, Goddess Sati. In order to stop the destruction, Lord Vishnu emerged and slashed Sati's body in 51 parts and a few parts of her body fell at various places of Dev Bhumi. These places are famous as Shaktipeeths and hold strong religious significance in Hindu culture.
These sacred shrines behold beauty from ancient times that attracts pilgrims from all over the world. If you wish to seek spiritual awakening, a Temple tour to Himachal Pradesh would pave your path for the most profound journey of a lifetime.

10 Famous Temples Of Himachal Pradesh
Adotrip would take you closer to your spiritual self and enlighten you with mythical and engrossing stories of the most revered temples in Himachal Pradesh!
1. Maa Chintpurni Temple
This majestic Chintapurni temple is a major pilgrimage center and one of the Shaktipeeths in India that is located in Una district, Himachal Pradesh. According to mythology, Lord Shiva carried the corpse of Sati and as he was wandering around in sorrow, the parts of Sati's body fell at different places and these places were named Shaktipeeths. It is believed that it was at this place where Sati's feet fell and since then a large number of devotees from different parts of India turn up to worship at the lotus feet of Maa Chintpurni.

Legends state that this pilgrimage came into being after the goddess revealed herself to Pandit Mai Dass, who was a dedicated devotee. Mai Dass built the temple around Devi's Pindi. Another fable attached to this religious site is that the Goddess sacrificed and chopped off her head to appease the bloodthirst of her companion. Maa Chintapurni also symbolizes self-sacrifice, as she sacrificed her head to serve her beloved.
2. Jwalamukhi Temple
Jwalamukhi Temple is situated in Jwalamukhi town, 35 km south of Kangra valley in Himachal Pradesh. The revered shrine is dedicated to Jwalamukhi - the Flaming Goddess who is also known as the Goddess of Light. According to mythology, Sati's tongue fell off the corpse at this site. The sacred temple was built by Raja Bhumi Chand Katoch of Kangra, who was a great devotee of Goddess Durga after he dreamt about this place. The dome of the temple is made of gold and the door is made out of silver plates. The great Mughal Emperor, Akbar visited the temple after hearing about perpetually burning flame.

After relentlessly trying to douse the flame with a stream of water, Akbar gave up and bow to the prowess of Jwala Mai. He offered a gold umbrella that is known as chhatra but it turned into copper as Goddess declined his offering. After this incident, Akbar became the greatest devotee of the Goddess and even today the stream of water drips into a tank within the temple complex.
3. Shri Naina Devi Ji Temple
Shri Naina Devi Ji Temple is amongst the holiest places of worship in Himachal Pradesh. It's one of the 51 Shaktipeeths, which is located in Bilaspur district. This sacred shrine is devoted to Naina Devi who is considered as an avatar of Goddess Durga. In keeping with legends, this holy shrine is constructed in a very place where one eye of Sati Devi fell when Lord Vishnu ripped her body into 51 pieces so as to pacify angry Lord Shiva.
Naina Devi temple was built by Raja Bir Chand in the 8th century. It's perched upon a hillock, which is now connected by a ropeway. This topographic point is visited by a large number of pilgrims and devotees round the year and particularly during Shravan Ashtami and the Navratri of Chaitra and Ashwin.
4. Chamunda Devi Temple
Chamundadevi Temple is the abode of Goddess Chamunda Devi is located at the bank of Ban Ganga river that is 10kms away from Palampur in Kangra district of Himachal Pradesh. Chamunda Devi is considered as the Mother Goddess and is held with utmost faith not only by the locals of Himachal but also by devotees from all over India. According to the legend, Chamunda Devi emerged from an eyebrow of Goddess Durga when demon kings Shumbha and Nishumbha tried to catch hold of her. She got so furious that out of rage that she killed both the demons at this very spot where the temple was built. She also killed Chand and Munda in a fierce battle.
The significant sacred temple of Himachal also houses a bathing ghat where devotees take a holy dip. The idol in the main temple is concealed beneath a red cloth and devotees are not allowed to touch the sacred idol of Maa Chamunda. Though, Chamunda Devi is the wrathful form of Maa Durga however she is considered as the Mother Goddess and is held with utmost faith not only by the locals of Himachal but also by devotees from all over India.
5. Tara Devi Temple
This holistic shrine is devoted to Goddess Tara Devi that is located on the western side of Shimla within the enchanting hills of Tarav Parvat. The glorious Himalayas at the backdrop and enchanting view of the valley adds to the charm of visiting Tara Devi Temple. Dated back to 250 years old, the temple complex was housed with a wooden idol of Goddess Tara Devi.

Later when the temple was shifted to its present location, the wooden idol got replaced with an idol that is made with a rare combination of eight elements. One can spend some time here to appease one's senses and revitalize one's soul. During the festive seasons, the temple complex is thronged with an enormous number of devotees while during normal days, it's extremely calm and placid.
6. Bajreshwari Temple
Bajreshwari Temple also known as Kangra Devi Temple is yet another Shaktipeeth where the left breast of Goddess Sati fell. It is located in Nagarkot in Kangra valley. The main deity of this temple is Brijeshwari Devi who is also famous as Vajrayogini. It is a legendary temple that was originally built by Pandavas after they dreamt of Goddess Parvati who is the consort of Lord Shiva.

Another legend associated with the temple states that Maa Durga got some injuries after killing Mahishasura in the battle and to heal her injuries, Goddess halted in Nagarkot and applied butter on her body. Every year on the day of Makar Sankranti, the Pindi of Goddess is covered with butter and the festival is celebrated to mark this day.
7. Shri Hanuman Mandir/ Jakhoo Temple
Jakhoo temple is one of the famous temples from ancient times That is situated in the heart of Himachal Pradesh, Shimla. This holistic shrine is dedicated to the Hindu Lord Hanuman. It is situated at a height of 8500ft and its giant Hanuman statue makes an important landmark of the town.
Each year a festival is held in Dussehra. This temple holds special significance as it is said that when Lord Hanuman went in search of Sanjivni Booti to revive Lakshman, he took a halt at this location where later the temple was built. The temple is easily accessible by foot, pony, taxi, or ropeway.
8. Sankat Mochan Temple
Located at an altitude of 1,975m, this heavenly abode of Lord Hanuman lies on the Shimla-Kangra Highway. Sankat Mochan Temple is the second most visited temple of Shimla after Jakhoo Temple. With its unflappable vibes and breathtaking views, all the devotees get attracted to it. This temple was established in 1950 by the god-fearing figure, Baba Neem Karori Maharaj, who was so mesmerized by the wonders of Shimla that he spent 10 days within the forest and decided to determine a Hindu shrine.
The temple is named after Lord Hanuman, however, idols of Lord Ram, Shiva, and Ganesh are also placed alongside. Splendid architecture, majestic view, and divine aura are major attractions of the temple that allures pilgrims and also tourists.
9. Hadimba Temple
Hadimba Devi Temple, locally called Dhungri temple lies amidst the snow-covered hills of Manali which is one of the famous hill stations of Himachal Pradesh. It's an ancient cave shrine devoted to Hidimbi Devi, wife of Bhima, one of the five Pandava brothers of epic Mahabharata. This beautiful shrine is made with unique wooden architecture and is situated in the vicinity of thick cedar forest, Dhungiri Van Vihar at the foot of the Himalayas.

The structure of the temple was built way back in 1553 by Maharaja Bahadur Singh. Associated with the Hindu epic Mahabharata, this revered Hidimba Devi temple holds monumental importance to Hindu pilgrims. The temple is an absolute wonder not only for devotees but also for nature lovers due to its exceptional location.
10. Shri Bhima Kali Temple
Best known for its unusual architecture and wealth of wood carvings, the Shri Bhima Kali temple at Sarahan is situated at an elevation of 2150 meters and is about 180kms away from Shimla. This 800-year-old Temple is one of the most unique shrines of the amazing hill state that is dedicated to mother Goddess Bhimakali who is believed to be the presiding deity of the Rulers of former Busharh state. As per the legends, the manifestation of the goddess is marked to the Daksha-Yajna incident when the ear of Sati Devi fell at this place.