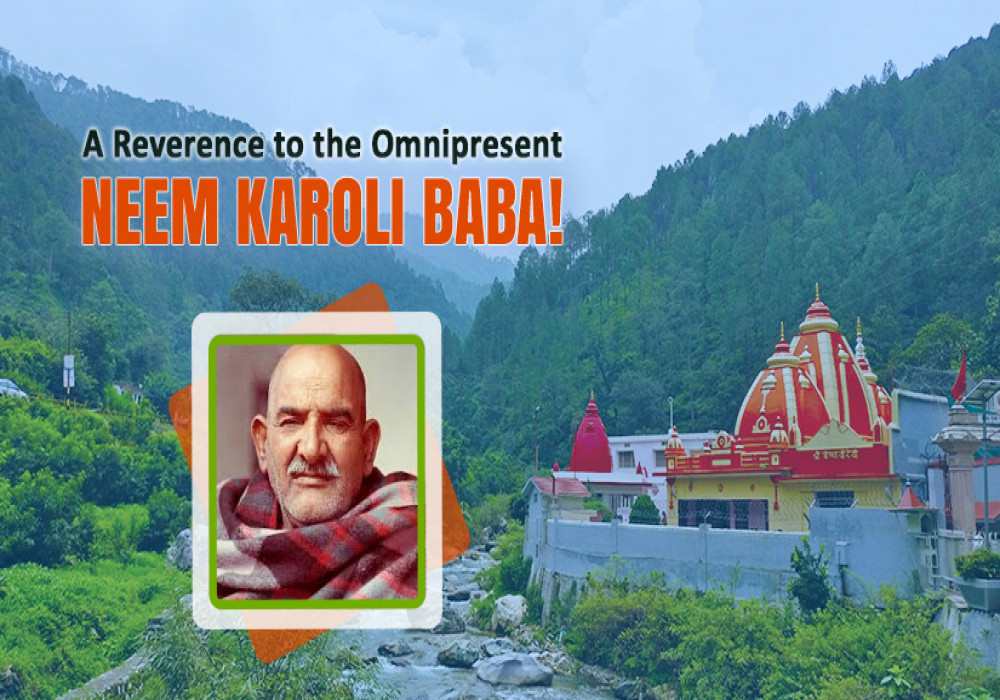 Travel to Kainchi Dham -Your Unity With the Divine !
Take a Spiritual Tour to Kainchi Dham Ashram near Nainital, Uttarakhand – the divine abode of Neem Karoli Baba who was a vehement devotee of Lord Hanuman. Situated at the pristine location on the banks of River Kosi the river that has witnessed the Godhead's presence - a divine temple complex built-in 1964 has many mystical fables attached to it.

"Saints and Birds don't collect. Saints give away what they have" - pearls of wisdom by Neem Karoli Baba touched my heart and trust me, I am moved! We have come across many saints and sages however; very few follow the philosophy they themselves preach. The quintessential Neem Karoli Baba's minimalistic abode speaks tall of his ideology and how he lived an austere lifestyle - with barely a blanket around him whilst he could afford luxuries. The right place and the right practice can help you connect to your spiritual self. Kainchi Dham in the Kumaon region of Uttarakhand is a pilgrimage for the seekers and wanderers whose quest prompts them to find the purpose of life. The deeper you delve within, the more you will be at solace with thyself. Whenever we are morally and spiritually under crisis, spiritual journey puts us on the righteous path. Travel to Kainchi Dham Ashram in the Pursuit of Blessings by the Supreme!
Lakshmi Narayan Sharma with two Indian deities vested in his name - the revered sage rose to the fame of Neem Karoli Baba due to his mystical proficiency. He was born to a Brahmin family in 1900 CE at Akbarpur, Uttar Pradesh. At a very young age of 11, he left his home to seek nirvana. He rambled many places, turned every stone to unravel into a Sadhu – the holy man who lived on meager means and abstained himself from worldly indulgences. Imperceptibly honing his prodigious consciousness, by the age of 17 he mustered abundant psychic powers (siddhis). However, his parents insisted that he must lead a settled life and persuaded him to marry. He stayed detached from the worldly pleasures and left home soon after his third child was born. He was yearning to attain Siddhi and Moksha. And with his spiritual evolution, he became the sentient of the past, present, and future.
Besides, the Indian adherents and believers visiting Kainchi Dham, there is a legion of extrusive names from the western countries who have undaunted belief in Neem Karoli Baba. For instance, Julia Roberts – the famous Hollywood actress changed her religion from Christianity to Hinduism after she found her spiritual union with Baba. Steve Job's spiritual quest drew him to India in the year 1974. He was accompanied by two of his thick friends, Reed College and Dan Kottke. They went to meet Neem Kiroli Baba however; he passed away a month before they reached Kainchi Dham. They could not speak to him in person but felt his omnipresence that guided them through their testing time. Mark Zuckerberg, founder of Facebook, when was going through a rocky patch in professional life was advised by Steve Jobs to visit Kainchi Dham to seek Baba's guidance and blessings. Steve Jobs passed away in 2003, however, many eminent personalities have been visiting the Dham henceforth. After learning the belief of these successful people sans a doubt, Kainchi Dham is the path to the Creator, the supreme. Everything is laid for you. Your path is straight ahead of you. Sometimes it's invisible but it's there, we just have to hold a hand that guides us through the darkness and enlightens our consciousness.
His disciples and devotees have shared many episodes boasting of his miraculous capacity, ubiquitous being one. Nevertheless true, many of Baba's close disciples stated facts of the experiences they revered about his bi-location. It is known that Babaji had conquered space and that he could be anywhere and in any place he wished within the fraction of a second. During the opening ceremony of the temple in Panki, Kanpur he was solicited to grace the occasion with his presence to which he was reluctant. On the day of the inauguration, he was resting in his room till 12 noon at Kainchi Dham. He asked his devotees not to disturb him as he was unwell and then locked himself in the room. Many people stood outside his room to get his darshan and he opened the door of his room only at 12. The next day a disciple from Panki temple came with prasad stating Babaji left temple at 12 suddenly without even taking prasad which brought him all the way to Kainchi Dham. The disciples at Kainchi Dham were stunned as they all saw him there in his room the whole day.
Another spellbinding incident that prompted me to know the holy man even further was when he boarded a train without the ticket. The TC charged at him in fury to discover that he was travelling in the first-class compartment without a ticket. The train was made to stop especially to get him off the train. As he disembarked, the TC sent a signal to start the train. To everybody's shock, the train didn't move despite trying innumerable times. Another engine was joined to start the train but the efforts went in vain. Someone in the train coaxed TC to ponder on the jibe he took on the Baba who was made to get off the train. He and his staff members vehemently refused to this being a reason for the train not to start but after trying too hard and with no resort left, they went in search of him and sought his forgiveness. Beseeching him to board the train to which Baba conceded with two conditions - to build a station at Neeb Karoli and to treat saints with respect. It was no less than a miracle that as he sat in the train, it started with a jolt.
Having performed myriad miracles, his glory can fill this fathomless space. Neem Karoli Baba has enlightened many wandering souls and he has been a savior to many lamenting hearts. Endeared in the hearts of his disciples and the places he dwelled in, his presence can be felt in Kainchi Dham even today. Some feelings for sure are eternal and we are proud that the land of India has blessed us with many omniscient treasures. May Baba's love and blessings manifest upon each one of us. Love everyone, Serve everyone, Feed everyone, Remember God!
We hope that you enjoyed reading this and it must have triggered your quest. To track more information about the hidden gems in India, stay connected with Adotrip.
Kainchi Dham AshramTimings:

Open all days in a week, you can visit Kainchi Dham anytime in-between 6:30 am to 6:30 pm
How to Reach Kainchi Dham Ashram:
By Air: Nearest Airport is at Pantnagar which is 71kms away from Kainchi Dham. You can take a bus further ahead or hire a cab.
By Train: Nearest station to Kainchi Dham is Kathgodam which is 37kms away from Kainchi Dham. You can take a bus or a taxi from there.
By Road: It is on Nainital-Almora Road which is 17 km uphill from Nainital. It takes around 40 minutes to reach Kainchi Dham from Tallital Bus Stand.
--- Published By Shradha Mehra