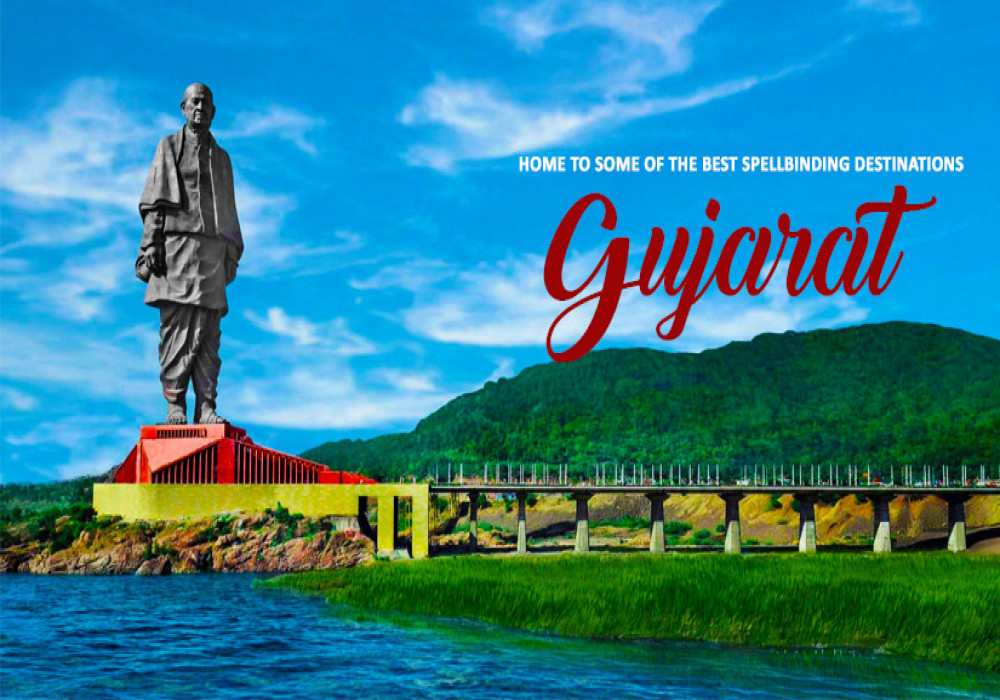 7 Unbeatable Tourist Places In Gujarat For An Incomparable Experience
With so many things to do and tourist places in Gujarat, the easternmost state of India is a popular tourist destination among travellers from all over the world. Gujarat boasts historical monuments, remnants of ancient civilizations, enchanting scenic beauty and long stretches of beaches that casts a spell on anyone who visits the place.
Gujarat is the only place where you can have a glimpse of Asiatic lions in their natural habitat. There are many other things that travellers can enjoy being a part of Gujarat like folk dances and scrumptious local dishes that are famed all over the globe.

7 Amazing tourist places in Gujarat
Steeped in a certain charm and history, there are numerous tourist places in Gujarat. Keep reading to know more!
1. Gir National Park
Gir National Park is the only natural habitat of Asiatic lions in the world. The forests of Gir are the best place to come face to face with the King of the jungle. Surely one of the best tourist places in Gujarat, Gir National Park is home to a variety of rare wild animals such as hyena, blackbucks, fish owls and many others.
The forest is spread over 1412 square kilometres of land and is the only forest in India that has a community living inside its vicinity. The safari inside Gir National Park gives an eerie feeling of anticipation while looking for Asiatic lions and it is a must-do activity whenever you are in Gujarat.
2. Somnath Temple
If you are Indian, then you must have heard the name of Somnath Temple as it has interesting stories and ancient history associated with itself. Somnath Temple is one of the most sacred Jyotirlingas of Lord Shiva and another popular mention on this list of tourist places in Gujarat.

Lying on the shores of the Arabian Sea is now just another religious site, it is a thing of wonder. The temple has been built and destroyed several times, first, it was built by Lord Soma in gold, then it was built by Lord Shiva in Silver, by Lord Krishna in wood and then finally, by King Bhimdev in stone. The temple is now secure and stands tall attracting numerous visitors to seek blessings.
3. Rann Of Kutch
One of the most beautiful tourist places in Gujarat that you could ever lay your eyes on, Rann Of Kutch is nestled between the Thar Desert and the mighty Arabian Sea. The whole area is covered with sand and salt that is no less than a natural wonder.

It is best to spend a night here as on the nights of the full moon, the whole area sparkles like diamonds and radiates a surreal sense of calm. On the full moon nights, cultural programmes are held, tents are pitched and the wondrous lands are yours for the night. It is one of the most mesmerizing places to see in Gujarat.
Also Read: Modhera Dance Festival Of Gujarat Is A Great Example Of Vibrant Cultural Diversity

4. Ahmedabad
Ahmedabad is the largest city in the state, is probably the first place that comes to mind when someone talks about Gujarat. The city is steeped in rich heritage and culture making it one of the best tourist places in Gujarat. Some of the major attractions of Ahmedabad include Sabarmati Ashram, Akshardham Temple Complex and Kankaria Lake.
The international kite festival held every year in the city is a must-see event if you are planning to spend a day here. The sky gets full of colourful kites of every size and shape, which is a sight to behold.

5. Saputara
The only hill station in Gujarat, Saputara is no less than a blessing for the people of Gujarat to escape from the scorching heat of the rest of the state. Situated near a densely forested region, Saputara is one of the best tourist places in Gujarat which is drawing a lot of attention from travellers around the world. The place has a giant lake surrounded by many resorts.

The temperature is not that cold here but the best time to visit Saputara is during the monsoon when the place is covered by the mist. The major attractions of Saputara include an artisan village, boat club, tribal museum, cable car and many other activities to do. It is one of the most romantic places in Gujarat that you should add to your bucket list.
6. Laxmi Vilas Palace