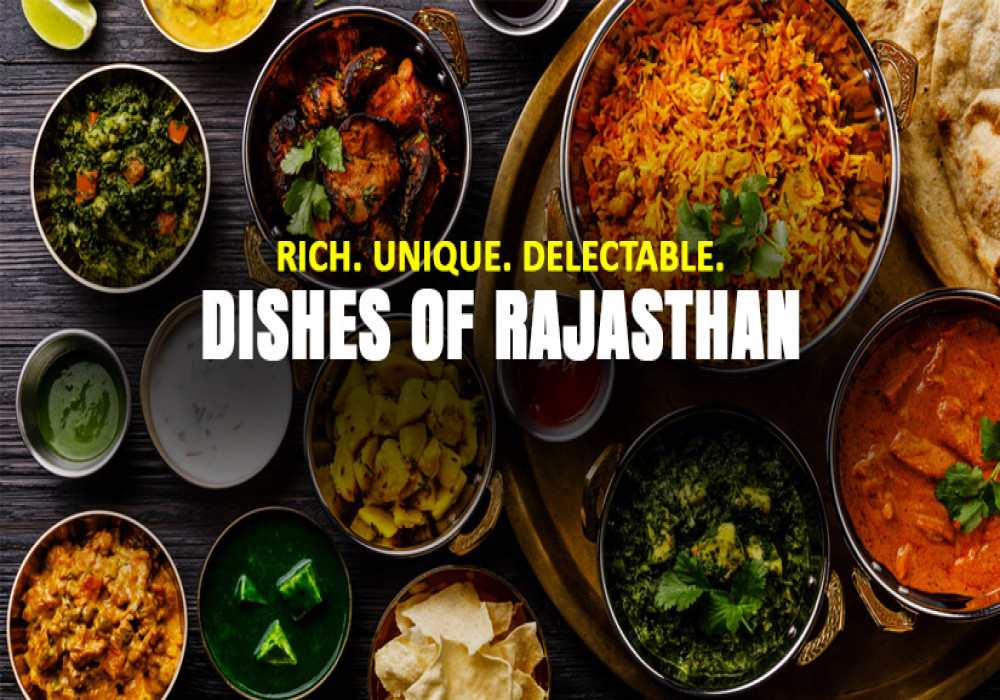 Famous Food of Rajasthan | 10 Iconic Dishes From Elaborate Rajasthani Menu
Rajasthan, just like its rich cultural heritage is also famous for its gastronomy culture. The famous food of Rajasthan reflects the grandeur of typical Rajputana dishes cooked in royal kitchens. These traditional recipes carry a rich aroma of spices and ingredients that are delicately packed and served with love.
The elaborate menu of Rajasthan includes both vegetarian and non-vegetarian recipes that bring connoisseurs from all over the world. Yes, people not only travel to Rajasthan to discover its enriching heritage but also to grab a grand culinary experience that definitely leaves a lasting impression. So, run down your eyes on famous dishes of Rajasthan if food is your agenda while travelling.

Famous Food of Rajasthan
Though the menu of Rajasthan is quite elaborate, we have picked just 10 famous recipes of Rajasthan that will leave you drooling. Here we go!
1. Dal Bati Churma
Dal Bati Churma is the traditional food of Rajasthan that is popular all over the world for its rich ingredients and scrumptious taste. The combination of crisp balls dipped in ghee, Panchkuti dal (combination of 5 pulses) with Churma as a sweet dish is quite appetizing and loved by all. The tempting aroma of ghee and flavours of dal makes Dal Bati Churma one of the most famous foods of Rajasthan. This quintessential recipe is absolutely worth trying!
2. Laal Maas
One of the most iconic non-vegetarian dishes of Rajasthan, Laal Maas is a fiery combination of delicate lamb cooked in a blast of spices that releases an intense aroma. The bright colour dish is not only appealing to the eyes but also tastes heavenly. Perfect with piping hot paranthas and dripping ghee, this typical Rajasthani mutton curry will leave you craving for more.
3. Pyaz ki Kachori
Rajasthani people are madly in love with Kachori. With so many variants of this scrumptious snack, you will find tempting vendors frying these fireballs at every corner of Rajasthan. Stuffed with finely chopped onions and different spices, this famous food of Jaipur is served with chutneys and Dahi. Pyaz ki kachori is one of the best and most famous Kachoris that can make anyone cheat on their diet.

Also Read: 10 Famous Places To Visit In Rajasthan
4. Mirchi Vada
Famous food of Jodhpur, Mirchi Vada is yet another mouth-watering snack that is a must-try on your trip to Jaipur. Packed with spices and stuffed with mashed potatoes, the fiery Chilli Vadas is the ultimate snack that goes perfectly with morning and evening tea. Mirchi Vadas of Rajasthan are available at almost every eating joint for breakfast as well. Served with tangy tomato chutney, the unique flavours of Mirchi Vada are enough to tantalize your taste buds.

5. Gatte ki Sabzi
One of the typical dishes of Rajasthan, Gatte ki Sabzi is served in Rajasthani platters. This amazing food of Rajasthan is not only cooked in every kitchen but has so many variants that one can forget the count. Shahi Gatte, Gatte Pulao and Masala Gatte are some of the famous and delicious recipes that are worth trying. Don't miss out on this traditional dish if you really want to experience the real taste of Rajasthani cuisines.
6. Kadhi