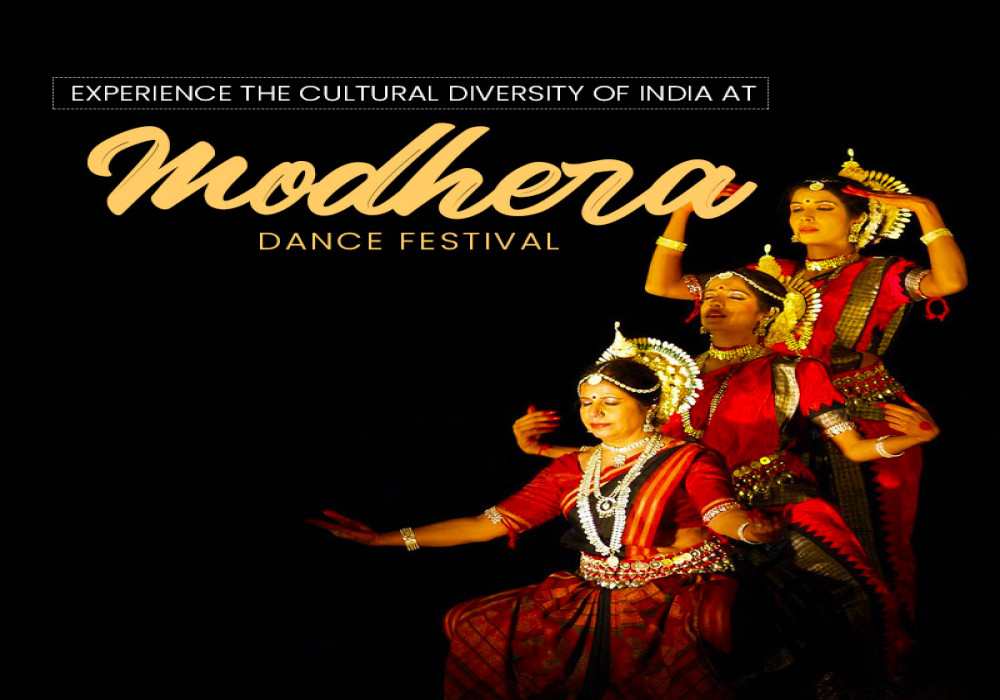 Modhera Dance Festival of Gujarat is a Great Example of Vibrant Cultural Diversity
India is a country where there is no scarcity of vibrant culture and festivals. Go to any corner of the country and you will find an event or a local festival that showcases the spirited culture of the place such as the Modhera Dance Festival which is just around the corner.
This festival of classical dance, music, culture, and art is a shining beacon to the diverse culture of northern Gujarat. It attracts a huge crowd of national and international admirers of classical music, dance, and art. This year, it will be held from 19th January to 21st January.

This prestigious festival of Gujarat gained an immense reputation among art lovers. It is considered to be an ideal time to visit Gujarat during the festival because it attracts tourists from all over the world. Other than enjoying the spectacular back to back shows, tourists can enjoy the architecture of the Sun Temple.
About the Modhera Dance Festival
It is organized by the Gujarat Tourism Corporation in Modhera, Mehsana district of Northern Gujarat. The Modhera festival is locally known as Uttarardh Mahotsav. It is celebrated to promote the age-old art, dance form, and culture that our country is proud to have. Artists, dancers, and musicians come from every corner of the country to take part in this extravagant show and to exhibit their praiseworthy talents.
The festival takes place at the Modhera Sun Temple grounds. The venue is decorated with colourful lights aiming towards the Sun Temple to make it even more illustrious than it is. The event starts in the evening with back-to-back jaw-dropping performances by the most talented groups and individual artists from around the country which fills the colours on the chilly January nights.
Visitors can enjoy not just one but many different indigenous dance forms in this festival, some of them are Bharat Natyam, Kuchipudi, and Kathak making Modhera one of the best places to visit in Gujarat.
Background & History of the Modhera Festival
The Modhera Dance Festival is celebrated on the Sun Temple grounds which was built by the Solanki King Bhimdev I to honour the Sun God or Surya Dev. The name 'Uttarardh' comes from two different words - 'Uttar' and 'Ardh'. Uttar means north in English, which comes from another festival which is celebrated just before this one known as 'Uttarayan'. Uttarayan marks the start of the journey of the sun towards the north. Ardh means half or halfway journey of the sun towards the north.
In ancient India, dance was considered to be very sacred. The ancient dance forms were developed and adopted by the people to honour different gods and goddesses. And this is how this festival came into being. For generations, people of Modhera used to perform a particular dance to honour Surya Dev which later turned into this three-day spectacular event.
How to reach Modhera