Gujarat is amongst the fast-developing states in India that is home to several architectural marvels and offers a wide spectrum of art, history, music, and culture. Famous for Asiatic Lions, silver sands of Rann of Kutch, bustling capital city Ahmedabad which is the first heritage site declared by UNESCO, World's tallest statue -Statue of Unity, Gujarat is the most attractive travel destination in India. Intriguing ancient cave paintings, revered temples, historic murals, wildlife sanctuaries, pristine beaches, and exquisite handicrafts add charm to the state. Gujarat tourism sector basks in the glory of its rich culture and heritage.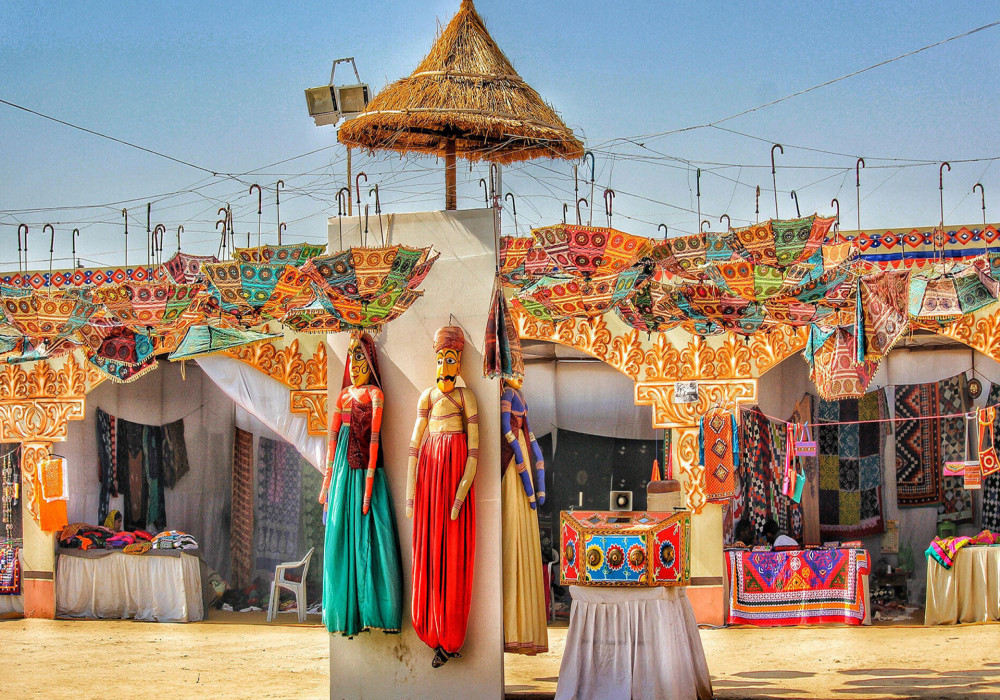 History of Gujarat
The northwestern state in India - Gujarat has been blessed with numerous harbors and ports. Gujarat not only has a prime location but has been a hinterland from the very beginning. The name of the state is synonymous with the ethnic group of India, the Gujjars who are known to be the first settlers of Gujarat. Historical relics excavated from Lothal, Rampur and river beds of Sabarmati, Narmada, and Mahi that prove the traces of Indus Valley Civilization and Harappan civilization in Gujarat. Ruled by many dynasties, the state was controlled by the Mauryan Empire, the Saka's, the Solanki's, and also by the Mughals.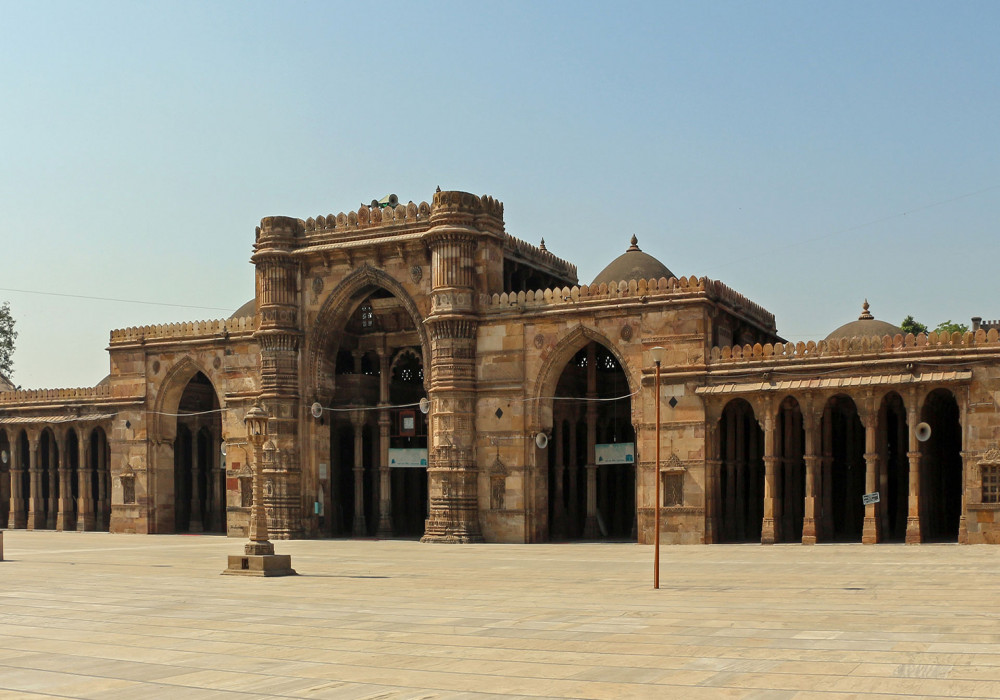 Gujarat was invaded by Mahmud of Ghazni and Allaudin Khilji after which Ahmed 1, the successor of Zafar Khan Muzaffar became the first independent Muslim ruler of Gujarat and he was the one who found Ahmedabad in 1411 on the banks of the Sabarmati river. The Mughals ruled in Gujarat for 2 centuries when The great Mughal emperor Akhbar conquered Malwa in 1570 after which their reign continued for 2 centuries until they lost the war against the battalion that was led by the great Maratha warrior Chhatrapati Shivaji. The British East India Company seized much of Gujarat from the Marathas during the Second Anglo-Maratha War and established a factory in Surat in 1614, which became their first base in India. Then began the Era of Independence and Gujarat became a harbinger of revolts like Satyagrah, Borsad, Bardoli led by the torchbearers like Mahatma Gandhi, Morarji Desai, Sardar Vallabhbhai Patel, K.M. Munshi, Narhari Parikh and many more who hailed from the state.
Culture of Gujarat
The fast-growing state of Gujarat has not only emerged as the prominent industrialized state in India but has also kept intact the rich culture and tradition of its ancient roots. Ever since the time of Harappan civilization to the contemporary multicultural religious faith systems, Gujarat has evolved consistently embracing diverse religions. Gujarat is home to many religions -Hinduism, Jainism, and Buddhism being in the majority.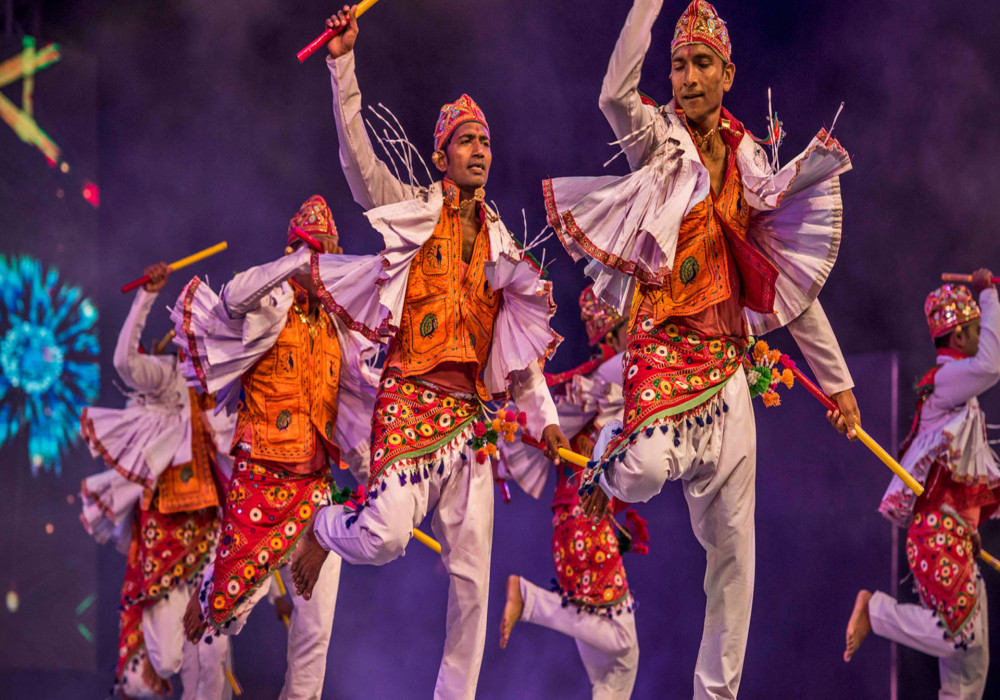 However, Sunni Muslims are the second-largest group with Jains, Parsis, and Christians who live harmoniously getting utmost respect and space. Gujarat is also inhabited by various tribes - Bhil Garasias, Dungri Bhils, Ratwas, Naikas, and many more have an equanimous way of life. Folks of Gujarat are warm, cordial, and welcoming. They respect each other's faith and beliefs. Gujarat is vibrant because the natives of the state are good-natured and big-hearted which is evident with the way they enjoy every festival with great enthusiasm and without any reservations of caste or creed.
Tribes in Gujarat
Embracing almost 29 tribal communities, Gujarat is a vibrant mosaic of unique cultures and traditions of various tribes. Some of the tribal communities have migrated from other countries to finally settling down in some areas of Gujarat. Dhodias and Siddi are the tribes from Africa who came here in the search of food and shelter and settled in Junagarh, Barda, Vasawas, etc. The Rabaris and Mers are natives of the Mediterranean region. The most prominent tribe in the reforms done for the Independence of India, Chodheries have played a significant role. Settled in Surat, Bharuch, Valsad and Dangs -The Gamith tribe is massive in number.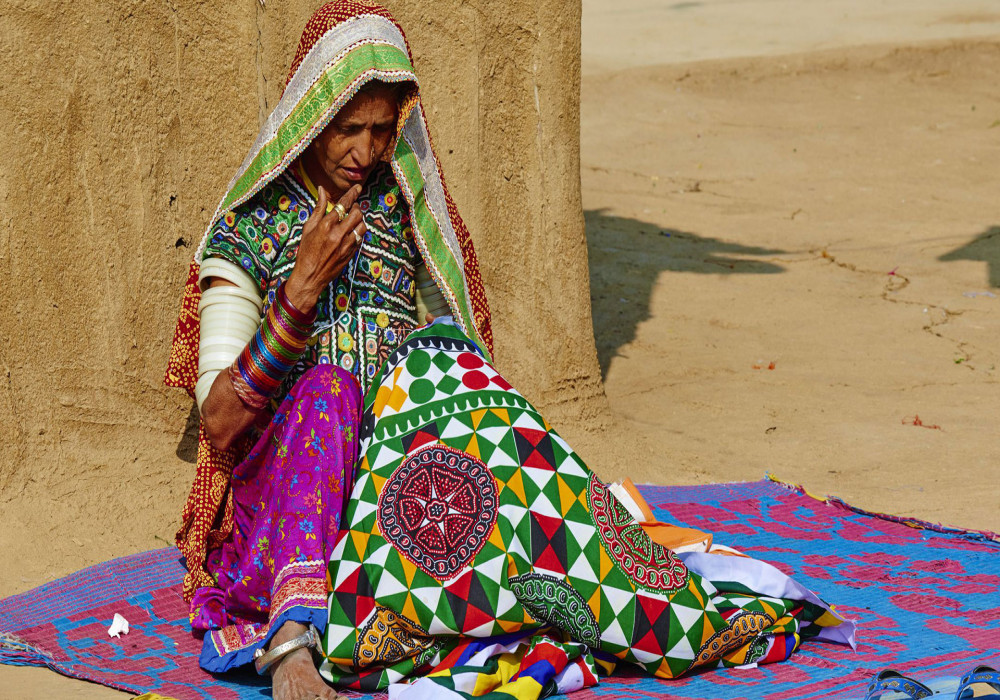 Pateliya being the wealthiest tribe of Gujarat have rich traditions and they have made their abode in the districts of Ahmedabad, Surat, and Kheda. The unique festival Gol Gadhedo is observed by tribes to select their consort, and much intriguing war and love stories are associated with these tribal settlements in Gujarat. The tribal folks of Gujarat are religious minded and have faith in objects like stones, places, and creatures whilst they primarily depend on agriculture, fishing, hunting and making handicrafts to sustain their living.
Art and Handicrafts of Gujarat
Gujarat is famous for the resonating tradition of Handicrafts. Every part of the state boasts myriad art forms that are unique blends of vibrant colors, intriguing patterns, and intricate embroidery. Be it colorful tie and dye or exquisite wooden antiques, handicrafts of Gujarat stands versatile and aesthetically appealing. Patola, Rabari, Mutwa, and Soof are patterns of embroideries that are famous all over the world. Tribes of Gujarat contribute to paintings such as Warli, Pithora, and Rogan that have a certain rustic charm.
The Zari work in Surat and Kathi embroidery of Kutch are stunning while striking patterns of Bandhani or Bandhej are extremely gorgeous. The queen of silk, Patola is used as handwoven sarees to which patterns are made with great precision. Applique work. Patchwork, Mirror work, and beadwork of Gujarat are unmatchable and also it is home to the finest quality of leather. With ample of unique things to buy, Gujarat is definitely a shoppers paradise.
Food of Gujarat
Every state in India has its own trademarked menu and Gujarat has many signature dishes that are mildly sweet and absolutely delectable on the palate. Kadhi is a common dish in India, however, Kadhi in Gujarat is distinctive as this traditional dish is white in color and sweet in taste. Having its own version of kachori, Lilva Kachoris are stuffed with pigeon peas that make it different and healthier. One of the favourite dishes of Gujrati households is sev tameta nu shaak that is made from tomatoes and sev and is a blend of sweet, tangy, and spicy flavours with a little crunch of sev. Mohanthal is a soft fudge-like sweet which is the signature dish of Gujarat.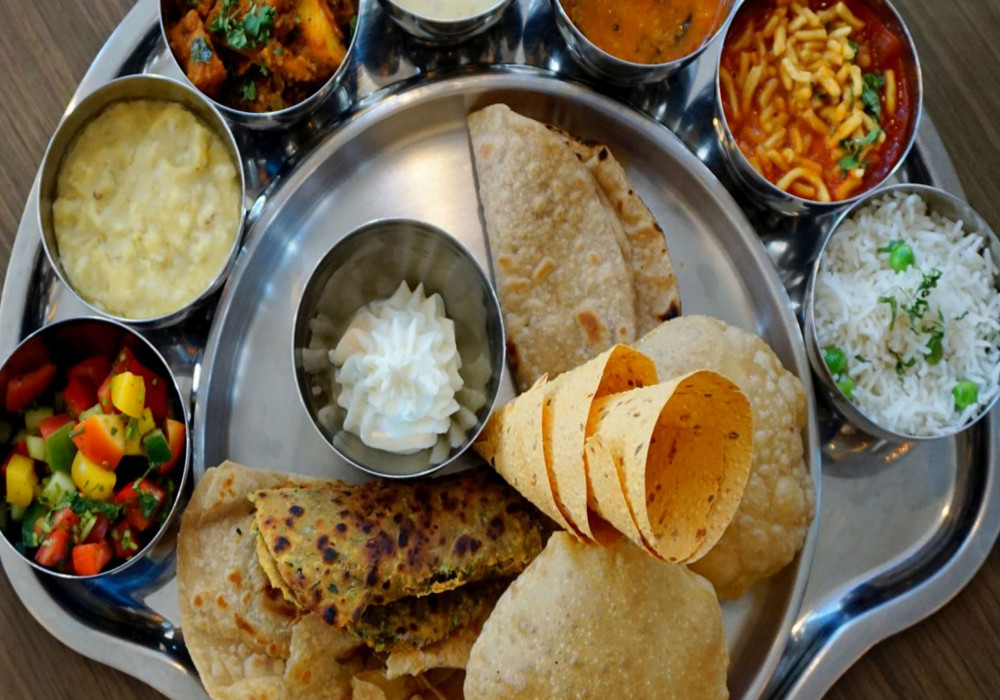 A flavourful fast food dish, Dabeli would leave you drooling. Doodh Pak is a traditional Gujarati sweet dish that is similar to kheer yet with a distinct taste. Gujarat has a rich history and some dishes from the past have amazing food stories. One such dish is Ghari, rich in nutrition, this dish was invented by the cooks of Tatya Tope with a thought of feeding freedom fighters with a dish that can provide them extra strength. Handvo is a traditional savory that is prepared on charcoal. Apart from these, Gujarat is famous for Khakra, fafda, thepla, dhokla, khandvi, muthiya, ghugra, gathiya which are some of the all-time favorite munching bites.
Things to do in Gujarat
Popular for its architectural marvels, serene beaches, incredible temples, and a plethora of its wildlife sanctuaries, Gujarat offers a lot of activities that you can do. Here is the compilation of irreplaceable things one can try at Gujarat to make their trip memorable.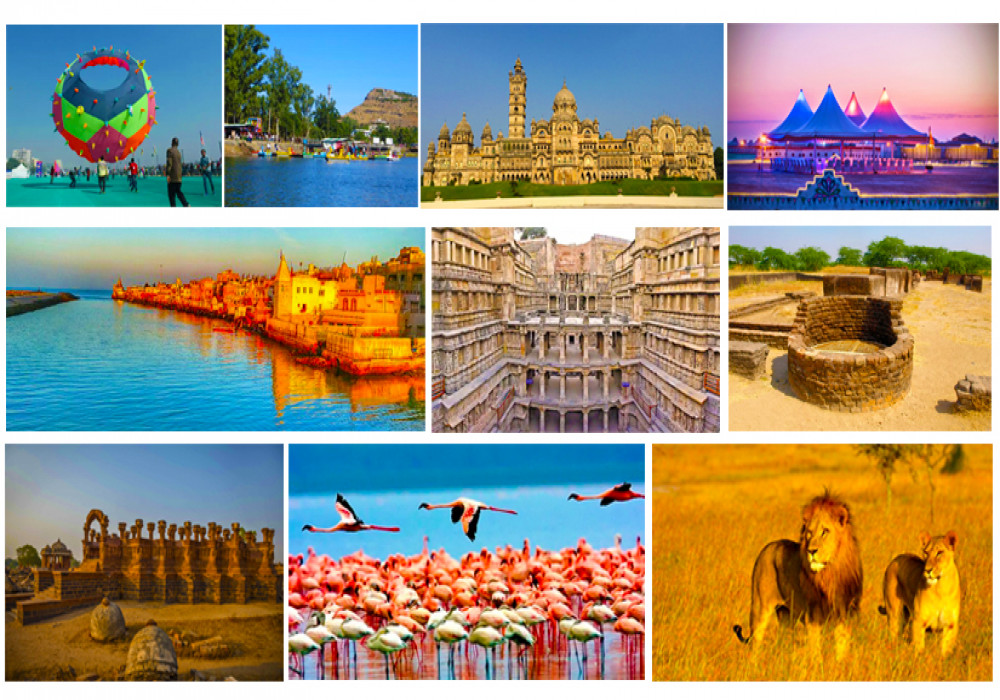 Enjoy the tuk-tuk ride at holy city, Dwarka

Experience royalty note at Rani Ki Vav

Dig into the ancient era at Lothal

Pay a visit to Dholavira and Diu

Enjoy bird-watching at Vadala
Famous for Asiatic Lions, silver sands, heritage sites, a massive coastline, ancient monuments, stupas, temples, monasteries, forests, wildlife sanctuaries - Gujarat is the one-stop destination in India to explore anything and everything. The hometown of Gandhi, Gujarat shows the real face of peace and lets the visitors explore the alleys of the past to the optimum level.
Plan your trip and create your own route to explore the state with Adotrip's technically driven circuit planner. Click here or scroll to the bottom to find the same.