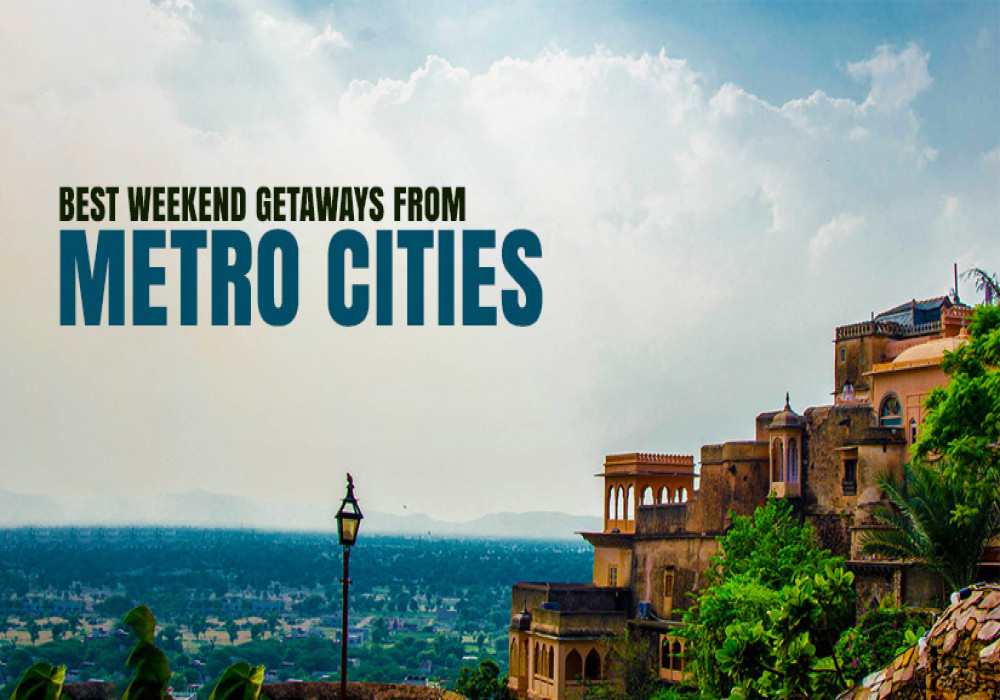 Best Weekend Getaways Near Indian Metro Cities
The best way to treat yourself after a tiring week is to go for a fun weekender trip! Agree? Sure, you do! And, after a year-long lockdown and working from home, we need it even more. Thanks to our incredible India, several amazing destinations are surrounding the Indian metropolitan cities for rejuvenating weekend getaways.
Scroll till the end and find out the best places for relaxing weekend getaways from your city.

Weekend Getaways From Delhi
The capital of the country is surrounded by some of the best travel destinations in India. See where you can spend the last days of a tiring week away from the hustle and bustle of Delhi.
1. Udaipur
Popular as the city of lakes, Udaipur is a city scattered with beautiful palaces, magnificent forts, and historical museums, which is perfect for weekend trips from Delhi. Weekenders enjoy watching sunsets from the top of the forts or while riding a boat on the lakes.

Distance from Delhi - 660 kilometers
2. Jaipur
Your search for an awesome destination for an impromptu weekend getaway should end with Jaipur. The capital city of Rajasthan has vibrant bazaars, old forts, and palaces to make your trip a success. The pink city is as charming and magical as other cities of Rajsthan and provides many options to make you spend your weekend here.

Distance from Delhi - 273 kilometers
Also Read: Top 10 Tourist Places Near Delhi Within 300 Kms
3. Rishikesh
Nestled in the Himalayas, this hippy town is the best sought-after destination for Delhiites. With thrilling activities like river rafting, camping, and bungee jumping to offer, Rishikesh is a perfect destination for weekend getaways from Delhi. Either you explore the chic cafes or seek spiritual guidance, Rishikesh vouches to keep you entertained and engaged all weekend long.

Distance from Delhi - 240 kilometers
Also Read: 12 Offbeat Places From Delhi Within 400kms
Weekend Getaways From Mumbai
To escape the hurly-burly of Mumbai during the weekend is a necessity for Mumbaiya people. And, Mumbai is no short on places perfect for weekend getaways. Have a look!
1. Satara
The former capital of Maharasthra during the reign of Marathi rulers, Satara is filled with ornate forts, beautiful temples, and historical tales worth listening to. The place is called Satara because it is surrounded by seven hills namely Sajjangad, Ajinkyatara, Kitlichadongar, Nakdichadongar, Jarandeshwar, Yawateshwar, and PedhyachaBhairoba.
Distance from Mumbai - 255 kilometers
2. Mahabaleshwar
Mahabaleshwar is a land of mystical hills, fresh strawberries, lush greenery, and picturesque views. One of the best weekend getaways from Mumbai, Mahabaleshwar has something for every age group making it a perfect place for a road trip with friends or a family gathering.
Distance from Mumbai - 263 kilometers
3. Lonavala
This quaint little hill station in Maharashtra provides a much-needed relaxing and rejuvenating experience to the people of Mumbai. Surrounded by beautiful landscapes, amazing weather, and lush greenery, Lonavala draws office-goers looking for weekend getaways to cool off a bit.

Distance from Mumbai - 95 kilometers
Weekend Getaways From Bangalore
Silicon Valley of India is blessed with some of the most awesome destinations where the IT workforce can go for weekend trips. Keep reading to find out where you can go from Bangalore on weekends.
1. Coorg