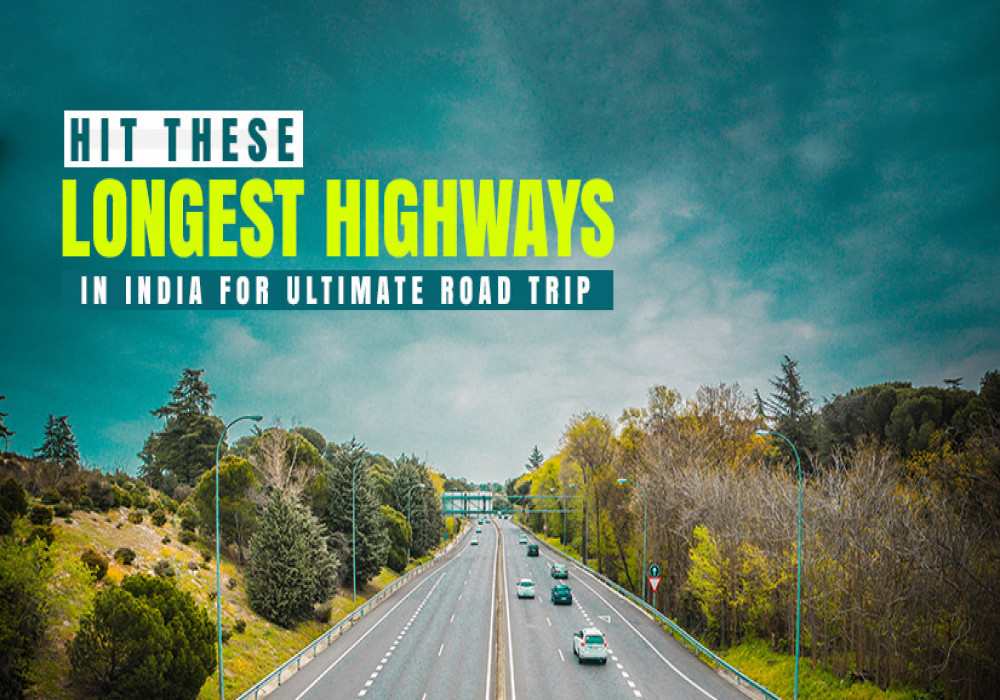 8 Longest Highways In India That Are Ideal For Road Trips
If road trips excite you then you have something of your interest. From longest highways in India to beautiful road journeys, we have got your information on the most scenic connecting roads and highways in this piece of write-up. Travel Kashmir to Kanyakumari or Porbandar to Assam, some roads are where the party never ends!
Let's catch a glimpse of the most scenic and developed National Highways in India that make your road journey memorable.
List of 8 Longest Highways in India
1. National Highway 44
Stretching from Srinagar to Kanyakumari, NH44 is the longest national highway in India that connects 11 states and about 30 important cities. Seven national highways were merged together to form National Highway 44 which makes it one of the bustling highways in the country that gives a memorable ride to frequent commuters and long drive enthusiasts.

Total Distance: 3,745 km
2. National Highway 27
Transit across northeastern states to the western belt of India, NH 27 is one of the longest national highways that connect 7 states and 47 cities. Driving on the East-West corridor gives you an opportunity to travel across vibrant cities of India to get a glimpse of cultural ethnicity. Running from Porbandar in Gujarat to Silchar in Assam, National Highway 27 is considered the economic pulse of the country.

Total Distance: 3,507 km
3. National Highway 48
Connecting the northern states with southern states, NH48 is a beautiful highway that stretches between the capital city of India to Chennai in the South. National Highway 48 is one of the developed and well-metalled highways which pave the road to the Delhi-Gurugram expressway, the Jaipur-Kishangarh expressway, and the Western Expressway. Gateway to many beautiful cities, journey on this highway is quite a treat for road trippers.
Total Distance: 2,807 km
4. National Highway 30
One of the safest highways in India, National Highway 30 is known for a lesser number of road casualties. Stretching between ​​Sitarganj in Uttarakhand to Ibrahimpatnam in Andhra Pradesh, this longest highway in India offers great connectivity to 7 states lying in the Northern and Eastern belt.

Total Distance: 1,984.3 km
5. National Highway 6
Connecting Assam, Mizoram, and Meghalaya, National Highway 6 is one of the largest highways that pass through the northeastern part of India. Owing to mountainous terrain, a drive on NH6 is truly a delight. Stunning vistas and tranquilizing vibes as you drive along pristine valleys make the long road trip easy and swift.

Total Distance: 1,873 km
6. National Highway 16
Before being taken over by the National Highways Development Project, National Highway 16 was called National Highway 5. This highway serves as a part of the Golden Quadrilateral as it adjoins the vital agricultural, industrial, and cultural hubs of states such as West Bengal, Odisha, Andhra Pradesh, and Tamil Nadu. Running between Kolkata in the east and Chennai in the south, one of the longest highways in the country, NH 16 connects beautiful cities of Bhubaneshwar, Vijayawada, Visakhapatnam, Guntur, Chennai, etc. This highway offers the most stunning views that make your long road journey pleasant.

Total Distance: 1,711 km
7. National Highway 66 (Previously called national Highway 17)
Passing through the western ghats, National Highway 66 is one of the most traveled national highways in India. Famous for scenic vistas, this highway is popular among travelers as it connects 5 states namely Maharashtra, Goa, Karnataka, Kerala, and Tamil Nadu which are the most visited tourist destinations in India. The starting point of NH 66 is Panvel in Maharashtra and the ending point is Kanyakumari in Tamil Nadu. So if you want an enriching road trip experience, make your way to NH 66, you would be enthralled by the beauty on the way.

Total Distance: 1,622 km
8. National Highway 19