Situated in the eastern region of India along the Bay of Bengal, West Bengal offers an intricately woven story of different cultures, ethnicities, religions, people, and languages. The region is blessed with a diverse topography that includes the Himalayan range of mountains in the north to Ganges delta in the south, the beautiful forests of Sundarbans that paints the vicinity with all shades of green to tranquil beaches in the coastal region. This state of India covering a total area of 88,752 km is the fourth most populous state in India. West Bengal will surprise you with what it offers both in terms of natural and historical assets.
History of West Bengal
With its roots in the Vedic era, the history of the state of West Bengal has been packed like sardines that are ceased in memoirs. Having been excavated of remnants of Stone Age, it has also been mentioned as Vanga in Mahabharata as a centre of trade and learning. Administered by a legion of prominent dynasties, Bengal was once a silk road for French, Dutch, Portuguese, and British traders. Due to its prime location of being the only state in India that boasts splendid topography of having mountains, sea, rivers, plains, and plateaus, it was therefore found alluring to the British traders. Later being subjugated to the tyranny of the British, Bengal was made the capital and the centre of trade. Sailing through the hardships, the state witnessed the Battle of Plassey before succumbing to the oppressive colonization of the East India Company. Also known as India's cultural and intellectual heartland, Bengal's soul has been etched with the history of the Indian Renaissance and the National Freedom Movement.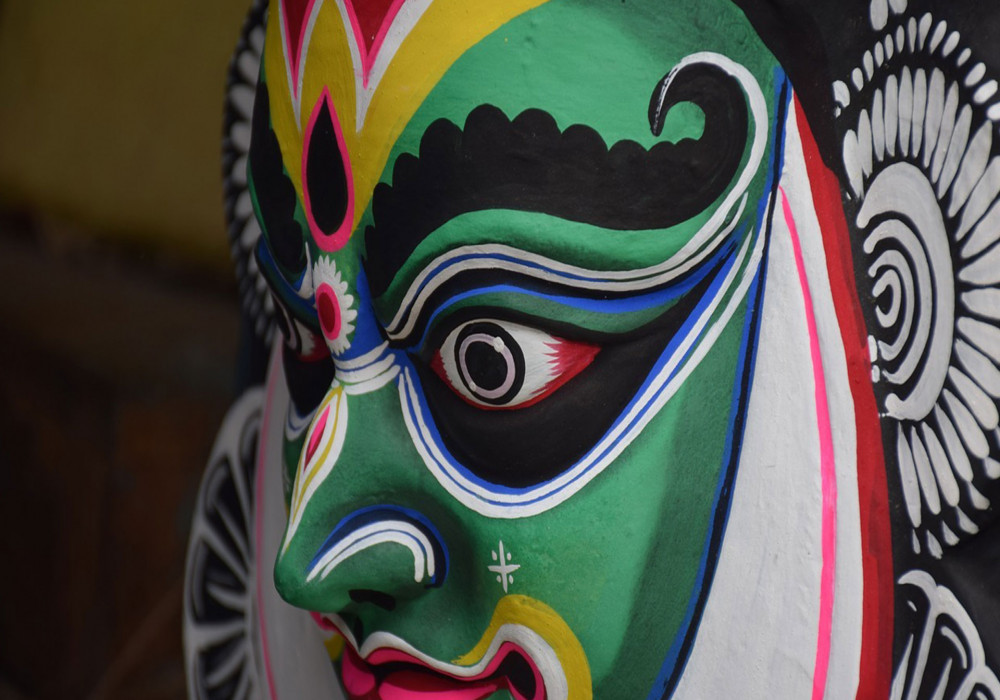 In the year 1770, Bengal was hit by a famine and millions lost their lives due to the tax policies enacted by Britishers. In 1773, Calcutta, present-day Kolkata became the capital of British-held territories and Warren Hasting became the first Governor-General of Bengal. Major attempts were made to divide the Bengal province during the year 1905 to 1911 which failed miserably. In 1937, Bengal was constituted as an autonomous province under the Government of India Act 1935. However, in the year 1943, Bengal was hit by another famine. The Great Bengal famine claimed more than three million lives. The people of the region contributed immensely to the Indian independence movement and during the partition of India in 1947, the subcontinent got divided into East Bengal consisting mostly of Muslims, and the western part forming West Bengal, India.
Culture of West Bengal
West Bengal, also called the cultural and intellectual hub of India has one of the richest legacies. The state is a pioneer in cosmopolitan culture mainly because of the influences from different religions and dynasties that left its footprints on the soil of West Bengal. People in West Bengal, India live in close-knitted neighborhoods called 'para' and practice 'adda'- an informal gathering that turns out to be an intellectual discussion on art, music, and literature. The predominant religion of the state is Hinduism, which has a vital influence on its culture. The main languages spoken in the state are Bengali, Hindi, and English. The best time to visit West Bengal is during the auspicious festival of Durga Puja. The five-day yearly event is celebrated passionately and the entire city lights up with joy indulging in pandal hopping and street food.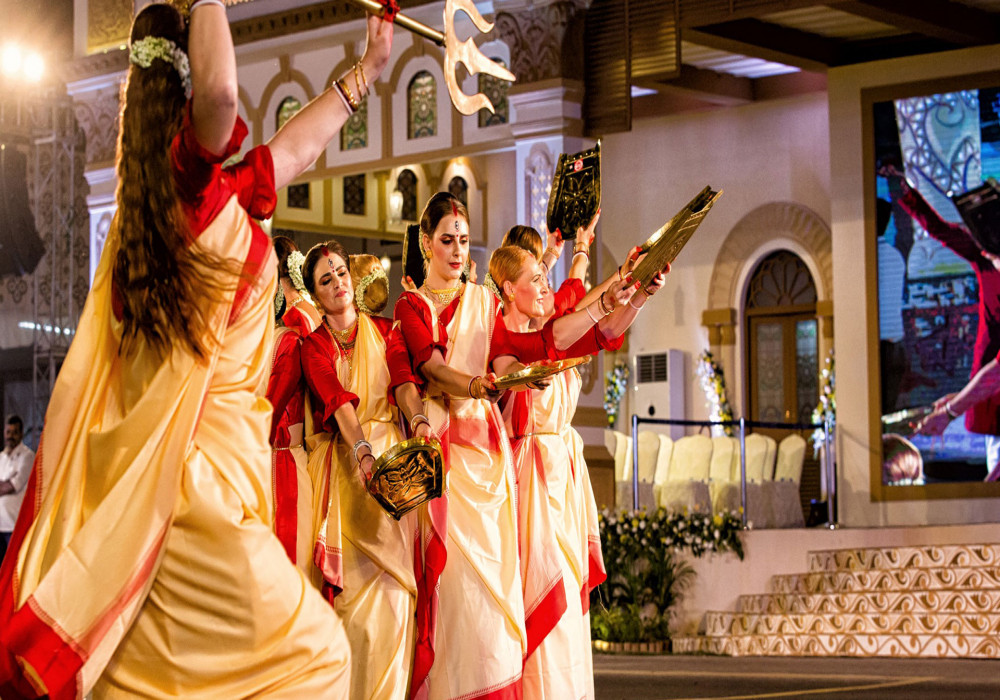 Ruled and reigned by Palas, Pundras, Portuguese, Senas, Mughals, Britishers; Bengal has always revelled in luxuries and thrived with myriad cultures. Basking in the glory of rich history, West Bengal has always been referred to as the cultural capital of India. Having been ruled by Hindu and Mughal dynasties, Bengali culture is dominated by the traditions of Hindus and Muslims. It was a British colony for more than 200 years and Britishers left behind an inevitable prominence on the culture of the state. However, Christians, Buddhists, Sikhs, and Jains are minorities that stay harmoniously and form a part of its Socio-Culture diversity. Boasting one of the richest literary traditions in the Indian subcontinent, West Bengal is a kingpin of literature, fine art, music, theatre and cinema. It is the birthplace of the great saint Ram Krishna Param Hans and Nobel Laureate Rabindranath Tagore. West Bengal has been an abode to social reformers like Raja Ram Mohan Roy, Swami Vivekanand, Vidyasagar. The state of West Bengal is an amalgamation of cultural delights that testify the state's rich history. Bengali cinema is another Integral part of its culture and has been flourishing exponentially since the launch of cinema in West Bengal in the year 1919. The cultural diversity of the state can be seen in the vibrant festivals of West Bengal.
Food of West Bengal
The highly exquisite and mouth-watering food of West Bengal is unique and represents an immersion of the best of world gastronomy. The highly illustrated and tempting Bengali cuisines are famous for being diverse and includes everything from "Maach-Bhaat" (fish and rice) to Rosogulla.
Food of West Bengal is a great mix of delectable vegetarian and non-vegetarian dishes. Some of the dishes famous among natives in West Bengal are Aloo-Posto (potatoes with poppy seeds), Ilish Macher Jhol (Ilish fish curry), and Sukhto which is a combination of various vegetables like brinjal, bitter gourd, drumsticks, and Bori. Another flavorsome dish from Bengali cuisine is Kosha-Mangsho' which is a dish of mutton.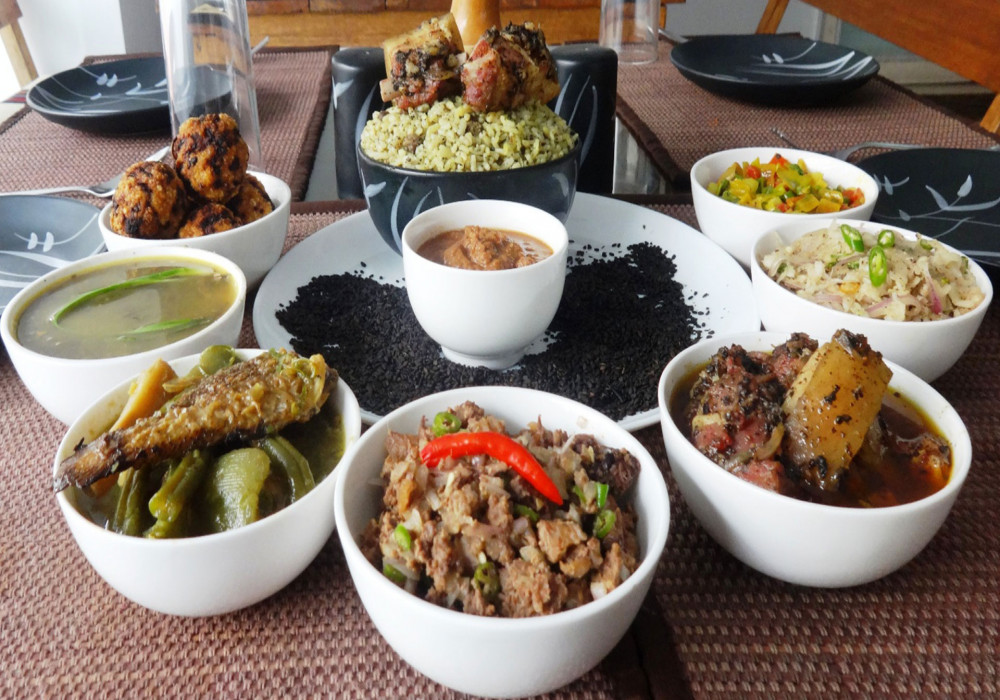 What gives the thick curry a unique flavour is the rich aroma of different spices. The dish is generally served with Lucchi, another Bengali specialty which is a deep-fried chapati. West Bengal, India is also famous for its desserts and sweets. No meal is complete without a small bowl of Misti Doi which is sweetened yogurt dessert. If you are someone with a sweet tooth, West Bengal offers a lot of delicious options including Langcha, Sandesh, and Rosogulla which is a must-try.
Art and Handicraft of West Bengal
Art and handicraft of West Bengal represent the rich heritage of the state in the most vivid and aesthetically pleasing way possible. The traditional art and craft is way ahead of its time and includes the use of sustainable and eco-friendly techniques. Some of the major art and handicraft of West Bengal are Terracotta, Dokra, Madur, and Chhau masks. These crafts are labor-intensive and a major source of income in rural areas. Terracotta translates to "baked earth " and is a famous handicraft of making unglazed ceramic art from coarse porous clay. The ancient temples like Rasmanch, Jor- Bangla temple, and Madanmohan temple in Bishnupur are the finest examples of terracotta art and a major tourist attraction in West Bengal.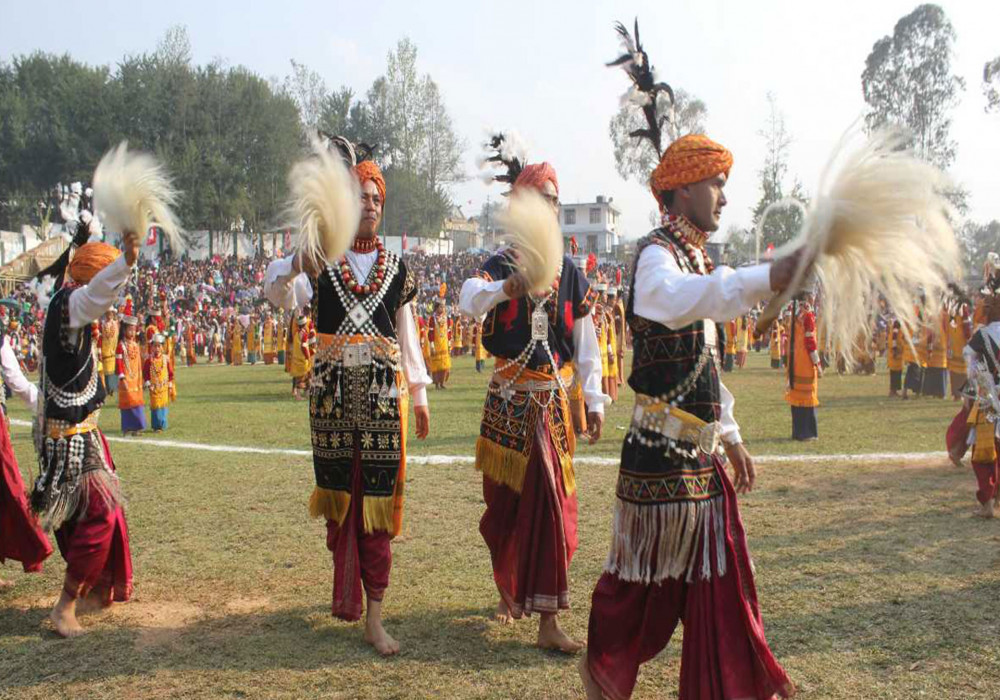 Dariyapur in Purba Bardhaman district is home to another famous handicraft. Dokra is an age-old form of non-ferrous metal casting used since the Indus valley civilization and is capable of producing unique pieces each time. No two artifacts are similar as the molds are broken apart to extract the piece.
Another popular craft is the intricately woven mat called Madur made of madur kathi and cotton threads exhibiting beautiful patterns. Spreading out a Madur was a sign of hospitality towards the guest. The craft has become more versatile over the years and now is also used for table runners, curtains, purses, bags, etc. You must visit Sabang in Paschim Medinipur district to witness this traditional craft. Chhau, a form of folk dance of Purulia district is famous for the use of elaborate masks. Charida village at the base of Ajodhya hill is the best place to see these intricate masks in the making and has become a famous tourist destination in West Bengal.
Things to do in West Bengal
The list of West Bengal tourist destinations is a long one and will surprise you with its diversity. Whether you are a nature lover or an adventure enthusiast, whether you love trekking in mountains or walking on the sand at a beach, West Bengal is a fascinating place that offers everything. Some of the famous tourist attractions in West Bengal are listed below.
Visit the famous temples of Goddess Kali in Dakshineswar and Kalighat, Kolkata.

Indulge in street food and Bengali cuisines like Dahi Puchka and Kathi Roll.

Enjoy camping at the Teesta river in Kalimpong.
Go on a cruise in the river at Hooghly and see the beautiful monuments and markets.

Explore the wildlife at Gorumara National park in Jalpaiguri.

Enjoy your flight while paragliding in Kalimpong.

Trekk is one of the most popular mountain peaks in Darjeeling called Tiger Hill.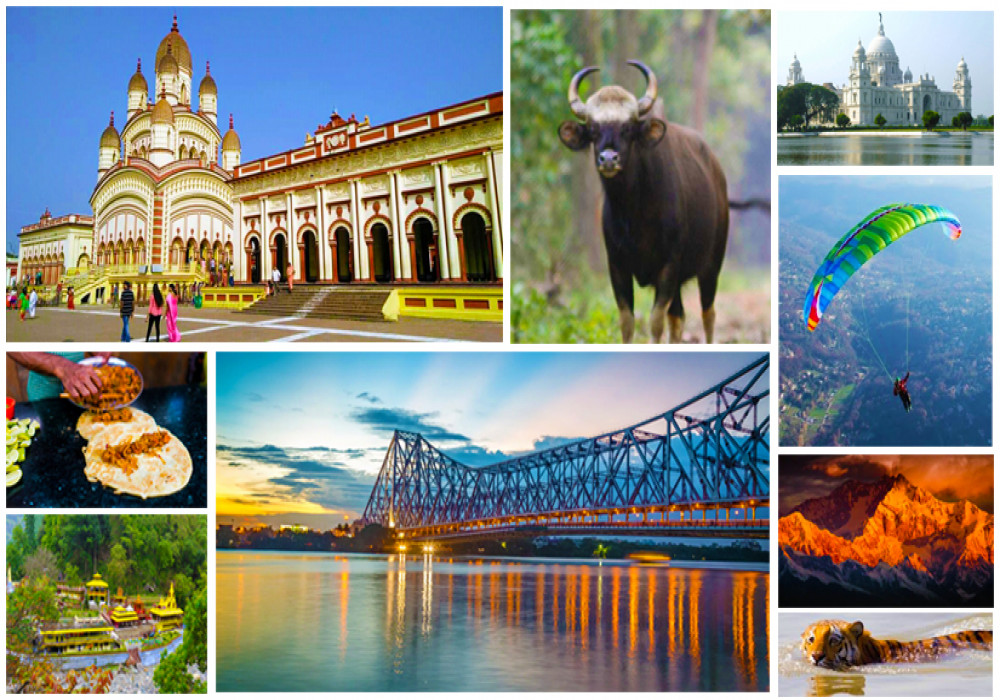 Don't miss enjoying a ride in the toy train - Darjeeling Himalayan Railway.

See the Indian one-horned rhinoceros in its natural habitat in Jaldapara National park, Alipurduar.

Visit the stunningly beautiful structure of white marble, Victoria Memorial in Kolkata.
Visit the mangrove forests of Sunderbans that house beautiful Bengal tigers.

Visit the beaches of Tajpur and Mandarmani.
Recognized internationally for its rich culture, heritage art, and literature, the land of West Bengal is a mystical place where people with different ethnicities, cultures, religions, and languages co-exist. Such diversity is replicated in nature's blessing to this alluring place as well, making it a place where people flock in numbers on their tours to India.
Plan your trip and create your own route to explore the state with Adotrip's technically driven circuit planner. Click here or scroll to the bottom to find the same.