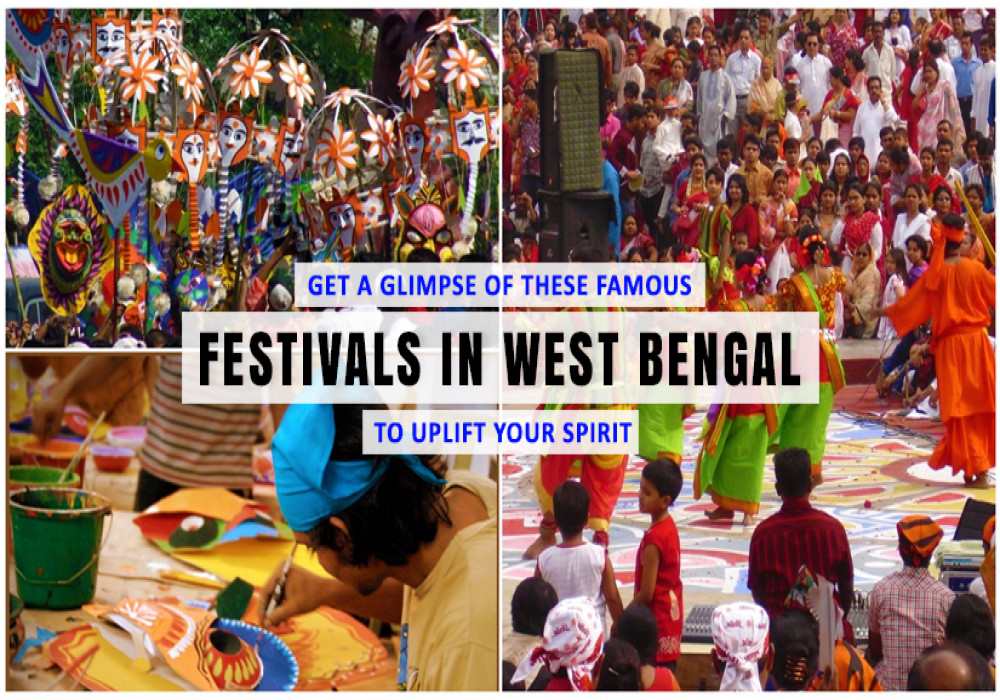 6 Famous Festivals of West Bengal to Celebrate Eternal Spirit of Togetherness
Festivals are a tool to bring life to a state of exuberance and enthusiasm. Without them, life would become an endless series of mundane Wednesday's. The Babu's and Moshai's of Bangla know how to create an environment of energy, zeal, and rejuvenation. With myriad festivals in West Bengal, one can look forward to some great fun and fervor. The incredible state indeed has a lot more to offer beyond the ancient history and mesmerizing culture.
6 Festivals Of West Bengal To Celebrate in 2021
As natives of West Bengal said, "Baaro Maash E Tero Parbon'' which means thirteen festivals in twelve months, life in West Bengal is full of enthusiasm and delight all throughout the year. Though the list is longer than thirteen festivals, we have handpicked a few of the unique festivals celebrated in West Bengal. To celebrate the never-ending and eternal spirit of the community in West Bengal, get apprised with the festivals listed below that add more charm.

1. Durga Puja
Durga Puja is the most famous festival in West Bengal that is celebrated with great joy. Some festivals are so deeply related to a place and Durga Puja in West Bengal is one such evident festival that is known to all. Also known as Durga Pujo, Akalbodhan, Sharadiya Pujo, Maha Pujo, Maayer Pujo, the popular Hindu festival is marked with the arrival of Goddess Durga on earth along with her clan that includes Lord Shiva, Lord Ganesha, Goddess Saraswati, and Lord Kartikeya.
Starting with Mahalaya, followed by Shasthi, Saptami, Ashtami, Navami, and Dashami, on the 6th, 7th, 8th, 9th and 10th days respectively, Durga Puja is an elaborate affair of 10 days, with the last five days being the most famous. It is believed that Goddess Durga arrived on earth to destroy Mahishasura who was a demon king with the power of immortality and head of buffalo. Bloated with a boon according to which he could not be killed by any man or animal, he thought he was invincible and therefore wished to conquer all the three worlds; earth, heaven, and hell.
Shakti, the ultimate female power, thereupon took the form of Goddess Durga and killed him after 15 days of fierce war with him. On the 6th day, Goddess Durga is worshipped as Katyayani. From this day the pandals are inaugurated. On the 7th day, the Goddess is bathed and invoked by tying nine plants called Nabapatrika. The elaborate ritual of offering flowers to the Goddess is performed on the 8th day while Homa and Bhog are offered on the 9th day. It is believed that on the 10th day the Goddess emerged victorious against Mahishasura.
The day is marked by many rituals and ends with sindoor Khela followed by the procession of clay sculpture-idols that are later immersed in the river. It is believed that on this day Durga returns back to Shiva and therefore it is considered an auspicious day for married women and they indulge in sindoor Khela, a ritual for their blissful marital life. This elaborate festival is a true depiction of grand festivities and the excitement in the folks of West Bengal that are beyond the caste or creed.
2. Jamai Shashti
A unique festival in West Bengal, Jamai Shasti personifies the beautiful relationship of son-in-law with his in-laws. The name 'Jamai' means 'son-in-law' and 'Shashti' means 'the sixth day', which is why it is celebrated on the sixth day of Shukla paksha in Jyestha month (May or June). The traditional festival of Jamai Shashti lays the foundation for strong family bonding.
On this special day, Son-in-law is greeted with rituals; Phota (Teeka) of curd is applied on his forehead and a yellow thread, which is called Shasti Suto is tied around his wrist. This special thread is dyed in yellow color with the help of turmeric and is believed that Maa Shashti, who takes care of her children has blessed this thread and therefore shall take care of their son in law too.
A feast is organized for the son in law and while he gorges on a delectable course meal, the mother in law fans him with the palm leaf. This is a beautiful and distinctive festival of West Bengal that brings the relatives closer and reflects the warmth of relationships.

3. Charak Puja