Brimmed with natural beauty, the easternmost Sentinal, Assam state in India encloses lush tea plantation gardens, wild forests, and incredible archaeological sites. The hilltop Kamakhya temple, Peacock Island, silk bazaars, and the Brahmaputra river elevate the beauty of this state even more. The paradise of Earth sits in the footsteps of Brahmaputra valley where you will meet incredible surprises every new morning. Both in summer and winter, Assam will endow you with immense beauty of landscapes while unveiling the real colors of manmade as well as natural attractions of Assam. Witness the blooming orchids to allure your stay anytime between March to May. The best time to visit Assam is during the winter season (October to March) when tourists get a glimpse of the major harvest festival, Bihu. The capital city is Dispur that is a prominent landmark of the state.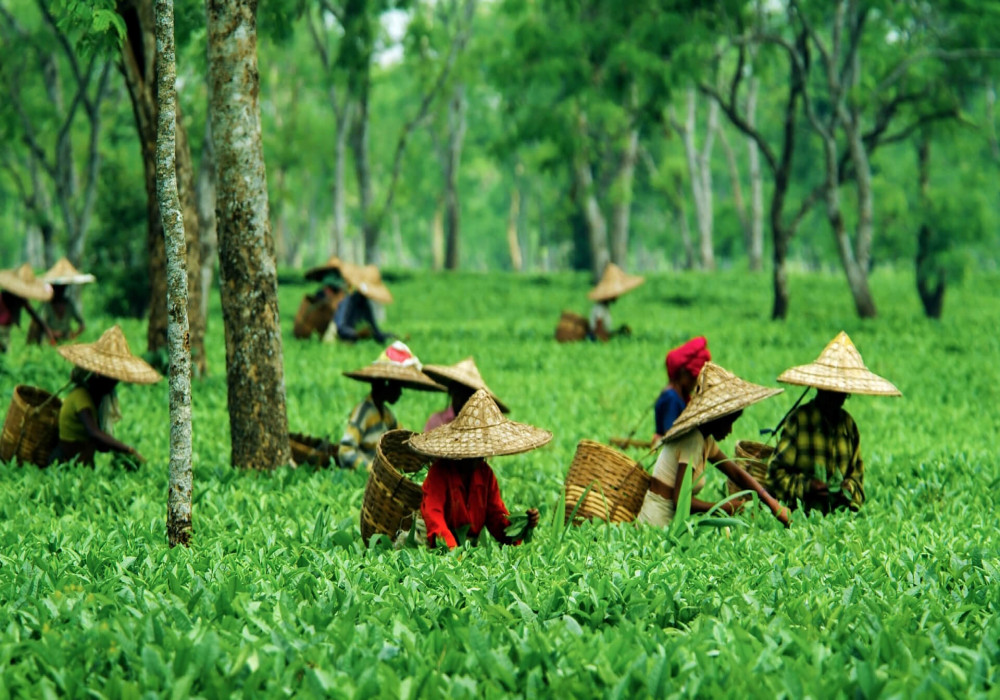 History of Assam
In the initial days, Assam used to be a part of Kamarupa (presently Guwahati) and it included the Brahmaputra Valley, Rangpur region (presently in Bangladesh), Bhutan, and Koch Bihar (in West Bengal state). In the Mahabharata period, king Naraksura and his son Bhagadatta used to be the famous rulers of this region. Also, dynasties like Koch, Pala, Kachari, etc ruled this region for some time. A lot of Kings kept coming and ruling the place till the time Britishers signed the Treaty of Yandabo and made it a part of British India in 1826. Then, it became a separate province in 1874 with Shillong as the capital.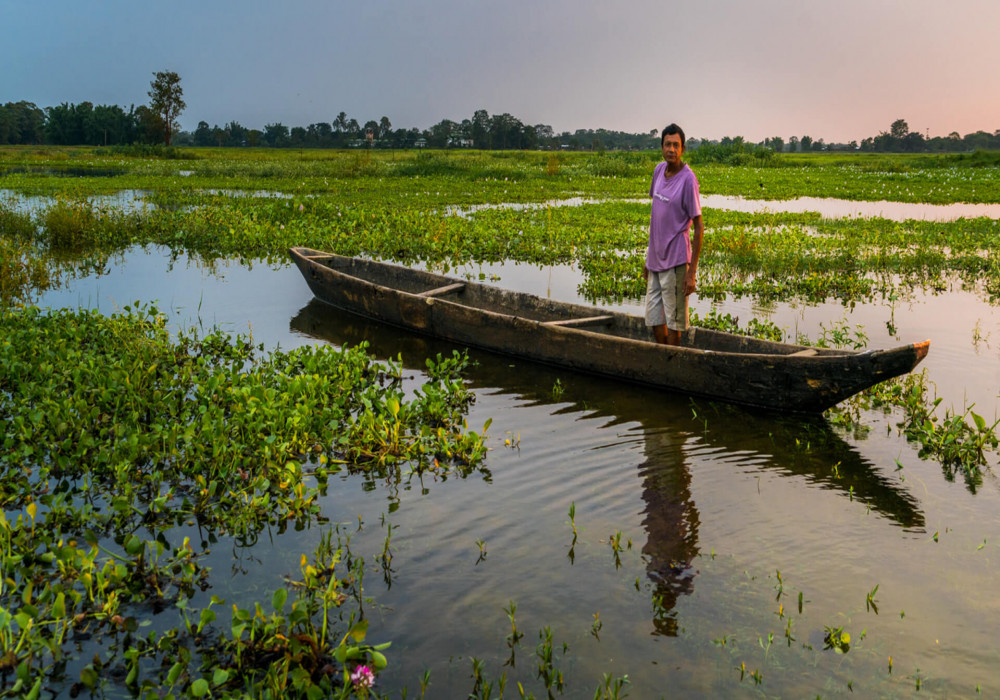 After the partition of Bengal (1905), it was combined with Bengal as its eastern area. However, it again became a separate province in 1912 when Bengal reunited. Then came the time of World War 2 when Allied forces operating in Burma made it a major supply route and then several wars happened decisively in putting a halt on Japanese advance to India. When India became independent in 1947, the Sylhet district (except Karimganj subdivision) of this state went to Pakistan (now in Bangladesh). It became a constituent state in 1950. The disputes kept going on due to the McMahon Line that shares a boundary with India as well as Tibet. Finally, Assam got separated from Arunachal Pradesh and Mizoram in 1972 and became an independent state in 1986. Since then, the Assamese are living peacefully irrespective of their tribal, cultural, racial, or regional differences.
Culture of Assam
One of the Seven Sister States, Assam is a ground of diversity when it comes to cultures. Right from Mongoloid, Indo-Burmese, Aryan to Indo-Iranian races, Assam gives shelter to all these races. The people of Assam are popular with the name Assamese or Asomiya. It is a place where the Assamese is the principal language, but the tribal people of Bodo, Miri, Mishimi, Kachari, Karbi, and Rabha tribes have their different languages to communicate.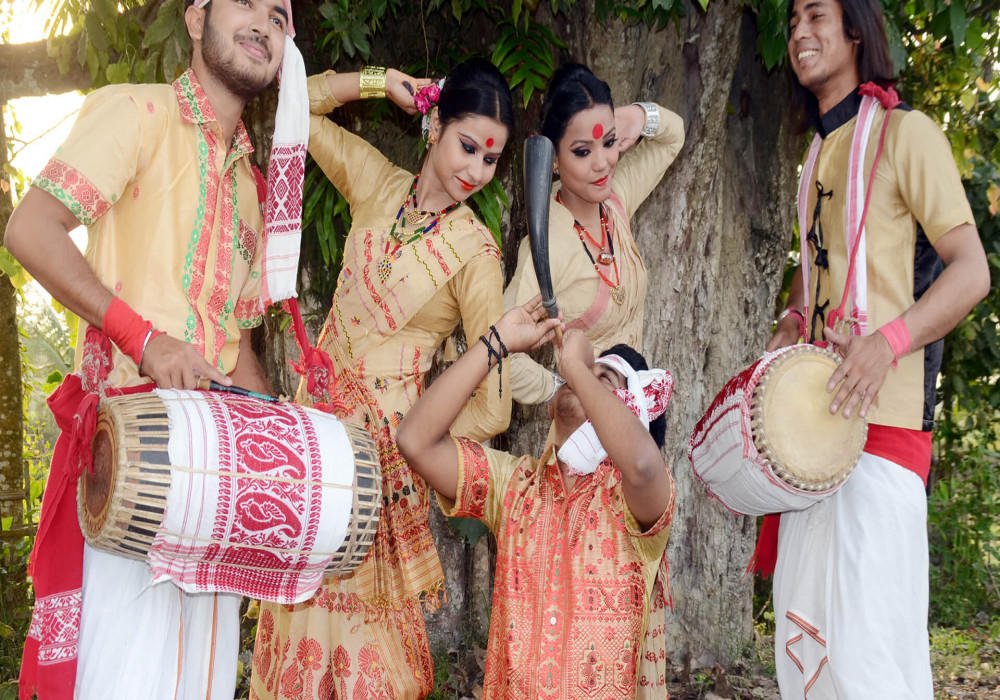 Most of the people of Assam belong to the Hindu religion and perform Namakarana in the glory of Lord Vishnu as they do not follow idol worshipping. The Assamese culture typically moves around two main religious and cultural institutions that are the Sutras and the Naamghar. Coming to the cultural symbol of Assam, you can count on Gamocha apart from the Tamol-paan (betel leaf and areca nut). Specifically, all the Assamese people use Gamocha irrespective of their cultural differences or regional diversity. It is a white rectangular hand-woven cotton cloth with a red border on three sides and the fourth side contains red woven motifs. A Bihu dancer wraps this loincloth around the head. In prayer halls, people tie it around the neck and sometimes throw it on the shoulder to signify their social status. These Gamochas are also known as Bihuwaans and are also used as offerings in Bihu while portraying love.
Art and Handicraft of Assam
The creation of wonderful objects to a few ordinary ones is the talent of Assamese people. Assam Tourist Destination is highly rich in the art and handicrafts that portray the beauty of its culture as the gloried extension. The communities such as Kumars and Hiras' bring a perfect example of pottery on the table. The craftsmen of this place also make articles from bamboo and cane including musical instruments, baskets, and many more. Due to the abundance of bamboo and cane, most of the people use household articles of cane and bamboo.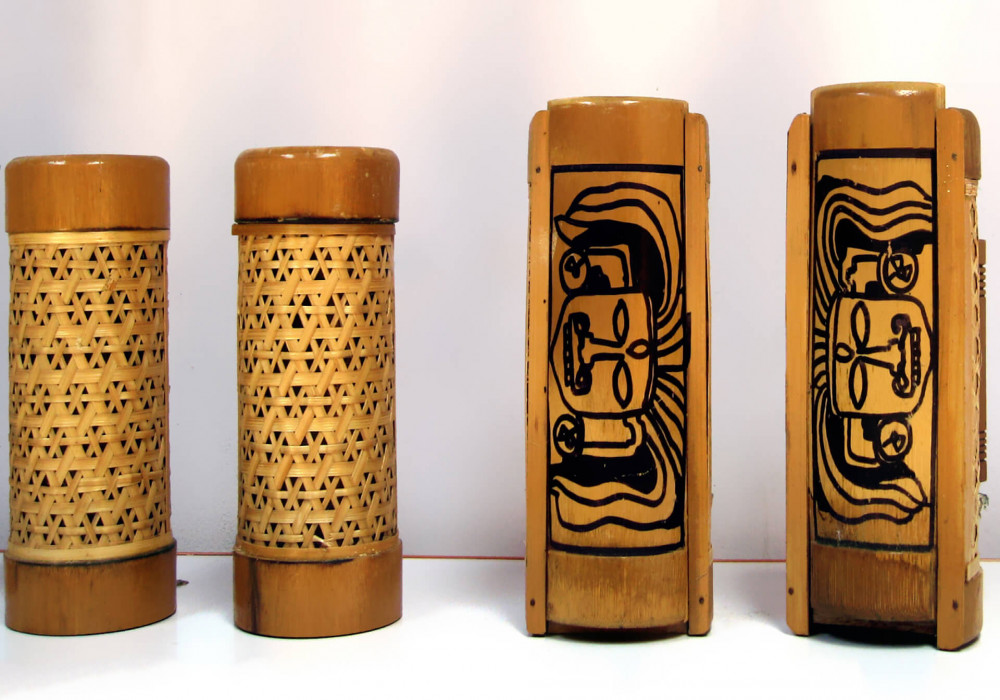 The two significant types of metal crafts, bell metal, and brass metal are widely practiced and immensely popular. In metal crafting, Hajo and Sarthebari villages secure a special place across the world for preparing beautiful utensils and other household articles with metals. Also, the clay toys, wooden toys, mud toys, pith toys, and bamboo toys made here are unique and worth buying. Not only this Assam is also popular for delicate silk handlooms, jewellery made with gold and silver. With a huge population of weavers, the mug silk of Assam contributes a lot to the world of rich fabrics. Tourists can also buy the masks made of terracotta, metal, and wood that is an integral part of Assamese dances. Go on a shopping spree at local markets and watch the wonders of art and handicraft of Assam there.
Food of Assam
The Assamese people do not consume spicy food as the people of most Indian states do. The majority of the people of Assam live on non-vegetarian food and their staple diet is rice. Generally, duck, fish, chicken, pork, and pigeon are popular among the locals here. When it comes to the famous dishes, you can count on Fish curry prepared in a sour taste called Machor Tenga and Patot diya in which they wrap baked fish in leaves with a condiment of white mustard paste.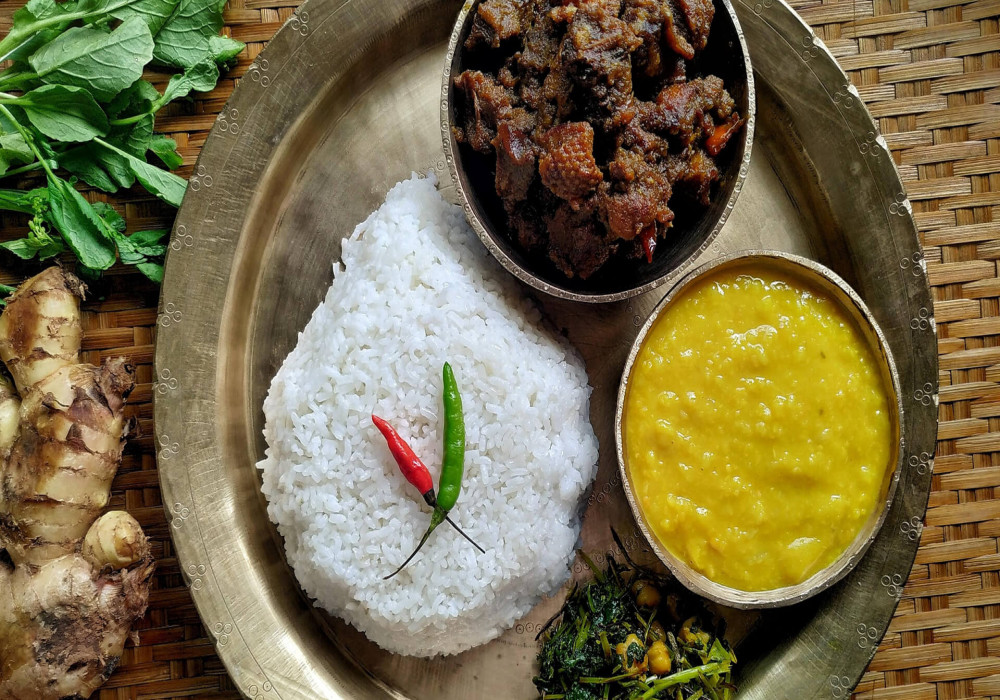 The different preparation of rice dishes that can be tried here are Akhoi (parched paddy), Cheera (flattened rice), Pithguri (pound rice), Muri (puffed rice), Komal saul, Bora saul and Sandoh guri (pound rice, fried). For people with a sweet tooth, Assamese people serve lip-smacking sweet dishes such as Ghila pitha (fried rice cakes), Pitha (rice cake with a filling of black sesame), Kol pitha (banana pancakes), and Narikolor laaru (balls of sweet coconut). Also, they prepare a detoxifying appetizer, Khar that is prepared with the burning of the banana tree stem. Keeping healthy versions, the dishes of Assam have a unique taste that is worth trying.
Things to do in Assam
Assam Tourism endows visitors with unique and incredible experiences. Whether you are going with family, friends, soul mate, or any relative, you can do plenty of things in Assam to make merry. Scroll down to see the list of those things that you can try here.
Delve into the beauty of the world's largest river island, Majuli.
Enjoy the lush green tea gardens of Dibrugarh and get lost into the pleasant fragrances.

Step into the Kaziranga National Park to witness one-hundred rhinos over there.

Do not miss the adventurous cruise ride at the Brahmaputra.

Be a part of vibrant Rogali Bihu and tea festivals.

Peep into the life of Ahom Kingdom at Sivasagar.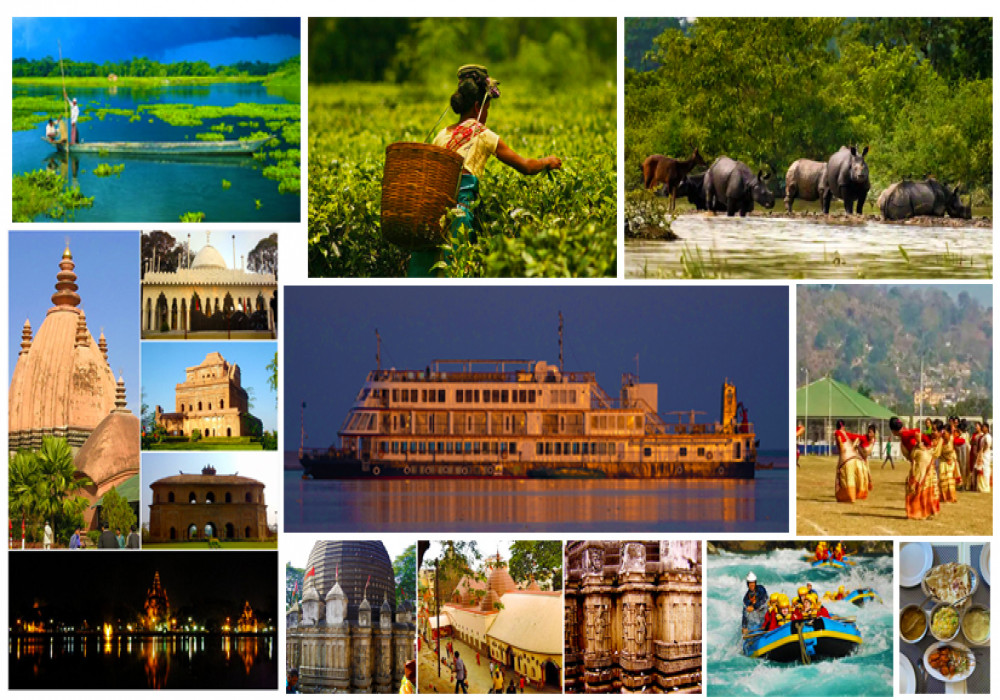 To add a religious note to your trip, you must go to the Kamakhya temple.

Try audacious river rafting and angling activities.

Admire the splendor of Haflong valleys and River lobha.

Make an essential visit to the cult of Voodoo that is Mayong and Dhubri to explore the pasts.

Explore the oldest refinery of Asia that is Digboi.

Pamper yourself with the finger-licking delicacies of Assam in its culinary festivals.

Take a walk to Sualkuchi where you can see open-eye magic of weaving.
One who wants to feel the natural wonders and enjoy the serenity of the environment must pay a visit to the state. You must note that if you are not habitual of bearing heavy rainfall, then the best time to visit Assam is whether in summers or winters but not during the monsoon season. Though monsoon here gives a clear view of the landscapes, however, you can make most of your trip in cheerful refreshing summers or cold but delightful winters. If you are willing to add plenty of more incredible pages in the book of your life, then capturing Assam and your visit to the place can be the best gig.
Plan your trip and create your own route to explore the state with Adotrip's technically driven circuit planner. Click here or scroll to the bottom to find the same.