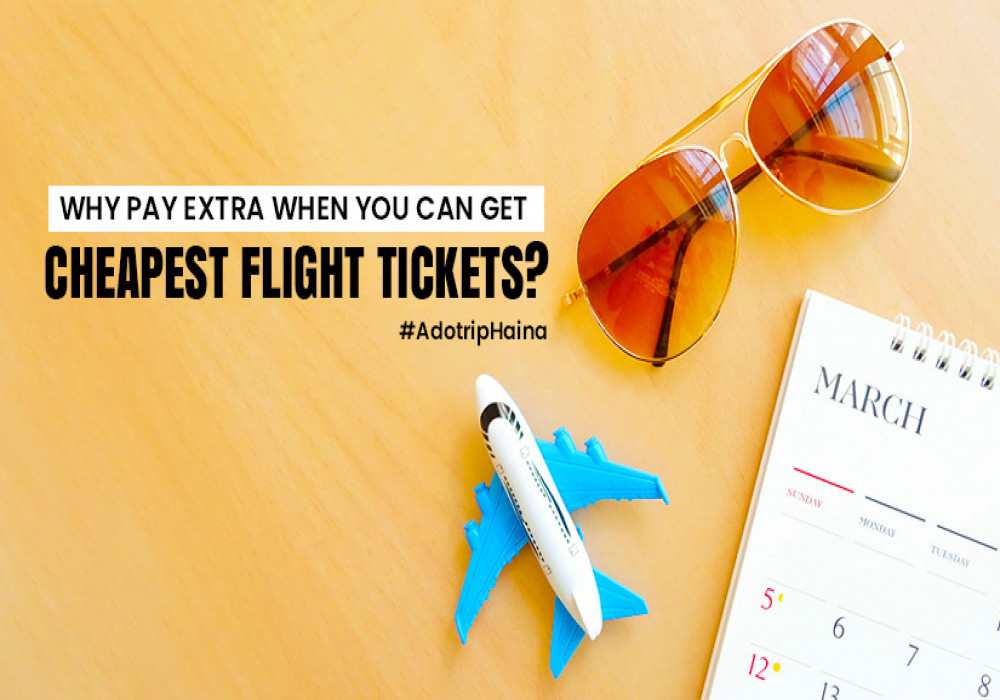 How To Get The Cheapest Flight Tickets: 10 Smart Tips By Our Travel Expert
If the thought of traveling gives you excitement, you need to go out and live there. Even if a dream holiday seems super expensive, there are smart ways to get you off the hook. One of the best ways to stash some cash is prudently booking your flight tickets which is actually the major expense that can burn a big chunk of your travel budget.
Wanna get yourself the best deals on airline tickets? Smart tips on flight bookings by our travel expert will make you savvy! Time to save money on your dream vacation, #adotriphaina!
Book Cheap Flight Tickets
Tuck away some cash for your next journey because here are some brilliant ways to book cheap international flights and also domestic flights. Take a dekko!
1. Early Bird Catches The Worm
Going by the saying, it's practically great to book flight tickets well in advance. Airlines usually release their inventory of flight tickets 11 months in advance so a savvy traveler knows when to book tickets that can be your super savers. Once you make up your mind on a travel destination, you can begin your search for online flight booking. For cheap fares on domestic flights, keep a bar of at least 7 weeks. And for international flights, it should be booked at least 12 weeks in advance to get the best fare.
2. Searching Flights In Incognito Mode
Search engines are smarter than you can imagine. Our cookies and search history enable websites to store our search data and show us inflated prices of flights if we don't clear our cookies. Using an incognito browser for online flight booking disables your search and location which generates a fresh search and you find fair pricing of flight tickets every time.
3. Opting For Round Trip Tickets
Booking round-trip tickets are always cheaper than one-way flights. The reason why circle tickets are cheaper is because of one-way tickets as many airlines cover the cheap-fare policy for round-trip flights. According to travel experts, round trips can save you a lot of bucks on both domestic as well as international travel. For example: If I book a one-way ticket from Delhi to Mumbai on the Adotrip booking website, it costs me somewhere between INR 4k however if I opted for a round-trip ticket, the total cost comes to around INR 7k to 7200, saving me approximately 1k.

4. Being Flexible In Dates & Destinations
Some significant factors that determine the airline fares are travel dates which include festive times, holidays, long weekends, etc. Usually, these periods are considered to be the peak seasons for travel destinations whooping up the price of airfares. Also, if it clashes with the peak season of the destination you are traveling to, then be ready to shell out a hefty amount. Being flexible in dates and destinations will definitely help you get the best deal on flight tickets. The moot point is, the more flexible you are, the better deals you crack!
5. Selecting Connecting Flights
Opting for a flexible route while booking flight tickets can definitely save you a bundle of money as nonstop flights are always expensive. The savings may vary from 10% to 50% depending on the route and dates as airlines charge a convenience fee that is attached to certain routes and weekend travel. The best way to get the cheapest flight ticket is to select connecting flight options over non-stop flights.
6. Comparing Air-Fares On Multiple Sites
It's always wise to compare various travel online websites as you may end up finding the cheapest airfare on websites such as adotrip.com/booking/ where there are no hidden costs. Many websites provide coupon codes that are merely a marketing gimmick, however, at Adotrip, you find fair deals on flight tickets. Unlike other websites, where price increases as they add convenience charges, Adotrip vouches for offering the cheapest flight fare from search till final payment.
7. Checking Baggage Policy
Most of the low-cost airlines allow only hand baggage and there is an additional charge for the check-in bags depending on the weight. Even if some airlines waive bag fees for frequent flyers or members of their credit-card program, the best way to crack the code of getting saved from this dubious pricing is to always check the baggage policy of airlines before proceeding to payment. Also, the best tip to get a cheap flight ticket is by paying a baggage fee in advance rather than making a payment at the airport, our travel expert says.
8. Ditching Weekend Rush While Booking