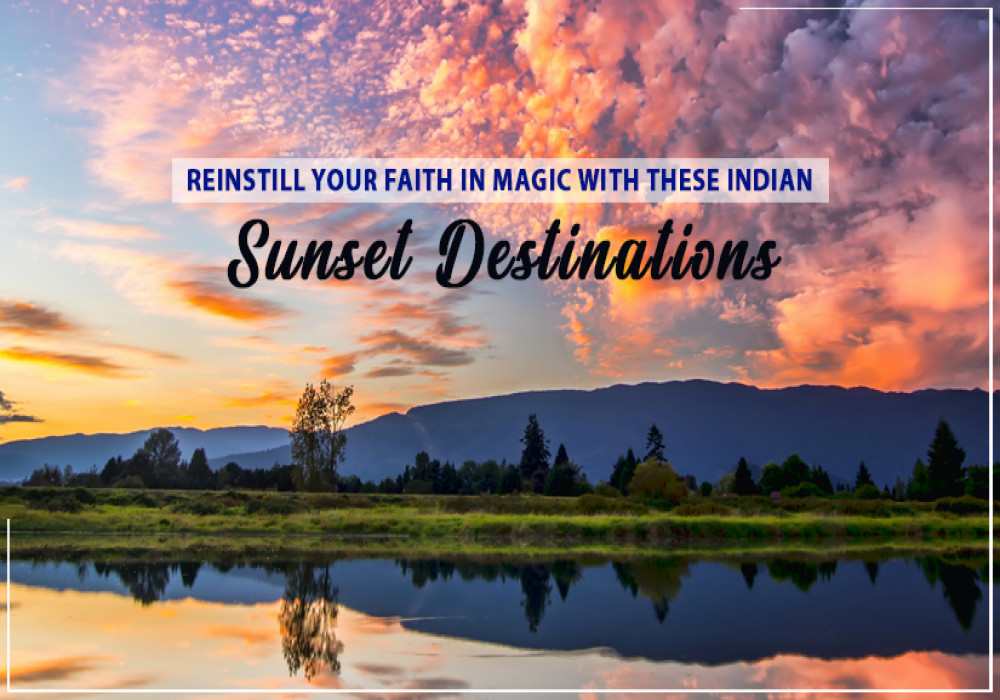 These Top 10 Sunset Destinations in India are Proof that Sublimity is a Real Deal
India is a land that is all about artistic nuances, starry skies, vibrant sunrises, and magical sunsets. It won't be wrong to say that there has always been a mystical side of this country which time and again doesn't fail to charm the tourists from all across the world.
Talking about sunsets, there are a great many places from where you can see some of the most incredible and scenic sunsets unfolding before your eyes.
Watching those hues forming in the clear sky while the giant sun slowly and steadily vanishes from the skyline is quite a magical experience.

10 Best Sunset Points in India
There are just so many spots to view an iconic sunset, we have chosen the best of the lot for you guys. So, without any further ado, let's explore the best sunset destinations in India.
1. The Sunset View Point in Kanyakumari, Tamil Nadu
Watching the sun setting in the infinite sky from the southernmost tip of India, Kanyakumari is a magical experience for anyone.

Every little nuance of that moment, whether it be the glistening reflection of the sun in the unending ocean, the hues forming in the sky, or the warmth of the sun kissing your forehead is just too dreamlike to express in mere words.
To fully know, what we are talking about, you have got to be there in that moment feeling alive and happy.
2. Taj Mahal, Agra
Globally known as the symbol of love, the Taj Mahal is also a favourite destination of many photographers. One of the best shots which any photography lover could take here would be of the sun setting over this iconic monument.

It is as if the whole scene is a blend of capturing the right moments filled with its nuances, emotions, and interplay of shadow and light.
A photo of the Taj Mahal amid the sunset can truly paint one of the most vivid and lasting pictures in your memory.
3. Palolem Beach, Goa