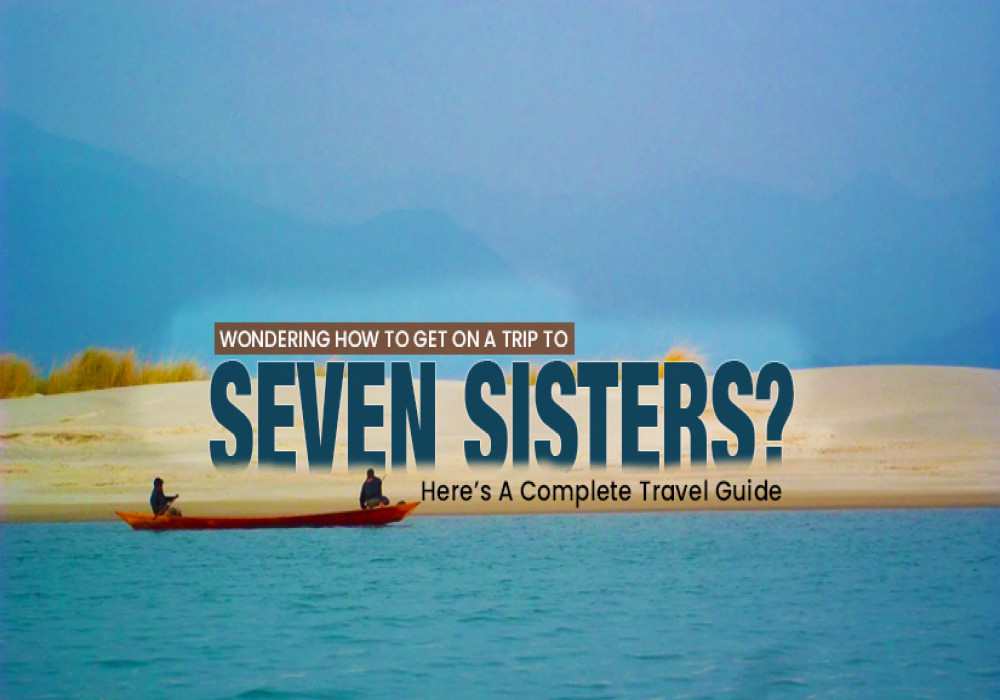 Ultimate Travel Guide To Explore The Seven Sisters of Northeast India
The unending road journeys, the dewdrops of the first rains of the season, the piping hot delicacies, brewing cup of ginger tea, and those adorable moments of shared laughter with your kinda people and yes, how can we forget, waking up to the stunning views of natural vistas is what, in its essence, the Northeast India tourism is all about.
If all this and more is exactly what puts you on a pedestal to kickstart your journey then, trust us, the below-described seven sisters travel guide is everything you will need to plan your trip. And at the end of it, who knows, you might just end up falling in love with Northeast India.
Seven Sisters of India: Best Places to Visit in Northeast India
So, folks, brace yourselves and without any further ado, let's dive into the topic right away.

1. Meghalaya
'Tis an ideal location for travellers to explore, and discover the true picture of Indian tourism. Also popular as the abode of clouds, Meghalaya is one of the most spectacular Indian states where you get to witness everything in loads; right from the cultural festivals to the scrumptious cuisines, a travel trip to Meghalaya just can't get any better. Furthermore, this is also one of the best travel destinations in India, especially if you are a fan of those lovely rainfalls which wet the Earth and mountains and fill the air with a sweet smell of Earthy soil.

If you ever plan a vacay to Meghalaya, then, do consider exploring places like Shillong, Tura, Jowai, Cherrapunji.

Best Time to Visit Meghalaya
You can visit Meghalaya at any time of the year. However, it is suggested to plan your trip between the months of October and June. During this time, the overall temperature and climatic conditions are quite suitable (a mix of cool and pleasantly warm weather) for travelling.
Popular Food of Meghalaya
If visiting Meghalaya, then don't forget to munch on local dishes like Jadoh, Nakham Bitchi, Dohkhlieh, Pumaloi, and yes, of course, Momos.
How to Reach Meghalaya
Deboard at Lokpriya Gopinath Bordoloi International Airport if planning to travel by air. Otherwise, you can also take state-run buses or cabs from nearby regions at affordable prices. If travelling by train, then deboard at Guwahati Railway Station and from there take a cab to further continue your journey.
2. Arunachal Pradesh
It's the tranquil lakes, the unexplored mountains, the monasteries, the stunning valleys which make Arunachal Pradesh an amazing holiday destination to visit in Northeast India. For the ones who consider themselves as wanderers and explorers, Arunachal Pradesh can be just the perfect place to quench your thirst for adventure. Undoubtedly, it is simply one of the best travel getaways to go to if you want to explore the tribal culture combined with the wild beauty of nature.

Ziro Valley, Namdapha National Park, Sela Pass are a few amazing tourist attractions in Arunachal Pradesh worth exploring around.

Best Time to Visit Arunachal Pradesh
The best time to visit Arunachal Pradesh would be the months between March and October. There is a lot that can be explored and done during these months. So, to all the wanderers, travel bloggers, and explorers out there, get set for some nice adventure fun with nature.
Popular Food of Arunachal Pradesh
If craving to taste some delicious meals and also explore the local cuisine, then do consider taking a bite of lip-smacking dishes like Pehak, Apong, Marua, and Chura Sabji.
How to Reach Arunachal Pradesh
If flying to Arunachal Pradesh, then, consider deboarding at either North Lakhimpur's Lilabari Airport or Guwahati's Lokpriya Gopinath Bordoloi International Airport according to your geographical convenience. If planning to travel via train to Arunachal Pradesh, then you can get off at Naharlagun railway station. Otherwise, you can also plan a road trip if staying in nearby regions; state-run buses are available at frequent intervals of time at fairly good price points.
3. Assam
Truly a treasure trove of natural beauty, Assam is all about exploring the diversity that Indian geography has to offer. It's the somewhat untouched aura of this state which attracts travellers to Assam from all over the country. The breath-taking landscapes, tea plantations, and the biodiversity of Assam is really what will win your heart. Manas National Park, Kaziranga National Park, Majuli are some of the most popular travel getaways to visit in Assam.

Best Time to Visit in Assam
The summer and winter seasons are the best time to visit Assam. However, you can avoid the monsoons as you won't be able to explore much with heavy rainfalls taking place.
Popular Food in Assam
The best food of Assam which is absolutely drooling worthy would be Duck Meat Curry, Masor Tenga, Aloo Pitika, Baanhgajor Lagot Kukura.
How to Reach Assam
You can travel to Assam easily via air - deboard at Lokpriya Gopinath Bordoloi International Airport and from there take a cab. You can also plan a trip to Assam via train. For that, you will need to deboard at either Guwahati, Dibrugarh Town, Mariani Junction, or New Tinsukia Junction. For those, who look forward to a sense of adventure, then the best option to reach here would be via roads. From the nearby regions, you can easily book state-run buses at affordable prices or even consider taking your own vehicle.

4. Nagaland
A quaint travel getaway that is also known as the 'Land of Festivals' Nagaland is all about exploring the stellar nature in all its might. The state is a remarkable example of traditions, history, and all things good mixed up well in a colourful concoction. Undoubtedly, a trip to Nagaland will open up a plethora of new possibilities for you.

Do plan a visit here, if you want to know the flavours of India inside out. Mokokchung, Tuensang, Phek are a few great tourist places in Nagaland.

Best Time to Visit Nagaland
The months between March and June would be a good time to visit Nagaland. During these months, the overall weather conditions are pleasant and would present great opportunities for you to kickstart a new chapter of travel in your life.
Popular Food of Nagaland
Some of the most popular dishes of Nagaland which you must taste on your trip are Akibiye, Akini Chokibo, Smoked Pork in Akhuni, Fish in Bamboo.
How to Reach Nagaland
If travelling by air, then deboard at the Dimapur Airport and from there book a cab to reach your destination. You can also consider travelling via train or roadways. If planning to reach Nagaland by train then get off at Dimapur Railway Station. To travel by roads, you can easily book state-run buses as well as private cabs to reach here.
Also Read: Top 10 Things To Do in Madhya Pradesh To Make Your Trip...
5. Tripura