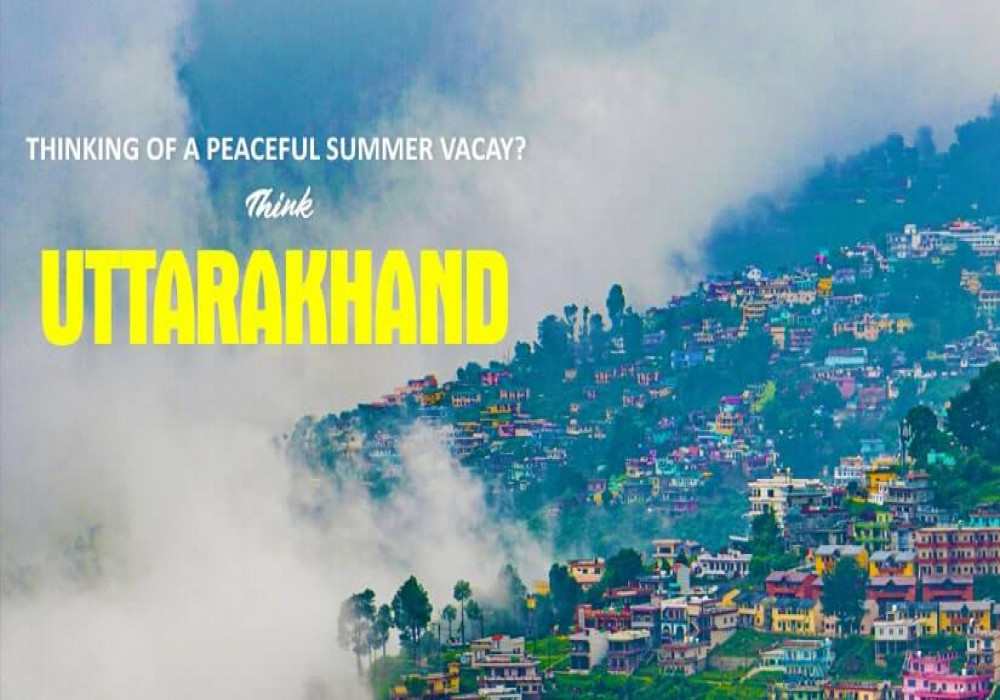 10 Spectacular Tourist Places In Uttarakhand For A Peaceful Summer Vacay
Uttarakhand has emerged as the favorite destination among travelers of all ages. With numerous tourist places in Uttarakhand like the presence of the mighty Himalayas, bugyals, valleys, lakes, caves, forests, and falls, it is a natural target for the tourists to visit for a peaceful summer vacay.
Adorned with the holiest places and lesser-known destinations like Auli, Nag Tibba, Lansdowne, Mount Abbot, Tehri, Chakrata, and many other sleepy hamlets, Uttarakhand draws nature lovers, adventure lovers, and mountaineers every year.
10 Tourist Places In Uttarakhand
Either you are looking for a luxury holiday, a relaxed trip, or just one with mother nature, these tourist places in Uttarakhand are perfect for you. Keep reading to find out where you should spend your summer vacation in Uttarakhand.
1. Rishikesh
Rishikesh is a spiritual paradise and a hippy's safe haven set at the foothills of the lofty Garhwal Himalayas. The Ganges cutting right through the city multiplies the charm. The hilly town is one of the most famous places of Uttarakhand as it boasts acres of forests, lush mountains, stunning riverside promenades, and clear blue skies. Rishikesh has some of the most off-beat experiences to offer like, white water rafting, cliff jumping, kayaking, body surfing, and many more!
Also Read: 3 Day Rishikesh Itinerary - Complete Guide To A Most Memorable Trip
2. Mussoorie
This is where the great writer Ruskin Bond used to live, and we could not better describe this place than him. Mussoorie is the most popular tourist destination in Uttarakhand among all kinds of travelers. Situated at a height of 1900 meters above sea level, Mussoorie was developed as a holiday paradise in the hills by the officers of the ruling East India Company. You can find more than 15 tourist attractions in Mussoorie at your disposal when you are planning to spend a few days in nature.

3. Auli
Located in the Garhwal region, Auli is a hill station that has far stretching meadows that look stunning to the eye. It is one of the most spectacular places to visit in Uttarakhand as it is surrounded by peaks as high as 9,000 meters above sea level and offers stunning views of the surrounding Himalayan mountains; like that of Kamet, Dunagiri, Nanda Devi, and Mana Parvat. Auli is also known as the skiing capital of India; skiers from all over the globe try their skills on the hills of Auli.

4. Kausani
Kausani is a hill station in Uttarakhand that offers an unbeatable view of the Himalayan peaks of Trishul, Nanda Devi, and Panchachuli. Kausani is one of the top destinations in Uttarakhand and a paradise for nature lovers. Spend your days in leisure, wake up with the chirping of the birds, remain enthralled by the grasslands, mountains, and valleys, and enjoy doing nothing at all, just like Bruno Mars.
5. Lansdowne
Lansdowne will take you a step closer to nature as it boasts thick oak forests, mesmerizing hills, and spellbinding views. This hilly destination is surely one of the best places to visit in Uttarakhand during summer. Perched at a height of 1,700 meters above sea level, Lansdowne offers a potpourri of attractions and unforgettable experiences. From exploring the vibrant streets of Lansdowne and walking on the treacherous trails to seeking blessings from the holy shrines, there are many ways by which you can quench your wanderlust in this snow-clogged beauty.
Also Read - Top 34 Family Holiday Places To Visit In India
6. Nag Tibba