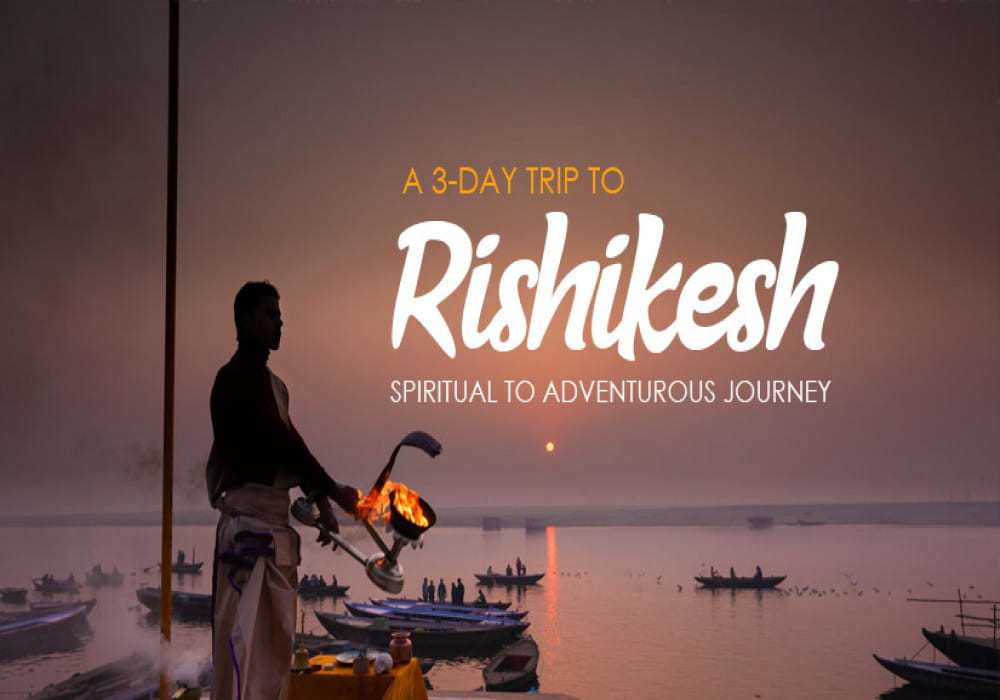 3 Day Rishikesh Itinerary - Complete Guide to A Most Memorable Trip
Are you looking for a rejuvenating trip that offers the best of both worlds – fun and adventure?
If yes, then you should head to Rishikesh, one of the best holiday destinations in India. It is a perfect holiday spot for solace seekers and adventure lovers that plays a significant contribution to Uttarakhand tourism.

You can witness the glorious Ganga aarti, meditate to the calming sound of the river and enjoy adventurous river rafting in Rishikesh.
3-Day Rishikesh Itinerary: Useful Tips, Places To Visit, And Things To Do
A 3-day trip to Rishikesh offers plenty of time to visit the best tourist attractions, explore ashrams, and practice yoga to calm your nerves. Make beautiful memories to cherish for a lifetime with these pointers that are mentioned below. Scroll down!
◉ Day 1
Spend your first day exploring the famous tourist places in Rishikesh like Laxman Jhula, the main market, and cafes that line the riverside. Offer prayers to the almighty at the famous temples of Rishikesh. Calm your soul by visiting some of the ashrams across the town. Sit by the river and admire the beautiful sunset. Attend the evening aarti ceremonies on the bank of the Ganges river and let the night take over.

📍 Lakshman Jhula
It is a famous hanging bridge across the river Ganga that connects two villages – Tapovan in Tehri Garhwal district and Jonk in Pauri Garhwal district. Lakshman Jhula is an iconic landmark and one of the famous places to visit in Rishikesh. This architectural marvel offers a scenic view of the Ganges. According to legends, Lord Lakshman had crossed the river Ganga at this same place where the bridge stands now.

📍 Triveni Ghat
Triveni Ghat in Rishikesh is formed with a congruence of three rivers – Ganga, Yamuna, and Saraswati. It is considered a famous spot for the holy dip in the river. The spiritual aura of this place transports your senses to a different world. Attend the famous Ganga aarti in the evening to envelop your senses in the holy chants, the sight of floating lamps, and the fragrance of flowers.

📍 Beatles Ashram
The Maharishi Mahesh Yogi Ashram, also known as Beatles Ashram, is one of the famous Rishikesh tourist places that will leave you spellbound with its spiritual beauty. The ashram gained popularity between February and April 1968 when the rock band "The Beatles" studied meditation here. This place lures music lovers from all over the world. You can also check out the cool graffiti art and vandalized buildings in the Beatles ashram. Sit back, relax, and meditate to enjoy the tranquillity of this place.

📍 Parmarth Niketan Ashram
Parmarth Niketan Ashram is located on the foothills of the Himalayas along the banks of the Ganges in Rishikesh. Known for its tranquil environment and picturesque location, this ashram is visited by devotees from all over the world. Meditating in this ashram helps pilgrims attain spirituality and get closer to their inner self.

📍 Rishikund
It is a holy pond near Raghunath temple and quite close to Triveni Ghat that attracts many pilgrims every year. The pond receives shadow from large trees nearby and reflects the image of the Raghunath temple. People believe that Lord Rama took a bath in Rishikund when he was exiled.

📍 Tera Manzil Temple
Tera Manzil temple is dedicated to multiple deities and allows you to worship all of them at the same time. The symmetric architecture and holiness fill in the ambiance and make it one of the holy temples in Rishikesh.

◉ Day 2
You can start the second day of your trip with adventure sports that Rishikesh is famous for. River rafting is a popular sports activity in Rishikesh along with bungee jumping, cliff jumping, kayaking, and flying foxes. Camping in Rishikesh is another great adventure to make your stay even more remarkable. And don't forget to head to cool cafes and German bakery shops for yummy delights.
📍 River Rafting
River Rafting in Rishikesh is a pulse-racing experience that will make your trip unforgettable. With the thundering rapids of the Ganges, this daring water sport is a budget-friendly experience that will quench your thirst for adventure.

📍 Bungee Jumping
The venue for Bungee Jumping in Rishikesh is located in Mohanchatti named Jumpin Heights. It is one of India's highest bungee jumping with a height of 83 meters. In this activity, the person jumps off from a tall structure and flies freely in the air before restrained or pulled. It is an adventurous activity that gives the thrill of falling from a great height and recoiling.

📍 Camping
Camping in Rishikesh is a great idea to live amidst nature and capture the beautiful memories in your frame. Gaze at the sky full of stars, sing, and dance around the bonfire, and relish the delicious buffet before you call it a night. Many holiday packages offer camping options in their itinerary. Living in a camp in Rishikesh is something that you must do at least once in a lifetime.

◉ DAY 3
On the third and last day of your Rishikesh trip, you can explore the wonders of nature – waterfalls. There are many enchanting waterfalls in and near Rishikesh that look nothing less than magical. Explore Vashishta Gufa, which is a hidden gem in Rishikesh, Uttarakhand.

📍 Neer Garh Waterfall