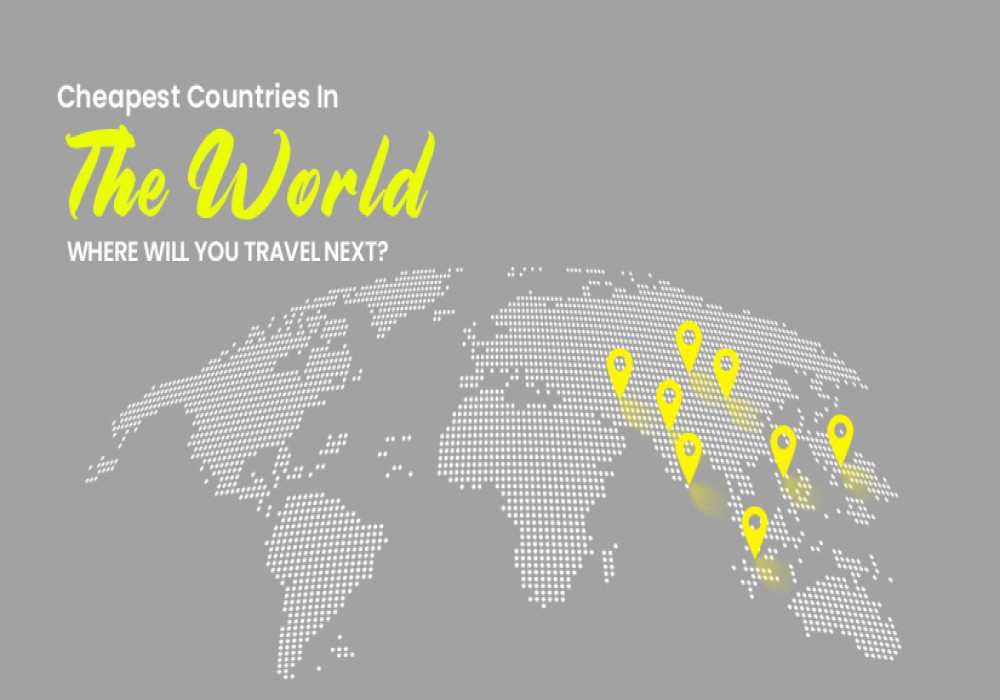 Cheapest Country In The World: 8 Different Travel Experiences In 8 Different Countries
Who says traveling to a distant land is expensive? Nothing is far and beyond budget, if you have your heart set on traveling. There are ways to explore undiscovered places around the globe without spending a fortune. Yes, you read it right! Our list of the cheapest countries in the world will definitely give you major travel goals. Hard to believe? It's possible, albeit. With little research, you can find a cheap place in the world where crashing with a limited budget is quite an experience.
Cheapest Countries In The World
Traveling budget is an art and you are a genius if you know the smart ways of getting the cheapest flight tickets. Now that's a real deal, don't you agree?

1. Cheapest wildlife safari destination: Srilanka, Yala Park
Live out your safari dreams at Yala Park in Srilanka that is considered to be the cheapest country in the world to get an exhilarating wildlife safari experience on a budget. Home to fascinating wildlife which comprises species such as leopards, elephants, monkeys, crocodiles, and myriad birds, nothing will leave you as breathless as seeing these beasts so close for the first time. Yala Park also houses a pristine lake where you can spot denizens quenching thirst. As you maneuver a tad deeper in the dense park, you will also find famous pilgrimage sites, ancient relics of Magul Maha Viharaya, and beautiful caves that are marked with century-old rock paintings which add more fun to the thrilling wildlife adventure.
Places to visit in Srilanka: Colombo, Kandy, Sigiriya, Yala Park, Galle Fort, Adam's Bridge, Nuwara Eliya, Pinnawala Elephant Orphanage, Polonnaruwa Sacred City, Mirrisa, Jaffna
Also Read: 12 Best Places To Visit In Sri Lanka For Tropical Bliss
2. Cheapest country for history buffs: Turkey
Also known as the land of the crescent moon, Turkey was once a quintessential place that boasts the imperial imprints of the Greek, Roman, Byzantine, and Ottoman empires. The heritage affluent country offers a diverse culture along with a rich historical past that is a mystifying discovery. It is one of the budget places in the world that is enriching for history buffs. Dotted with 13 UNESCO World Heritage sites, visiting Turkey for a heritage tour is a delightful proposition. It's the first choice for people with an interest in history, it is the cheapest country in the world where you can witness the spectacular heritage.
Places to visit in Turkey: Istanbul, Cappadocia, Aya Sofya, Blue Mosque, Troy, Trabzon, Antalya, Pamukkale, Ephesus, Spice Markets, Topkapi Palace
3. Cheapest country for a Beach vacation: Vietnam
Boasting a massive coastline of 2000 miles, Vietnam is a haven for beach lovers. Known for its pristine beaches, gushing rivers, Buddhist pagodas, and bustling cities, vibrant nightlife, there are plenty of things to explore in Vietnam which is also the cheapest country in the world when it comes to a memorable beach vacay. Danang Beach in Vietnam is one of the most stunning beaches of the world that offers an incredible view of coral reefs lying in the bed of crystal clear waters and also a plethora of water activities such as scuba diving, surfing, swimming, and sunbathing. Get sun-kissed in Vietnam, won't you?
Places to visit in Vietnam: Halong Bay, Ho Chi Minh City, historic town - Hue, temple ruins at My Son, Phong Nha-Ke Bang National Park, Hanoi, fishing town - Mui Né
4. Cheapest country for a desert holiday: India
India is a land that cradles the rich topography of the land and diverse cultures which adds a unique charm to the desert holiday. It is the cheapest country in the world where you can enjoy a spectacular desert safari without pinching your pocket. Whether it's the shimmering white desert safari experience in stunning Rann of Kutch or vibrant cultural extravaganza in the golden deserts of Rajasthan, India is a perfect place for an incredible desert holiday.
Places to visit in India: Jaisalmer, Rann of Kutch in Gujarat, Pushkar, Jaipur, Bikaner, Ranthambore, Jodhpur
Also Read: Popular Places Worth Exploring In India Before You Die
5. Cheapest country for yoga & wellness: Thailand