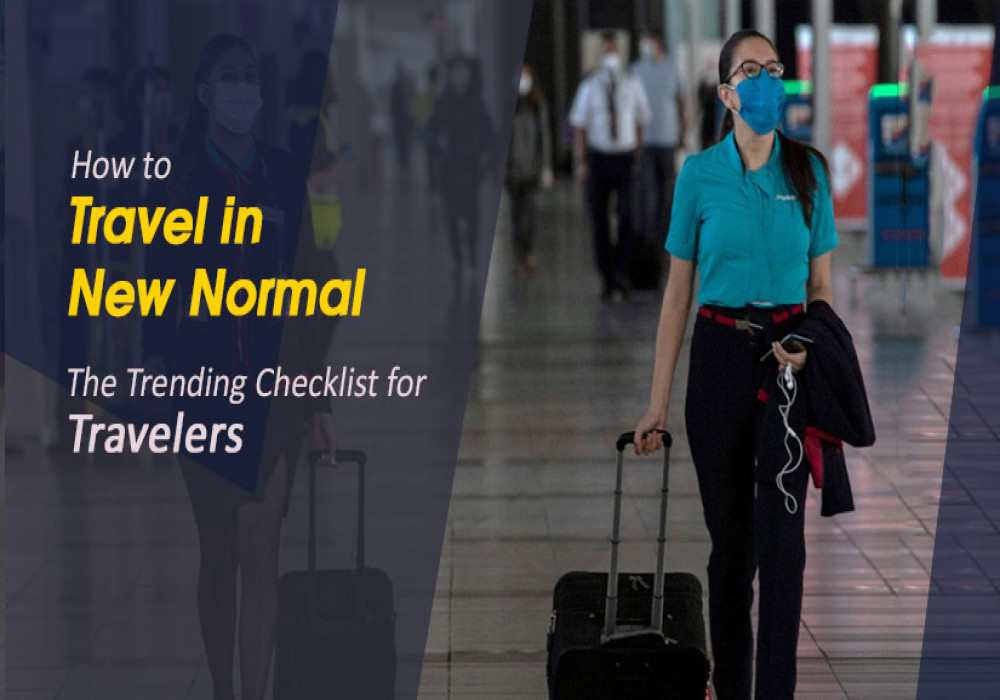 8 Trending Travel Trends of The New Normal
Sans a doubt, this pandemic, COVID-19 has put the travel industry on its knees, however, it's just a phase that has refurbished some Travel Trends and made us more prepared with a checklist that goes in sync with the new normal. Gladly, we have sailed through the rough sea and now we are close to the shore. As the lockdown is lifted, there has been a momentum in travel as well. We are anticipating to be back to normal by following these 8 Trending Travel Trends of 2020. We will see the backpackers hitting back the roads, families getting reunited, we will attend the outstation weddings and birthdays; and yes, we will bounce back with a new normal!
Take note of these newer and safer travel trends that will help you get around to your favorite travel destinations in India that were brimming out of your bucket list.

Social Distancing
Like it's said, a hard time is a good teacher, it definitely has made us acquainted with Social Distancing, a trending term of 2020. How ironic, we now have to distance ourselves to be social. Yes, just tie this around yourself whenever you step out of your house.
Stay 6 feet apart from getting 6 feet below. This indeed is a new normal way of living and sooner we understand, the better it will be. Treat this period as a learning time.
Sanitizer, Mask and Gloves #SMG
Hashtags are ever trending. Adotrip's new invention of hashtag 2020, oops! #2020 for safe travel is #SMG, aka Sanitizer, Mask and Gloves. Yes, you can ditch your expensive ray bans for once but don't step out without #SMG. OMG! SMG is the new travel essentials for each one of us.
We are sure, big labels like GUCCI and LV will set some new fashion trends soon. The models on the ramp would be seen flaunting some trendy gloves and masks and sanitizers would have patent fragrances by the biggies. Be trendy by keeping the basics handy!
Hand Shake Alternatives
Salutations are a great way of greeting and meeting! Here's to 2020 which has set some new greeting trends that would stay for long. Our very desi Namaste and Salaam are acknowledged as the safest greeting trends, globally. By and By! We made it to the top. Indian culture has a lot of science behind it, proven time and again.
Few other handshake alternatives are elbow shake and foot shake, weird but we gotta way. Remember Namaste, Salaam, Elbow Shake, Foot Shake But No Hand Shake! And to add a lil oomph, blow some kisses. Ace it like a celebrity, you are no less, albeit.
Every Touch Matters
We all have a habit of touching fences, railings, banisters while using escalators, stairs and even lifts. We lean against the poles, some walls and get in touch with many unidentified germs heedlessly. We travel in public transport and we put our hands in oblivion on so many objects that might be contaminated by strangers.
This may sound a tad cynical but be extra aware and cautious as you step out because every touch matters. Being mindful of what you are touching is the must-remember Travel Mantra 2020 to keep you safe from the deadly viruses.
Indispensable Aarogya Setu App

It is mandatory for passengers to download the Aarogya Setu App on their mobile phones before commencing their journey, says the Ministry of India. Passengers who do not have the app installed on their mobile phones might be asked to do so after their arrival at the station or at the airport.
Aarogya Setu App helps you track your health report according to places that you have been frequently visiting. It's a kind of health record that's pretty handy and it can help you travel fret free. Now that's what our PM was dreaming, a true Digital India. Technology and Travel will now go hand in hand!
Travel Light
The latest norms of baggage limitations, web check-in and printable baggage tags that are imposed by the airlines have made it mandatory for all the travelers to pack mindfully. To avoid the unnecessary contact of our suitcases with stranger's baggage, travelers will have to stick to carry-ons and backpacks; the bare minimum, precisely.
The bare minimum luggage not only would save you from the indirect contact but also will help you travel light, less weight is more freedom, remember this. Self-safety is a new way of living, like it is said, 'carefulness costs you nothing'. New Covid-19 tourism policies have embedded safety as our first priority to move on in a new normal lifestyle. Live Light, Travel Light, Stay Light!
A Boom in Domestic Travel
Nothing can dilute the true spirit of a traveler, a small drive to your favorite weekend getaway or any family holiday destination nearby is as delightful as traveling overseas. For folks who have not traveled their own country, this indeed is a good time when you can en route to safe havens within domestic fringes.