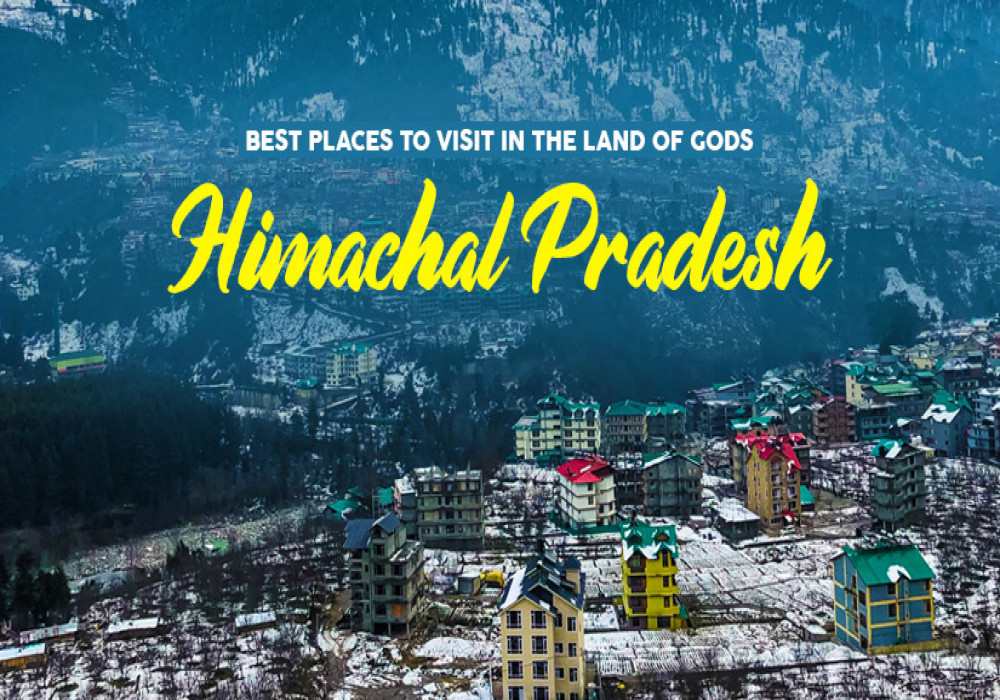 12 Beautiful Places To Visit In Himachal Pradesh For Best Hill Vacation
One of the most stunning hill states of India, Himachal Pradesh is no less than a paradise. Dotted with verdant meadows, revered shrines, snow-covered mountains, gushing rivers, beautiful orchards, architectural marvels, colorful monasteries; there are innumerable breathtaking places to visit in Himachal Pradesh.
Also known as the 'Land of the Gods', the beautiful temples of Himachal Pradesh are a significant highlight for State Tourism. So if you are looking for a romantic holiday or an action-packed holiday or seeking nirvana, Himachal Pradesh is the place that has everything to satisfy your travel lust.

Top 12 Places To Visit In Himachal Pradesh
Replete with beauty at every corner, it was indeed challenging to pick a few tourist places in Himachal Pradesh. Here are our handpicked choices, take a look!
1. Shimla
Shimla certainly is the first name that comes to mind when we talk about famous places to visit in Himachal Pradesh. Owing to many natural wonders and adventure activities, this hill station in Himachal Pradesh has gained immense popularity amongst tourists. Once the summer capital of Britishers, there are plenty of beautiful heritage buildings near Mall road that can be explored. Jakhoo Temple, Tara Devi Temple, Mansa Devi Temple are some of the famous temples of Shimla that add extra charm to this quintessential tourist place of Himachal Pradesh.
Best time to visit Shimla: January to June
2. Manali
Famous as a resort town, Manali is another marvel studded in Himachal Pradesh tourism which attracts tourists from all over the world for its scenic beauty and hippie culture. Widely known for stunning river Beas and snow-clad Rohtang and a plethora of adventure activities, this place in Himachal Pradesh is a paradise for adventure enthusiasts and trekkers. Other attractions of Manali are picture-perfect backdrops, rustic villages, sprawling meadows, Jogni waterfall, Manu Temple, and Mall Road.

Best time to visit Manali: March to June
3. Dharamshala
The holy residence of the exiled Tibetan monk Dalai Lama, Dharamshala is called the Little Lhasa of India. Rich in natural beauty and famous for its vibrant Tibetan culture, this quaint hill station of Himachal Pradesh has tranquil vibes that soothe the mind of travelers. Also known for spirituality, this serene place to visit in Himachal Pradesh is perfect for meditation and connecting to the innermost self.

Best time to visit Dharamshala: March to mid-July
4. McleodGanj
Being in close proximity to Dharamshala, McleodGanj is yet another spiritual destination in Himachal Pradesh that is widely visited by spiritual seekers. This tourist place near Dharamshala is a spiritual getaway and pilgrimage site for the Buddhists as it is an abode of the Tibetan community and monks. Lying in the lap of the Dhauladhar range, McleodGanj is blessed with a beautiful landscape which is definitely why it is the most preferred hill station in Himachal Pradesh.
Best time to visit McleodGanj: March to June
5. Chamba