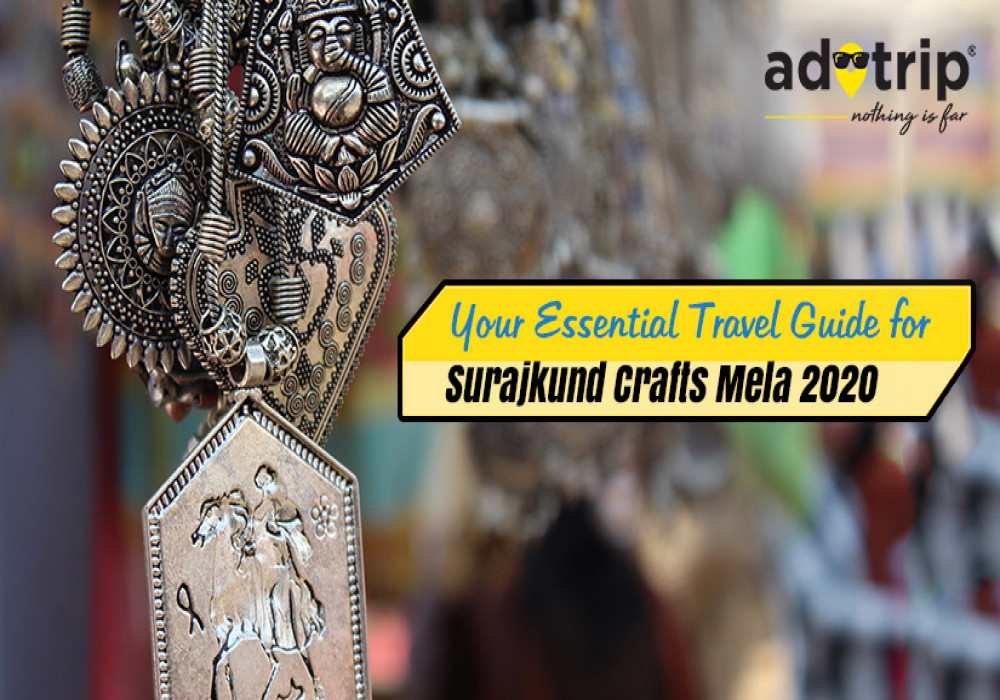 Ahead of Visiting Surajkund Crafts Mela 2020, Check out Some Lesser-known Details of the Do
Being one of the oldest civilizations in the world, India is known for its rich heritage and traditional significance. What makes it unique is the people here who don't just speak, dress, and eat differently but practice different beliefs as well.
However, the beauty of it all is that we are still one as a nation. And it is this diversity of our culture that Surajkund Fair portrays perfectly every year and it was to witness the same, that me and my friends decided to visit Surajkund International Crafts Mela.
For our entire group, 4th February 2020 wasn't just another chilly day, as we were all quite excited and the reason for this welling-up curiosity was our visit to the carnival.
Although I used to hear all good things about this carnival in the past, I never had a chance to get first-hand experience until now but after my visit, I can easily say that nowhere else in the world would you find such a vivid melange of cultural bliss.
If you are someone who is looking for authentic, rustic and traditional Indian feels, then trust me, Surajkund International Crafts Mela in Faridabad is the place to be at!

Some Key Points to Know Before Your Visit to Surajkund Crafts Fair 2020
Check out the key takeaways of the mela you should make a note of, beforehand.
If you are taking your own vehicle then the parking fare would cost you Rs.100. Including the parking area, the Mela ground has been divided into a total of 7 zones which are further divided into stalls, ATMs, public washrooms, management areas, and dispensaries.
There are a total of three entry gates i.e. Gate 1, Gate 2, Gate 3 at the mela. They have been named Shekhawati, Jharkhand/Kerala Gate and Dhanteshwari/TRC gate respectively.
There are more than 1,000 stalls within the mela thus, it might not be possible for you to cover it all in a single day. So, ensure that you make a plan of the stalls you want to visit first.
If you live in Delhi then you can plan on visiting this traditional crafts fair either by your personal vehicle or a means of public transport.

One of the best ways to commute would be via Delhi metro. The best option would be to deboard at Tughlaqabad Metro Station, falling under the violet line, and then exiting from gate number 1. As you come out of the station, you can easily find an auto-rickshaw that would cost you between Rs. 90 and 100. Reaching the Mela ground from the station will take you around 15-20 minutes.
The closest railway station is the Faridabad Railway Station and the nearest bus stand is the Surajkund bus stand.
For women, it is highly recommended to wear flats, especially sport shoes or sneakers, as you would be required to walk a lot.
Apart from Uzbekistan, about 40 countries like Zimbabwe, Armenia, Egypt, South Africa, and others are participating in the fair this year.
As for the tickets, you can either book them online or purchase them on the spot.
Weekday Ticket Prices
Open category - Rs.120
Senior citizens - Rs.60
Differently-abled people - Rs.60
Defence personnals - Rs.60
Ex-serviceman - Rs.60
However, on the weekends, the prices are comparatively high. This is perhaps due to the humongous footfall the Fair witnesses during Saturdays and Sundays.
Weekend Ticket Prices
Open category - Rs.180
Senior citizens - Rs.90
Differently-abled people - Rs.90
Defence personnals - Rs.90
Ex-serviceman - Rs.90
Surajkund Pricing for Students, Widows and Freedom Fighters
Students with valid identity cards will have to shell out Rs.60 on weekdays. On weekends, they will have to pay Rs.180 like others.
Also Read: 7 Interesting & Entertaining Places To Visit In Pune On...
School students in groups who have a written recommendation from the principal would get tickets for Rs.60 and for Rs.180 on weekends.
On the other hand, for freedom fighters and war widows with valid identity proof, the entry to Surajkund International Crafts Mela is completely free.

Must-Visit Places in the Fair
After the ticket prices, come the places within the fair that you ought to visit. Here are the hot-spots of the mela.
Choupal
Mini Choupal
Natya Shala
Apna Ghar of Haryana
Apna Ghar of Theme State
Multi-Cuisine Haveli
Main Food Court
Design Gallery Complex
A Few Thoughts on Entering the Surajkund Fair
While entering the fair, you can almost feel that what you are about to explore is going to be entirely different from other fairs and events.
We entered from Gate no. 1 and as you step inside, you come across the replicas of traditional Indian architectural designs that are inclusive of temples, forts from all over India.
As Himachal Pradesh is the theme state of 2020, you will be coming across innumerable banners and hoardings stating Unforgettable Himachal Pradesh.
The aisle of different stalls belonging to different states began right at the entry point. The high ceiling decorative drapes and the hanging umbrellas added up to the beautiful ambiance of the carnival on which travelers from abroad were crushing over. In fact, we could see people using them as a colourful background for clicking their pictures as well.
Nevertheless, as we moved ahead, we came across the traditional paintings on the walls which looked very interesting to me.
Our Meeting With The Incredible Artists