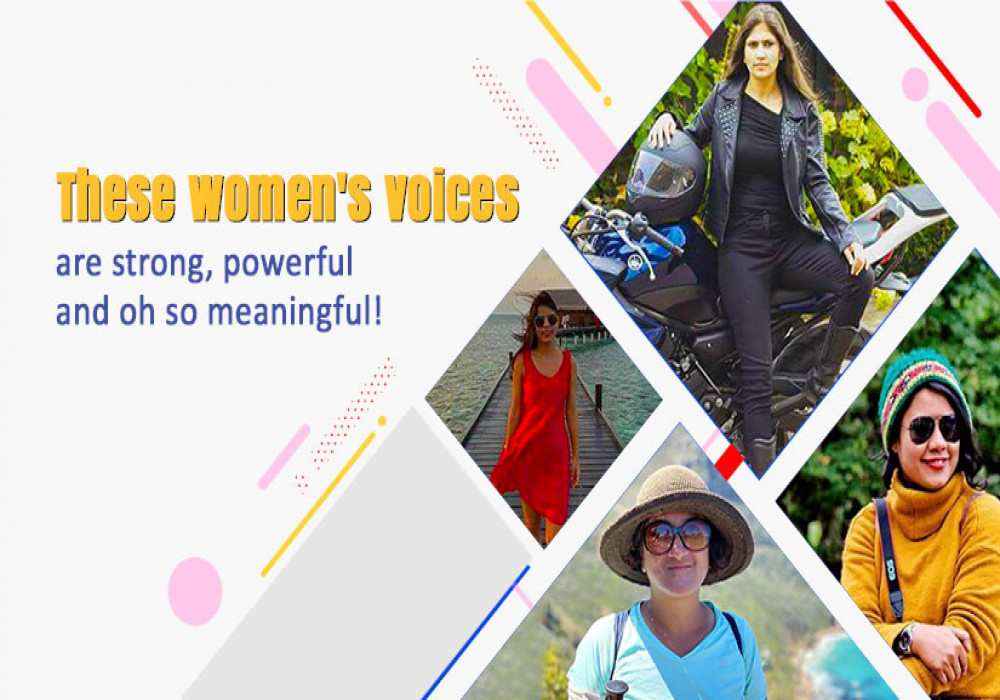 Women Travel Bloggers in India who Captured the World in Stories!
Beautiful travel stories are not found in the destination but in the journey. These women bloggers look at the challenge in the eye and give it a wink. They simply do things that they really want. Approval, Neah! They need none. Here's to these strong women making more women strong not only in India but worldwide. Adotrip brings you the travel stories of these influential women who defied societal norms and made strong impressions in our minds. To experience the Best Travel Stories, don't just listen to what they say, go see!

Shivya Nath: The Shooting Star
Some women fear the fire, some women simply become it, Shivya Nath is this fierce girl who is bigger and brighter than just a girl who travels. She is a writer, photographer, storyteller, digital nomad, social entrepreneur, solo traveler, environmentalist; a shooting star- the one if we spot can make our wish come true. The girl, so young is an inspiration -a rage already for the women who have dreams but are restricted to a confined world because they dread to step out. Unrestricted to women, she also has garnered a huge number of male fan followers on her social media handles.

At the age of 23, she gave up on her corporate job in Singapore to chase her passion for travelling around the globe. She never looked back, thereafter gathering experiences by living a nomadic life. In 2013, she sold all her possessions including her home to embrace unpredictable life on the road. Very few have the courage to take a hefty risk. The boss woman didn't stop here, she turned vegan in 2015 and had set another milestone to overhaul her complete lifestyle. You can find her odyssey in a book written by her- The Shooting Star which was published in 2015 and became the best seller in a month's time. It's still in the fourth print as it's amongst the most sought after books for people who are embarking on the travel journey. In 2019 she launched The Shooting Star Collection -a sustainable travel clothing line that helps her in raising funds to grow forests in Uttarakhand.
She has done a solo land journey from Thailand to India via Myanmar and then again from the Persian Gulf via Iran to Armenia. She is a rolling stone who has endured the extremes, from dwelling with the community in Guatemala to making her way in a nunnery in Ladakh, she has experienced it all. She has volunteered at a coral reef restoration project in Cuba and is now raising funds to grow forests in India. All this action, she has packed in her backpack is enough a proof that this girl is extra and then a little more extraordinary. She has been featured by the Washington Post, awarded silver at TBC Asia Awards, quoted on Times of India, featured on the cover of National Geographic Traveller Magazine and BBC Travel, voted as the Best Travel Blogger by Vogue and the list is endless. I really cannot imagine someone being so flawless, the girl with conviction is a pride of our country. Salute to her!

In her book she has written, "I rummaged desperately but I couldn't find her. And what did it matter? I might be the same flesh, but I wasn't her." Such a profound thought that touched to the core. She definitely knows, we all get one chance to live and we must make it worthwhile. Kudos to you!
Roshini Sharma: The First Indian Woman Biker to Ride Solo from Kanyakumari to Kashmir.
Some girls need wings to fly and here is this one girl who only needs her Motorbike to reach the seventh heaven. Roshini Sharma, an Engineer by profession and a Biker by passion, she is the First Indian Woman Biker who had the nerve to ride solo from Kanyakumari to Leh, covering 11 states in just about 14 days. We are proud of having such women in India who have the mettle to break the stereotypes by re-establishing individuality over gender. Salute to her dauntless courage!

She is a small-town girl who grew up in Narora, Uttar Pradesh. It was from her father, she learned to ride a motorbike when she was merely 16. However, it was difficult to convince her parents for this trip, they were quite apprehensive. It was a task to convince them but like it is said: "where there is a will, there is a way." With her persistence and allegiance with her dream, she managed to pave her way. 5000 km on a bike all by herself sounds utopic, however, this enduring journey required 8 months of brain train, besides practicing for fitness and discipline in food. Roshini knew it very clearly in her head that she has to be physically hard as nails.
On 28th June'14 riding pillion with her dream and determination, she embarked on an audacious sojourn. She started from Kanyakumari and reached Bangalore then to Hyderabad to Adilabad to Jhansi-Agra-Delhi-Manali-Sarchu to Leh. Then back from Srinagar to Jammu to Panipat-Delhi, finally driving down to her hometown in Narora by 7th July'14. She rode almost 1000 km in a day and relaxed only during the nights. Easy said than done, the tenacious UP girl faced some perilous terrains and formidable passes which were covered with thick snow in the Himalayas. The serpentine mountain tracks, vulnerable glaciers, bumpy roads that she covered were never easy and there was a time when she knew there was no way backward. It was only with her strong will power that she could trample the fears under her feet.

She feels India is absolutely safe and people are helpful. In fact, when she fell off some 6 to 7 times on the entire trip, people helped her all through. She felt overwhelmed with the positive response they gave her and were intimidated to know that she was doing this solo. She added, finding accommodation for the night was all swift and she didn't face much trouble. She not only gathered courage but also accumulated these priceless moments of pride which she cannot barter with anything in life.
She says "riding is a craft and no amount of explanation can take the place of experience." The thrill of speed is better known when you are a motorcyclist. So if girls want to have all the fun then they must ride on their motorbike to a distant land and discover not just the beauty in nature but the beauty within. She has a new dream now, to measure the length and breadth of the United States on her motorbike. Sparkplug, isn't she?
Archana Singh: Travel See Write
Be a fearless woman. Don't hesitate to chase after the things that set your soul on fire. That is what Archana Singh had in mind when she chose a digital nomadic life over her high-flying corporate life. She has worked with Starcom MediaVest Group as Connections Director on the entire Coca Cola portfolio in the Philippines. She comes from an Army background and has been a rolling stone all through her life. Traveling is something that didn't strike her in one moment, she being a hostel kid was always the one who used to plan trips for her friends back then. However, giving up on her job and getting full time into it was something she was oblivious about. Does this seem a complete paradox of how someone can swap a stable life with life on thin ice? There is so much to learn from this creative mind who has established a bandwagon for folks to follow.
It was in August 2014 during her trip to Ladakh when a story was waiting for her. It started with ticking Ladakh from her long time bucket list. With all her friends backing off she couldn't resist her desire and made arrangements with some travel planner. Completely relying on him, she packed her bags and was off for her trip. She landed in Manali and there the trip organizer made impromptu changes. He shifted the landing from Ladakh to Chandratal. She was asked to join the group or to be on her own and in both the cases her fully paid trip stood jeopardized. It was pouring cats and dogs and she was in this mad rush because it was difficult spacing 15 days from work. Standing in a fix, wondering if she was lucky to get 15 days off or was it her hard luck for not making it to Ladakh? Stiff-necked, she decided to head towards Ladakh, having known nothing of the place. This being her life-defining moment, she not only discovered pristine landscapes but also souls who touched her profoundly. Locals were warm and humble and she had these splendid days to herself. After she came back her friend suggested documenting the whole incident with a concern to spread awareness. Pouring all her heart and soul in the blog, she published it. In no time it reached the masses, she reaped a positive response. From this point, the journey of documenting her solo travel stories began and her fan numbers kept soaring.