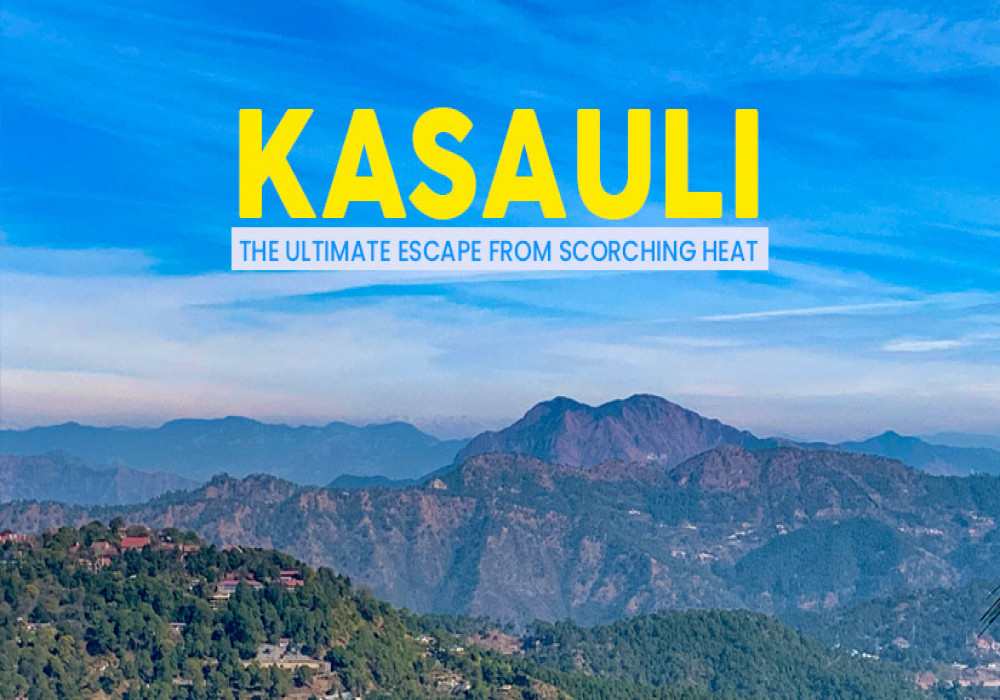 10 Mind Blowing Places To Visit In Kasauli For A Quick Escape From Scorching Summer
Love watching gorgeous sunsets while swinging in the lap of nature? Love walking on trails that lead to heaven? If yes, then Kasauli in Himachal Pradesh is the place for you. And don't worry about the itinerary because we have created a super list of the best places to visit in Kasauli on your next weekend getaway.
10 Amazing Places To Visit In Kasauli You Should Explore
Kasauli is a quaint little town nestled in the Solan district of Himachal Pradesh. The soul-satisfying attractions and mindblowing experiences draw thousands of travelers to this town every year. Know what all you should discover in Kasauli.

1. Gilbert Trail
One of the most beautiful Kasauli tourist places to explore, Gilbert Trail is a paradise for nature lovers. The 1.5 kilometers long stoned trail is surrounded by lush greenery which begins from Lover's Lane and leads you straight into the lap of nature. Apart from the natural beauty, this place is perfect for birdwatching that will surely delight the avifauna admirer in you.
2. Sunset Point
As the name suggests, this one of the best places to visit around Kasauli is popular for the spectacular sunset views. Sunset Point in Kasauli is the best place for photography, nature walks, and adventures. The point is located on hilly terrain and is surrounded by absolute calmness and beauty. The best part of Sunset Point is the swing installed here, on which you can sit and enjoy a glorious sunset.
3. Manki Point
No matter what places you visit, Kasauli sightseeing would be incomplete without visiting the Manki Point. It is one of the most popular attractions in Kasauli that is a must-visit for every traveler visiting Kasauli. Manki Point is not just a great place to spot monkeys, it is actually the highest point in the region and air force station's space to store arms and ammunition. The cherry on top of the cake is the unbeatable view from here. The Hanuman Temple situated on top of the hill is believed to be the resting point of Lord Hanuman while he was carrying Sanjivni Booti.
4. Christ Church
Of all the places near Kasauli to visit, make sure you include Christ Church in your itinerary. It is the oldest church in Himachal Pradesh that is a historical landmark and situated near the mall road of Kasauli. Its gothic architecture and cemetery around it will leave you in awe.
Also Read: 12 Beautiful Places To Visit In Himachal Pradesh

5. Sunrise Point
Yes, Kasauli has a sunrise point and a sunset point. This famous Kasauli tourist place ensures that its visitors have an impeccable start to their day. Located at the lower mall area, Sunrise Point was once known as the Hawa Ghar. This place is best for both, capture a breathtaking view of the sunrise early in the morning and clicking some mindboggling pictures during the evening. No doubt it is one of the top attractions in Kasauli.
6. Gurkha Fort
Gurkha Fort is one of the most unexplored places near Kasauli that every history buff should explore. It is located in the town of Subathu at the uphills of the Parwanoo region. The fort is adorned with ancient frescoes on its walls and is home to 180 years old canons that were used during the Gurkha Wars. Fort is a perfect place to discover for both, nature lovers and history buffs, as it is surrounded by lush greenery and history lessons.
7. The Mall Road