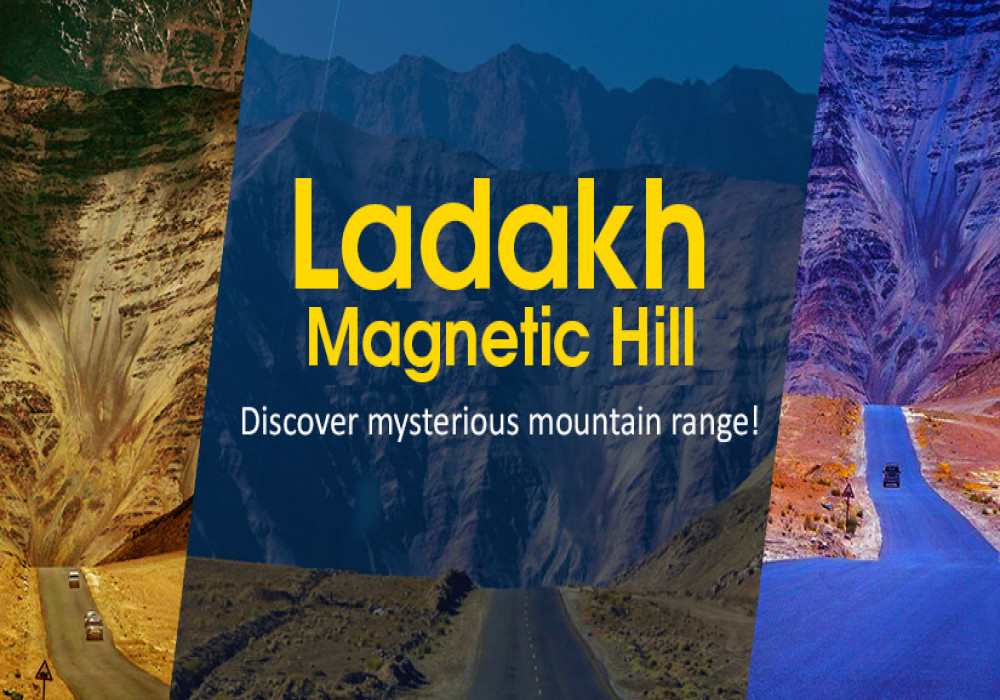 Magnetic Hill: The beautiful but Strange Natural Wonder of Ladakh
Who doesn't wish to have real-life experience in heaven? The truth is undeniable that there are numerous options for holiday places in India, and many of you must have covered almost all of them, but have you ever planned on visiting the Magnetic Hills of Ladakh, that is picturesque and strange at the same time? It defies the law of gravity and the details of this place would simply leave you mesmerized, you bet.
Ladakh - The Land of Monks
The first thing that comes to our mind while planning a holiday to get a break from hectic and chaotic urban lifestyle is to plan a trip that takes us to a place as beautiful and serene as the Magnetic Hill, that gives peace to our body and soul.
Ladakh tourism does that job by introducing you to the whole new magical world where you can rejuvenate your mind, body, and soul. Ladakh is very popularly known as the coldest desert in the world too. Although it is located in Jammu and Kashmir, the high Himalayan ranges diversify itself from Kashmir.
Ladakh tourism plays a significant and vital role in reviving its economy by very efficiently branding and marketing the best places to visit in Ladakh at the global level. Ladakh has serene beauty and landscapes also it has been trending among adventure lovers who enjoy river rafting, skiing, paragliding, and mountaineering.
This beauty is not only the place of beautiful hill ranges but also a colourful land, home to monasteries with stunning colour combinations. In Ladakh, Buddhist monasteries can be seen all over this place. Ladakh tourist places have a lot more to offer than a barren landscape like Leh-palace.
Magnetic Hills - An Illusion or the Reality?
Magnetic Hill of Ladakh, located on Leh-Kargil highway which is 30km away from the Leh city, is also known to be a zero-gravity place. The reason why it is so famous with the name or title of Magnetic Hills is because two prevalent theories back it. One approach that is quite sensible and logical is that it has magnetic waves that attract every vehicle passing nearby its range. This one is very largely believed as it has been experimented and tested by many famous travellers around the globe.
Though there is no solid proof to these magnetic waves, one story that is viral is that once these mysterious hill ranges in Ladakh, apparently, made Indian Air Force change the route of their planes to avoid magnetic waves of hills, which could have disturbed their journey.
Bike ride or car drive both can give you the heavenly experience of the Magnetic Hills of Ladakh. But if you are a real adventure lover, then bike riding will surely give you the wonderland experience, and magnetic hills seem to be a whole new world of fantasy land.
Another theory, known as the Optical Illusion Theory, states that it's just an illusion as we see upward going vehicles going downwards and vice versa. There is no such thing as magnetic waves coming into the picture. Another popular name of this hill is Gravity Hills. Also, local people believe that this road leads to heaven in real.
Different theories suggest different reasons why Magnetic Hill is the way it is, which is why we recommend you to personally visit this place to unleash the truth and enjoy a trip to heaven on Earth. The best time to visit Ladakh is between July and September.