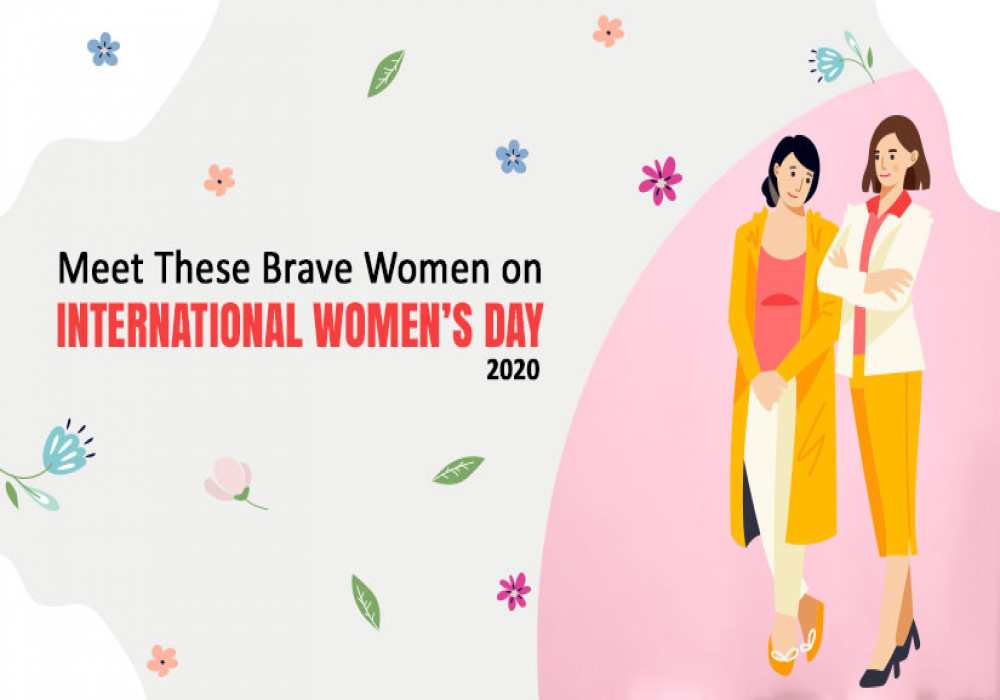 International Women's Day 2021: 10 Daughters of India Prove if You have Tenacity, Nothing is Far
A daughter, a mother, a sister, a girlfriend, a lover, a wife, a working professional, and whatnot! A woman has so many layers to her. In fact, to be honest, every woman is every time, much more than what meets the eye and that is why they are not just respected but celebrated too.
International Women's Day is just around the corner. A day that celebrates womanhood in all its glory and that is exactly what we too are going to do today.
We have come up with a list of the famous women in India who made the country proud and proved that women are no less than men, no matter what the field is.
10 Proud Daughters Of India
So, meet these 10 proud daughters of India who will definitely make you stand up and give a bow! Scroll down for the details.
1. Tania Shergill
On January 15, 2020, Tania Shergill became a household name and one of the most successful women in India. The 26-year-old, holding a sword in one hand and wearing a khaki uniform, led an all-man contingent on Army Day, becoming the first woman parade adjutant to lead an all-men squadron.
The braveheart is a fourth-generation army officer and she has often stated that she wanted to enter Fauj since childhood. Tania has not just made India proud but also reinstalled our faith in the fact that women are no less than any man.
2. Saina Nehwal
The athlete, in 2012, created history by becoming the first Indian woman to bag an Olympic medal for badminton. She received a bronze medal in the London Olympics on August 4 of 2012. Apart from that, Saina also won the Super Series Tournament and World Junior Badminton Championship, making her the first Indian to win them.
3. Gunjan Saxena
On the list of Indian famous women, Gunjan Saxena would definitely make it to the top 5 courtesy of her work for the country that showcased her bravery like no other. Her story is so inspiring that even a movie is being made on her named Gunjan Saxena: The Kargil Girl, which will be headlined by Janhvi Kapoor.
During the Kargil War of 1999, the then-flight lieutenant Gunjan Saxena ventured into the war zone to save several Indian soldiers and became the first female IFS officer to go in a war zone. She was later honored with the Shaurya Vir Award as well and came to be known as Kargil Girl.
4. PT Usha
The former sprinter is an icon, to say the least, and even after her humble beginnings, she made it big and became a role model for millions of girls. In 1980, Usha started her career in Moscow Olympic Games, being the youngest Indian sprinter at the age of 16.
Although the MOG didn't prove to be lucky for her, at the Pakistan Open National Meet, she won 4 golds, bringing much pride to India. Her extraordinary victories have garnered her much love, attention, Arjuna Award and Padma Shri.
5. Priyanka Chopra
Whenever successful women's names in India are discussed, Priyanka Chopra's name ought to be there now and forever. The 37-year-old made India proud for the first time in 2000 when she brought home the much-coveted Miss World title.
While she kept making the country proud in some way or the other, the next big move of hers that highlighted India's name on the global map, even more, was playing the lead in Quantico. With being the leader of the show, she also became the first Indian and Asian to headline an American show. Certainly, ain't nobody like this Desi Girl!
6. Surekha Yadav
She made every woman proud in 1988 when she became the first female driver of a passenger train, making way for other women to take inspiration and follow her footsteps too. Surekha's initial days were difficult as her parents were farmers but difficulties couldn't stop her and she completed a diploma course in electrical engineering.
Soon after this, she casually filled a form for the opening of assistant drivers in Indian Railways. Although she passed the exam, one thing that she couldn't stop pondering over was that she was the only woman who appeared for the written and viva test. The way she became India's first female railway driver from just a villager, is not just commendable but truly inspirational too.
7. Hima Das
From a small-town girl to a national hero, Hima definitely has come a long way. 2 years ago, at the age of 18, she won a gold medal at the 400-meter final Athletics Junior World Championships, making her the first Indian woman to do so.
Hailing from the family of rice farmers of the Nagaon district of Assam, Hima used to practice in the rice field of his father and could do professional practicing just for a year after which she went for the Commonwealth Games. Proving your mettle even with minimum resources available – if this is not heroic, we wonder what is.
8. Neerja Bhanot
She needs no recognition as the simplest way to describe her is a fearless young woman who was the youngest to bag the Highest Gallantry Award of India for bravery. On September 5, 1986, this 22-year-old lady, who was a flight attendant on a plane that was hijacked, took a bullet from a terrorist to save a child.
Although she passed away during that time, her family was honored on her behalf with an Ashoka Chakra Award. She not just became the youngest to receive it but also the first woman who bagged it. In 2016, a film was also made on her which saw Sonam Kapoor in the titular character. The film proved to be a super hit and one of the biggest blockbusters of the actress's career.
9. Arunima Sinha