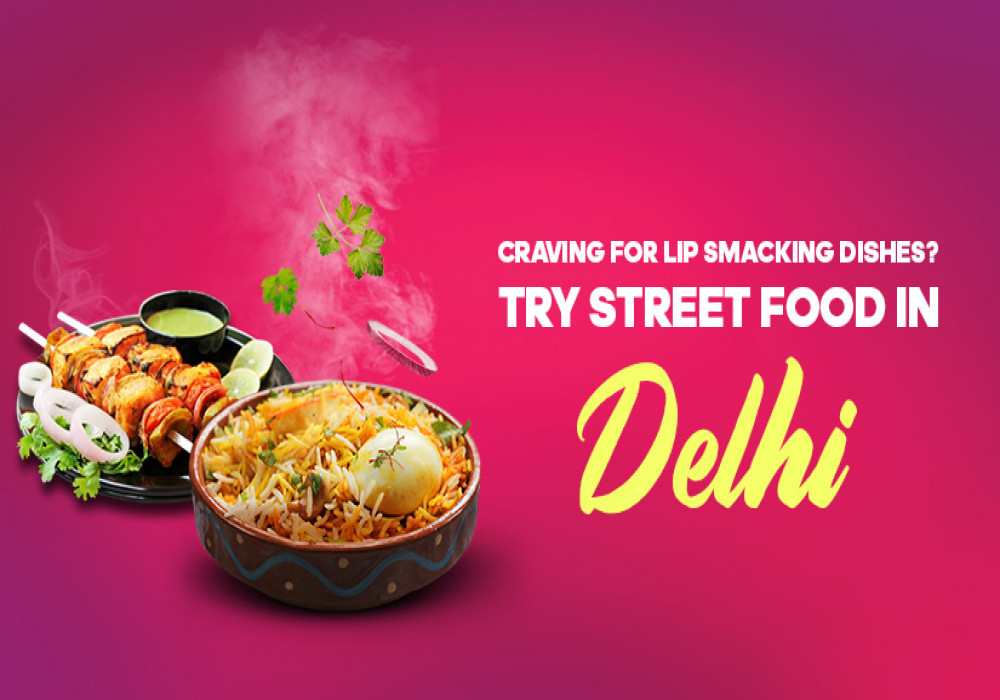 15 Famous Street Food In Delhi That Will Tantalize Your Taste Buds
The capital city, Delhi is indeed an exciting place for heritage lovers, shoppers, and of course the food connoisseurs. With its lineage from Afghan and Mughal dynasties, the city offers a scrumptious platter of culinary delights and gourmet delicacies which are a part of the Delhi Street Food Menu for centuries now.
The storming street food assortment of Delhi promises a fine blend of rich aroma, succulent flavors, and vibrant hues that can leave anyone drooling. Also, know the best places for street food in Delhi to satiate your cravings. Devouring delectable dishes is another form of gratification, isn't it?
15 Must-Try Street Food In Delhi For Best Culinary Experience
From luscious finger snacks to sweet savories, here are our recommendations of the best street food to try when you are in Delhi.

1. Gol Gappe
Every corner of Delhi is filled with vendors that offer lip-smacking variants of Gol Gappas. Spicy water-filled in semolina puchkas is absolutely worth trying. Treat yourself with super fiery golgappas and don't forget to ask for a dahi puchka to quench the tingling spiciness in your throat.

Famous Joints: Markets of Chandni Chowk, CR Park, Rajouri Garden, Lajpat Nagar Market, UPS Bhawan have some of the best joints to try Gol Gappas.
2. Chole Bhature
One of the best and filling street food options in Delhi is Chole bhature. Fluffy bhaturas and spicy chanas with onion rings, chutney, and pickle as a condiment are absolutely delicious. This iconic dish of North India is worth trying to satiate the spicy craving.
Famous Joints: Some of the famous joints to try in Delhi are Giani's di Hatti in Chandni Chowk, Roshan's at Karol Bagh, Sita Ram at Paharganj, Nand ke Chole Bhature in Sadar Bazaar, Baba Nagpal Corner in Lajpat Nagar, and Chache di Hatti in DU
3. Fire Paan
Have you ever imagined something like a flaming paan? If not then Delhi is the place to check out this unique fire paan which doesn't burn your tongue but leaves you craving for more. If you happen to be in Connaught Place which is the iconic market of Delhi, don't miss to grab an exciting experience of trying this unique variant of Paan which costs somewhere around 40 to 70 Rs.
Famous Joints: Odeon Gupta Paan Palace, Connaught Place
4. Milk Shakes
Milkshakes are wholesome and far healthier than gulping aerated drinks. One of the oldest places in Delhi to satisfy the creamy cravings is Keventers. Slurp some signature flavors such as chocolate, strawberry, butterscotch, or mango that suits your taste and you are good strolling around Delhi streets. These flavourful delish milkshakes are a must-have during summers.
Famous Joints: You will find Keventers Outlet at almost every corner of the city.
5. Daulat Ki Chaat
Not every chaat is tangy or spicy, courtesy of innovations, Daulat Ki Chaat from Delhi's street food delights is unique in its own way. And trust me, this is amongst the most heavenly desserts I have ever tasted. If you are strolling in the narrow alleys of Chandni Chowk, you must grab a bite of this frothy cloud of chhena and sugar which is sold by some street vendors at a reasonable price of Rs 50.
Famous Joints: Dariba Kalan, Nai Sadak, Chawri Bazar
6. Tandoori Kulhad Chai
Tandoori chicken or tandoori naan is just a pass as Delhi has notched the tandoori quotient for chai lovers with its amazing invention of Tandoori Kulhad Chai. Garma Garam Tandoori Chai served in earthen cups is absolutely divine and refreshing especially during Dilli ki Sardi. So, the next time you're in the capital city, don't forget to try this searing cup of tea with parantha's, cookies, sandwiches, or bun maska. The price of Tandoori Kulhad Chai is somewhere between 50 rs to 250 rs depending on the area.
Famous Joints: Alpha's tandoori chai, Mukherjee Nagar; Madarse Wali Gali near Jafrabad; Mucchad Di Chai, Sainik Farms; Tandoori Chai Bagaan, Gurgaon; Mister Chai, Connaught Place are the best places in Delhi to have tandoori chai
7. Kulfi Faluda