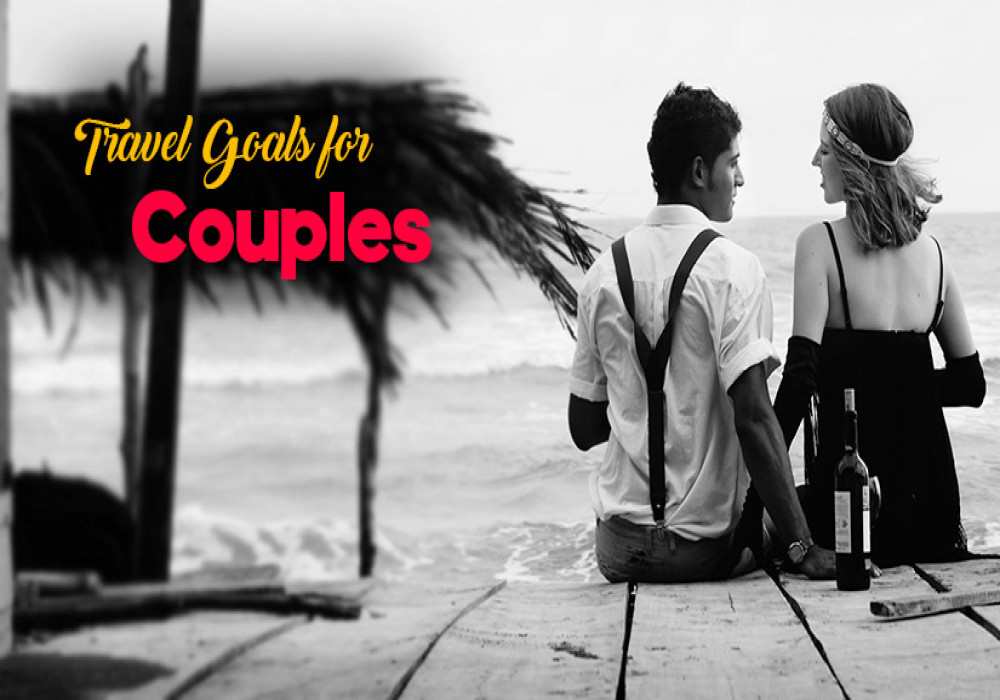 Top 6 Couple Travel Goals
We set goals for everything in our lives and there are certainly some travel goals for couples who want a free from strife holiday.
Escape and breathe the air in new places together
The best gift you can give someone is a lifetime of adventure- these are the pearls of wisdom for every person who is in a relationship. In the moments passing with a snap, sometimes we forget the essence of togetherness. Couples get so restricted in making their ends meet, they don't realize when they become two separate people sharing just a roof. Yes, a relationship is to settle down, however finding a person who won't let life escape you, who is glad to get lost in the world with you is definitely that special someone we secretly wish for. A relationship like this is a release and not a restriction. We are allowed to be different but then it's two people who choose to live together, to see the world together. Traveling can completely transform people, it helps them to evolve as a person. And when you travel with your partner, you tend to change and grow together, this indeed is the joy of voyaging together. Go through the checklist and tick the points before you pack your bags. Happy reading folks!
Decide the destination mutually:
'In life, it's not where you go, it's who you travel with.'
It's one of the pivotal points to understand that traveling with a partner is about making mutual choices. Especially when you are taking some time off just to spend time with each other, you must be mindful of your partner's likes and dislikes. After all, you have to spend these few days in a small space and making each other comfortable is really important. It's good to communicate and decide on the destination. Two minds are always better because you can enjoy the things that you must have never thought about. You can always try different destinations by making it an alternate choice of two of you. If you love hills and your partner prefers a beach, you can make an alternate trip every time you travel. That is how two different people can live one life together.
Be more compassionate:
'Life has taught us that love does not consist in gazing at each other, but in looking in the same direction.'
Traveling together exposes you to each other's strengths and weaknesses. In every relationship, it is important to accept each other and work as a team. Traveling together helps you in strategizing your plans by being aware of each other's comfort zones. This makes you more compassionate as a couple. You learn to be patient and compromising and that is something that makes your bond deeper, as both these traits come with the relationship. You get attuned to each other's needs and the understanding gets better between the couples. Traveling with a partner teaches you to slow down when your partner wants to grab a breath, a thing you hardly notice at home.
Create a happy place:
'It's better to be lost in the world with someone than to be lost alone.'
You must travel with the kind of person you want to be alone with. You can be an amazing couple but when it comes to travel together, there can be a challenge to maintain your personal space, I don't deny that we all need that space but when we are in a company, we must try to gather as many moments together. We make our way in a relationship with the sole objective of sharing our joys and sorrows with someone and traveling brings out the true meaning of this. Create a happy place wherever you go because it's the people who bring you back home and not the bricks and walls. Whenever you travel with your partner, value the time and emotions they are investing in you. Instead of hanging out on the phone, grab a cup of coffee together and indulge in meaningful conversation. Traveling brings you back to the person you are trotting the world with.
Help each other to overcome the fears:
'It is only in adventure that some people succeed in knowing themselves, in finding themselves.'
We all have fears of our own sorts, some are so deep-rooted that eradicates only with a push by someone we can swear our life upon. There are plenty of adventure sports that give us jitters. They look appealing afar however, we dread trying. We want to do it once in a lifetime and our bucket list is always full of these desires. One of the advantages of traveling with a partner is that we have someone to push us beyond these fears. We always have someone to rely upon, someone who would show us that it is do-able. The exhilaration of overcoming your fear can only be experienced when the couples indulge in adventures together.
Invest in experiences than on material things:
'We'd rather have a passport full of stamps than a house full of stuff.'
We all have priorities in life however, traveling makes you rich in knowledge. The knowledge we gather while traveling is not found in books and this will always reflect on your personality. You can buy a swanky bungalow but with little knowledge, you will never be able to create a kind of impression that a well-informed mind can create upon others. You can either invest in traveling or in hoarding material things. Being minimalistic is most trending, it makes life easy as it creates a lot of time and also spares you some extra money. You can travel solo for less but when it comes to the couple then the price gets almost double. It's important for couples to understand that traveling in two is not easy on the pocket and spending wisely can help them travel the world together.
Break the monotony:
Also Read: 7 Places India Holds To Beat The Heat This Summer