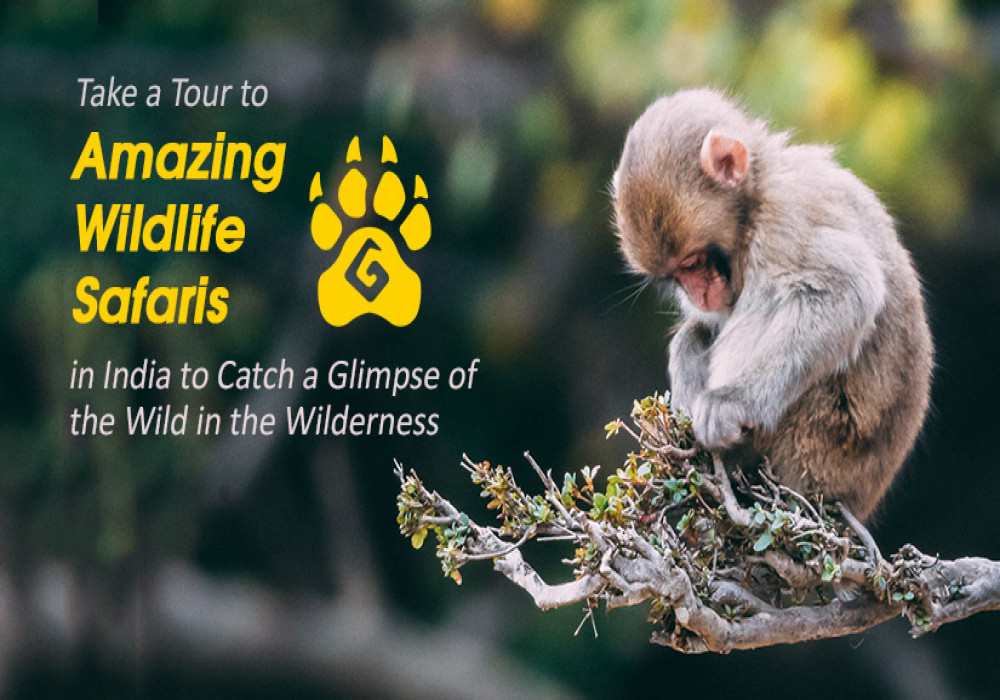 10 Most Amazing Wildlife Safaris in India
As diverse as its culture, India is an extremely delightful and sublime travel destination with a plethora of options to explore. This densely populated nation is also a happy home to 90,000 species of plants, birds, and animals; exemplifying it as one the most riveting tourist hubs for wildlife safaris in the world. If you are amongst the fearless bystanders of untamed beauty and you wish to witness some fierce denizens in their secret nests, then Wildlife Safaris in India will definitely give you an adrenaline rush!

10 Best Wildlife Safaris In India
Get ready to delve into the soul of nature with close encounters with the beasts. Warm your heart and level up your knowledge by gathering information about the irrepressible charm of these 10 Most Amazing Wildlife Safaris in India that are handpicked for you.
1. Sundarbans National Park – West Bengal
World's largest mangrove forest, Sundarbans National Park in West Bengal is home to more than 400 tigers that are known as the Royal Bengal Tigers. Designated as UNESCO Biosphere Reserve, Sundarbans National Park acts as a buffer zone to three wildlife sanctuaries that are well protected and largely undisturbed.

The forest and waterways of this National Park in West Bengal support a wide range of' fauna which includes the vast number of royal Bengal Tigers, Fishing Cats, Leopard Cats, Wild Boar, Indian Grey Mongoose, Fox, Jungle Cat, Flying Fox, Pangolin, Chital that can be spotted bathing in saline water or basking under the sun.
Best time to visit: Anytime between November to March
2. Ranthambore National Park – Rajasthan
Rajasthan, one of the best holiday destinations in India is home to many wildlife reserves out of which Ranthambore Tiger Reserve is immensely popular with locals and tourists alike. Former royal hunting ground, Ranthambore National Park is 14 km away from the town of Sawai Madhopur. This breathtaking wilderness boasts a plethora of wild beasts such as tigers, leopards, sloth bears, fox, hyenas, marsh crocodiles, mongoose, caracal, and jackal.

What sets apart this beautiful national park is its landscape that has an imposing view of the 10th Century fortress known as the Ranthambore Fort and the quiet and serene Padam Talao Lake that is dotted with an abundance of water lilies. A testament to battles and romance of the bygone era- Ranthambore National Park makes a wildlife experience in India worthwhile.

Best time to visit: Anytime between October to June
3. Jim Corbett National Park – Uttarakhand
With an abundance of flora and fauna, Jim Corbett National Park in Uttarakhand is the oldest national park in India that is a dwelling to an overwhelming number of distinct plants and wild animals such as Royal Bengal Tigers, Indian Hog Deers, Asiatic Black Bears, Sambars, Elephants, Otters and many more.

Densely populated with Sal trees and housing a gushing Ramganga river inside the park, this ideal spot is an abode to rare species of birds such as hornbills and white-backed vultures and also to aquatic species such as crocodiles, golden orioles, king cobras, etc. To add to its natural charm, this park also offers adventure sports such as camping, trekking, rock climbing, river rafting, rappelling, and fishing. Jim Corbett National Park is a great place to experience the beauty and thrill together in Wildlife Safari Tours in India

Best time to visit: Anytime between March to December
4. Khangchendzonga National Park – Sikkim
Tucked in the state of Sikkim, Khangchendzonga National Park is a natural haven that is endowed with an unsurpassed range of sub-tropical and alpine ecosystems. Also known as the Himalayan Global Biodiversity Hotspot, this famous national park in the east of India boasts the most enchanting vistas which include the third highest peak in the world, 18 glaciers, 73 glacial lakes, 18 high altitude lakes, and a plethora of wild beasts that dwell in harmony with nature.

Numerous species such as leopards including the largest Himalayan predators - Snow Leopards, wild cats, Tibetan wolves, red pandas, musk deers, flying squirrels, etc can be spotted in natural habitats. This park was affirmed as UNESCO's World Heritage Site as it is the sanctum sanctorum for the Buddhists. A resplendent glimpse of snow-capped mountains, thick forests, alluring diversity of plains, valleys, lakes, and rivers marks Khangchendzonga National Park as one of the most bewitching wildlife experiences in India.
Best time to visit: Anytime between April and May and September to mid-December
5. Kaziranga National Park – Assam
Recognized as a UNESCO World Heritage Site and one of the well-preserved Wildlife Safaris in the world, Kaziranga National Park is the single largest undisturbed area in the Brahmaputra valley floodplain situated in Golaghat and Nagaon district of Assam. Its contribution to preserving the world's largest population of one-horned rhinoceroses that were close to extinction, as well as many mammals such as tigers, elephants, wild water buffalos, capped langur, gaurs, barking deers, panthers, and Asiatic black bears have been regarded as a great safeguarding initiative by Indian Tourism, animal activists and nature lovers.