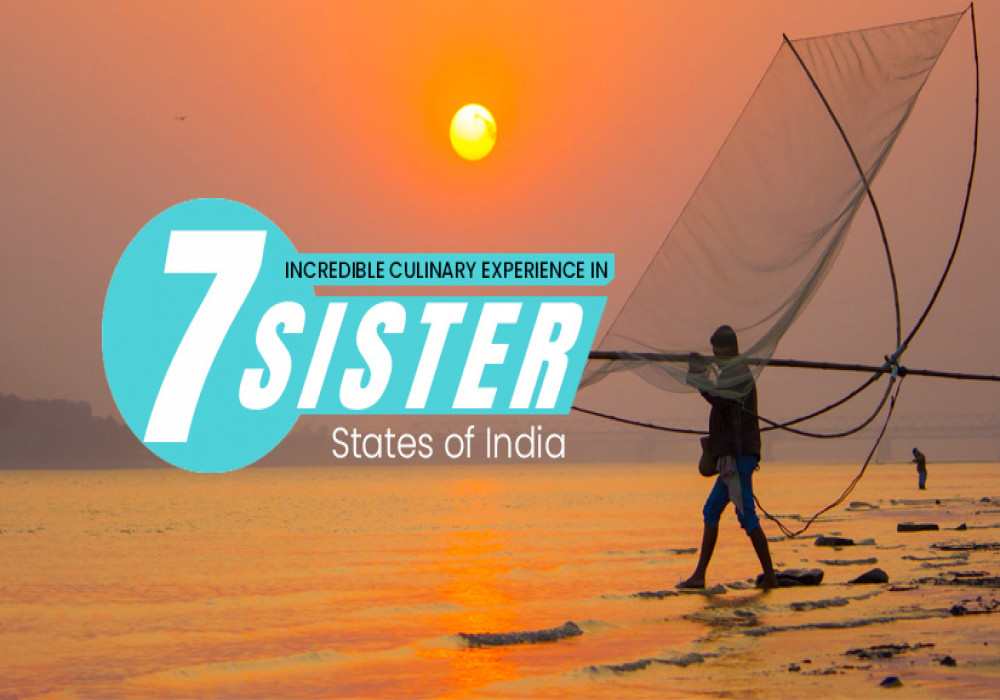 Famous Dishes of Seven Sister States in Northeast India Will Leave You Drooling
Talking particularly about the Northeast, you would have heard of its picturesque beauty and how it packs everything from the lush scenic views to the magical waterfalls in its geographical boundaries. But have you ever heard about its culinary delights?
Maybe yes or maybe no. Needless to say, when it comes to travel, the food of any place (in this case, Northeast India) does add an important layer for the tourists and makes it worth exploring. And just like any other travel getaway, the Northeast also has its highlights of cuisines which sets it apart from other Indian states while giving it a unique travel voice of its own.
Let's dive in and discover what we are trying to express here.
Northeastern Cuisine: 'Tis More than What Meets the Eye
1. Nagaland
With more than 15 tribes inhabiting here in perfect harmony, Nagaland has its own style of cooking. The tribals from every community have their own specific ingredients with which they spice up their food, and perhaps, that is the beauty of it. For instance, fermented soybean aka Akhuni is majorly used by the Seema tribals.

It is the simplicity of cuisine preparation by using herbs as well as meat that makes the Naga cooking style quite unique. You will find the usage of ingredients like onions, ginger, garlic, mejenga seeds very common in the local way of cooking. And one key ingredient that makes Naga food worth drooling for is the Raja Mirchi (King Chilli). For the unversed, Raja Mirchi is counted as one of the hottest chillies all across the globe. It won't be wrong to say that with this kind of culinary elegance, Nagaland is truly one of the best holiday places in India.

Some of the Popular Dishes of Nagaland
1. Hinkejvu - Made with Colocasia, cabbage leaves, mustard leaves, and French beans, Hinkejvu is one thing you mustn't skip at all. It tastes great and comes with a high nutrition value.
2. Akibiye - A delectable delight made from the bamboo shoots, colocasia (roots, leaves, and stem). So, when travelling to Nagaland, do checkmark this one beforehand.
3. Fish in Bamboo - Delightfully smoked; the combination of several spices makes this dish one of the must-haves. The overall flavour and the aroma which permeates the air will simply melt your heart away.
4. Zutho - For those who might not know, Zutho is a rice beer and quite famous in the whole state of Nagaland. This fermented drink is quite popular among the Angami Nagas.
2. Meghalaya
One of the best places to visit in Northeast India, the locals here consume meat in considerable quantities. The smoky flavour of the meat will make your mouth water. Talking about meat, one of the most relished dishes of the Meghalaya's Cuisine is Jadoh - a pulav served with pig liver, bay leaves along with black pepper. Apart from pork, the locals here are a great fan of eating fish. The recipe for preparing a fish is equally smooth; firstly it is dried, then cooked in a container made out of bamboo, then, baked in banana leaves over an open fire. The purpose of doing all this is to prepare the fish with smoky flavours. On the other hand, the tribals of the Garo community use dried fish with a soup known as nakham bitchi.

Some of the Popular Dishes of Meghalaya
1. Jadoh - A terrific culinary delight made out of rice and pork. Don't forget to write the recipe down for your future cooking endeavours at home.
2. Dohkhlieh - Essentially a pork salad, which is mixed with lots of spices and ingredients like onions, chillies, and salt. This one is a must-taste for those on a trip to Meghalaya.
3. Pumaloi - A special type of powdered rice made with a nice blend of spices. It tastes great and there is no reason why it shouldn't be on your must-try list.
4. Bamboo Shoots - It's marinated pork with soy sauce served with a lot of veggies. Both in terms of taste and nutritional value, this is one good recipe which everyone must try on their vacay trip to Meghalaya.
3. Tripura
Pork, fish, and Mithun meat are quite common delicacies that are easily available in Tripura. The locals here generally use strong flavours in their recipes along with a lot of veggies. It won't be wrong to say that a typical Tripurian cuisine isn't exactly complete without adding a lot of green to it.
Some of the Popular Cuisine of Tripura
1. Mui Borok - The highlighting ingredient of this dish is Berma, a fermented dry fish which is kinda people's favourite here. As minimal to no usage of oil is there in the dish, it comes out as quite healthy and great in taste.
2. Chauk - If you are someone who likes to take multiple swigs of beer every now and then, in that case, you cannot miss out on Chauk - a local form of rice beer prepared by fermenting rice in water. Usually, the locals gulp it down on occasions of happiness like festivals and events. Pineapple, Jack Fruit, and Mami rice go into the making of this delicious beverage.
3. Mosdeng Serma - This tangy ketchup (chutney) is what gives several other Tripurian dishes their unique taste. It is prepared using garlic, red chilli, and Burma.
4. Bhangui - This is yet again a rice dish that is prepared with great love and finesse. The main ingredients of the dish are ghee, onions, and ginger.
4. Manipur