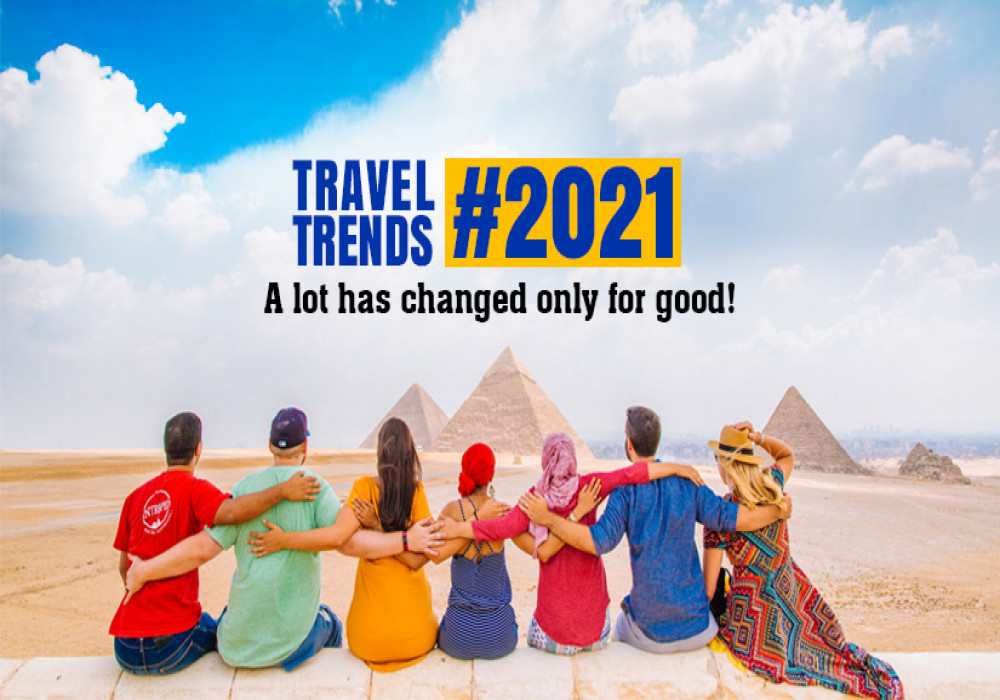 9 Latest Travel Trends In 2021: Time To Explore The World Once Again!
With the release of COVID -19 vaccination, VAC...ATION seems on cards for many of us who have been longing for one. Fo' shizzle, the travel trends have enormously changed but the bright side is that we all are already making our plans and dreaming about pampering ourselves with a kickass break from monotony.
Road trips, off-beat locales, workation, and whatnot, there are a whole lot of latest travel trends brewing up in this new normal era. Our battered suitcases are out and we have long ways to go!
Get Ready For A Fascinating Holiday With These 9 Latest Travel Trends in 2021
Time to unlearn old concepts and embrace sustainable and responsible travel trends. The world is bracing up and this year has ushered new possibilities for travel enthusiasts. We hope, with this list in the order you know what's calling. Take a look:
1. Vaccine Passport
A vaccine passport is an e-vaccination certificate that will help you travel overseas. In recent times, many things have changed in travel, and vaccine passports or documentation will become pivotal for travellers in the future. The Global Tourism Crisis Committee has asked all health and travel groups to come up with a standardized digital certification system. This 2021 trend is not going away too soon as there is skepticism about travelling and would go only when the world is completely free from the clutch of coronavirus. It might vanish with vaccination but it's going to be a long fight.
2. Road Trips
Unlike other trips, road trips need no prior planning. All you need to do is to make up your mind. Simply pack your essentials and jump on your motorbike or sit behind the steering wheel and you are good to go. Throw the sense of time out the window and sync in the serendipity of freedom. The greatest part of a road trip is all the wild stuff that happens along the way. You can stop wherever or whenever you want. There's no rush of catching up and you can avoid coming in contact with people when you are travelling in your own vehicle. In this current situation, road trips are gaining momentum.
3. Solo Trips
As the tourism sector is reviving and people are looking for holiday places that are safe, solo trips are getting popular. After being socially distant and house arrest for almost a year, people have got addicted to their own company. People bitten by travel bugs are now embarking on a solo trip which was otherwise an elusive dream. All you need is to research about a place that is less chaotic in terms of COVID cases, book yourself a clean private place, take all necessary precautions such as wearing a mask, washing hands, social distancing, etc and do all the things that excite you. Despite a wary distance, solo trips come as a rescue for insatiable wanderlust lurking in these months of confinement.

4. Off-beat Travel
There's a certain charm in off-beat tracks, places that are less explored. And what's the best time to venture to these secluded spots that are safe havens in this critical time. Ditch tourist places over off-beat destinations as the probability of safe travelling is far higher in less crowded areas. Some off-beat places in India such as Mawlynnong - the cleanest village in Asia, Markha Valley - the second coldest place in Asia, Malana - Little Greece in Himachal Pradesh, Orchha - the heritage town in Madhya Pradesh, etc are incredible and worth exploring. Off-beat travel not only saves you from crowds but also adds memorable experiences to your travel diary. New travel trends have made room for all these hidden gems which indeed are full of surprises.
5. Experiential Travel
Gone are the days when people were happy exploring places in their comfort zone. People are now seeking unique experiences and that has paved the way for experiential tourism. Also known as immersion travel, this kind of travel is about engaging with the history, tribe, culture, food, and environment of a particular place and delving into the nuances. Such trips are essentially transforming and that is the true essence of travelling. Getting enriching personalized experiences creates a path for self-discovery and leaves lasting memories. This travel trend has turned many people into digital nomads and vagabonds, their documentaries of cultural exchanges have become a source of inspiration.
6. Workation