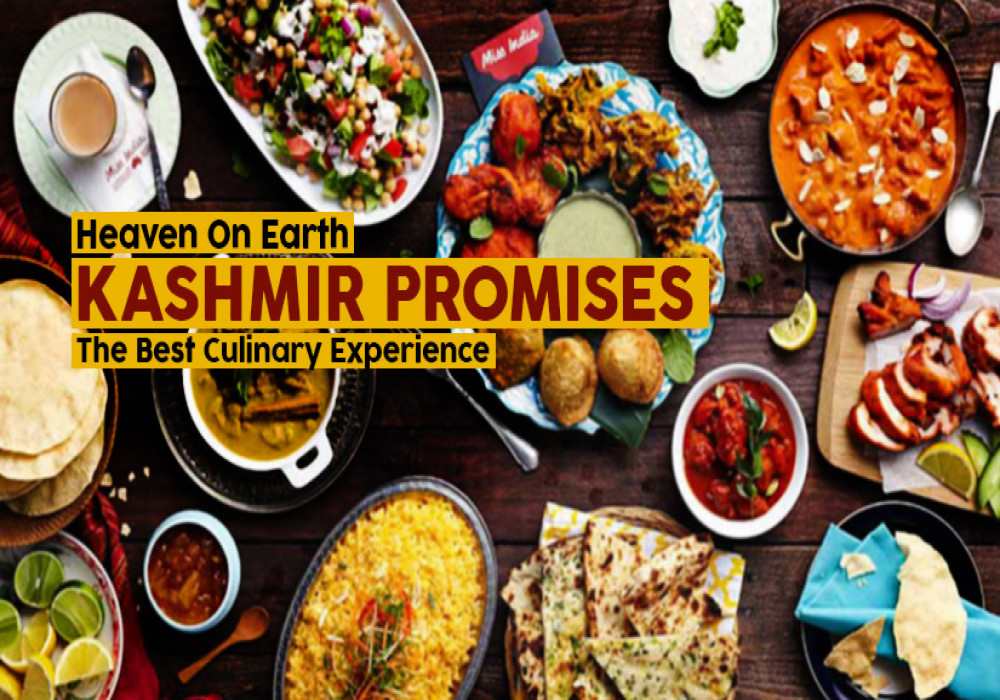 10 Famous Food Of Kashmir For Unforgettable Culinary Experience
Paradise on Earth, Kashmir is not only dotted with mesmerizing beauty but is famous for its aromatic dishes that leave a lasting memory of the best culinary experience. The flavourful platter of the state includes vegetarian as well as non-vegetarian dishes that are majorly influenced by the recipes from Kashmiri Pandits and the Mughal Era.
Famous food of Kashmir bursts with rich aroma and flavors of whole spices such as saffron, cardamom, cinnamon, cloves, and fennel.

Famous Dishes of Kashmir
From traditional Kashmiri Wazwan to quintessential Kahwa, the range of delectable assortment is wide. Seduce your taste buds with the list of famous food of Kashmir!
1. Rogan Josh
2. Goshtaba
3. Dum Aloo
4. Kashmiri Rajma
5. Naat Yakhni
6. Kashmiri Saag
7. Modur Pulao
9. Khatte Baingan
10. Aab Gosht
Rogan Josh
An aromatic lamb curry, Rogan Josh is one of the iconic dishes of Kashmir that is a must-try especially for all mutton lovers out there. The rich aroma and luscious taste of melting in mouth meat are derived from the finest recipes of the Mughals. Topping the chart of popular food of Kashmir, Rogan Josh gained more popularity around the globe as apart from being super healthy, this scrumptious dish has magical flavors that tantalize the taste buds. Try this signature dish of Kashmir with Kashmiri roti, rice, or naan.
Goshtaba
Kashmiri's have a fondness for red meat and it is apparent in the most famous Kashmiri recipes. Goshtaba is yet another traditional mutton recipe of Kashmir that is a must in all royal parties. Spicy meatballs cooked in yogurt gravy have a luscious taste and a rich aroma that can leave you drooling. What makes Goshtaba stand out is the use of exotic Kashmiri spices and a unique method of cooking. The dish for the Kings, as they call it, trying Goshtaba should be on your list of things to do in Kashmir.
Dum Aloo
Who doesn't like to eat potatoes? Kashmiri Dum Aloo is the answer to all your potato cravings. Dunked in the goodness of rich yogurt gravy, baby potatoes burst with some amazing flavors that stay on the tongue till eternity. Like Oprah Winfrey says, my idea of heaven is potatoes and someone to share it with; don't miss out on this traditional Kashmiri dish on your trip to Kashmir. Dum Aloo's have all heavenly elements to satiate your craving.
Kashmiri Rajma
A mouthwatering Rajma curry made in the rich spices of Kashmir is definitely worth trying. There are basically three types of Rajma found in the Indian market; Chitra, Kashmiri, and red kidney beans, and Kashmiri Rajma are considered to be the best and most popular because of their sweet and delicious taste. The taste of Kasmiri kidney beans accentuates when it is cooked in onion and tomato gravy blended in aromatic spices like cardamom and cinnamon. Kashmiri Style is yet another popular dish of Kashmir that is totally divine!
Naat Yakhni