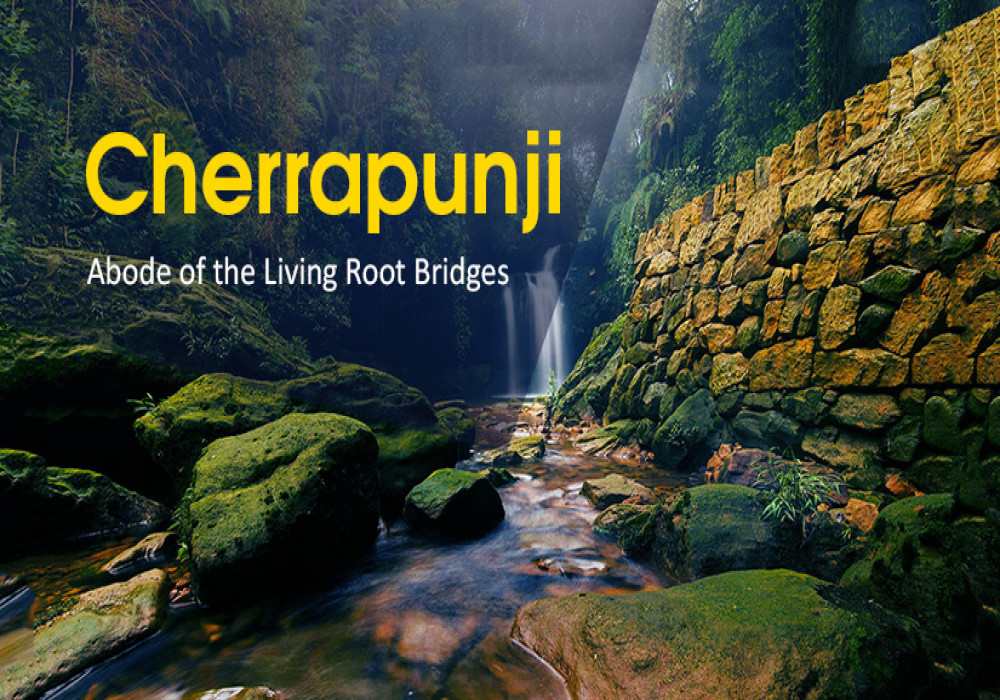 Cherrapunji: Home to Mysterious Living Root Bridges, Mighty Mountains and Much More
Often credited as the wettest place on Earth, Cherrapunji is a land of astounding beauty and exotic people. Although the rolling rolls, mystifying caves, and majestic waterfalls are enough to make you fall in love with the capital of 'ka Hima Nongkhlaw,' the unique living root bridges make Cherrapunji a perfect place to satiate your wanderlust.
There are a lot of spots that make Cherrapunji every travel buff's sweet escape. Indulge in sightseeing at the Garden of Caves, or get adventurous by trekking down to the double-decker living root bridge. The choice is all yours because this place is filled with natural wonders. Not to mention, there is a spot for every kind of a traveller, whether you want to relax or try something venturous.
If you are planning to visit Cherrapunji, the best time lies between October to February. It may get a little too cold in winters, but you will get days with abundant sunshine as well. Moreover, this time is perfect for exploring the living root bridges and caves.
The History of the Living Root Bridges
Inhabiting the hills of Meghalaya, the local people have developed a close relationship with nature. Unlike other human-made bridges, the living root bridges in Cherrapunji are made with the roots of the Ficus elastica tree, which is basically the rubber tree. These living root bridges have existed in this north-eastern state since 1844.

These bridges and roots last for 500 years, once grown completely. UNESCO has recognized the living root bridges in Meghalaya as a World Heritage Site.
Things to Revel in When in Cherrapunji
Cherrapunji may not be a large town, but it still has a lot to offer when it comes to its major attractions, and the epitome of the same is the aforementioned bridges. One of the best holiday destinations in India, here are some of the top spots you must venture while in Cherrapunji.

Seven Sisters Falls
As the name suggests, the Seven Sisters Falls comprises of seven parts that fall over the hills. The waterfall also symbolizes the seven north-eastern states of India, i.e., Meghalaya, Assam, Manipur, Nagaland, Arunachal Pradesh, Tripura, and Mizoram. On a bright sunny day, you can clearly view the beauty of these falls.
Garden of Caves
Don't forget to carry an HD camera when you visit the Garden of Caves. Why, you ask? There are many beautiful spots to explore in this hidden gem. There are waterfalls, remnants from century-old kingdoms, and winsome bamboo bridges. On top of it, the folklore entwined with every spot, make your visit even more enthralling. On a rainy day, you may find yourselves surrounded by clouds and mist.
Mawsmai Cave
Give your brain a twister at Mawsmai Cave. It is actually a maze of caves accoutred with stalagmites and stalactites. Make sure you carry a flashlight to view the fossils and molluscs clearly. You may also meet bats that call these caves their home.
Nohkalikai Waterfall