I am sure you have heard of the living root bridges of Meghalaya. They are an epic tourist attraction and pulls a lot of crowd towards them. The bridges were originally formed by the roots extended from the trees of the jungle are something to look at. Make sure this is in your list when you go there.
Top attractions of Living Roots Bridges
Mawlyn Waterfall
The Mawlyn waterfall is altogether a refined place to visit with your loved ones. This is the kind of destinations which is out and out amazing offering you with a sense of euphoria. Thus, we can say that this is one of the best destinations to visit with your loved ones, especially children.
Bisnakandi
This place is amazingly beautiful and absolutely worth a visit. This is the kind of destination which you would simply love to explore and discover it in its fine aspects and nuances. And if you are even with your group of friends then you will find this place no less than heaven.
Jaflong
Jaflong is the kind of tourist destination which is out and out amazing in all its subtle and fine perspectives. You are bound to make some really beautiful and unforgettable memories if you visit this place with your loved ones.
Also Read: This surreal lake in Meghalaya is a hub of adventure tourists and is known for tourists attractions like Lumpongdeng Island, Ward's Lake, and All Saints Church
Things to do in Living Roots Bridges
Visit Mawsmai Caves
These caves are simply an amazing place for you to explore and visit. The visual depiction of this place is just mind-blowing. These caves are again one of the most less frequently visited places and that is what makes them a great option to explore.
Khoh Ramhah
The Khoh Ramhah is a gem of a tourist attraction. It is also known as the Pillar Rock. This place has been one of the most amazing as well as frequently visited travel getaway by the tourists and travellers alike. What is really interesting about this place is the fact that the very shape of this rock keeps the person in a spellbound state. And to experience that in real time you would have to visit this place.
Best time to visit Living Roots Bridges
This place can be visited any time of the year except the monsoon season as during the monsoons this place gets a little messy.
How to reach Living Roots Bridges?
By Air - The nearest airport is situated in Guwahati at a distance of around 159 km. This airport has been quite well connected with the other cities such as Tura, Mumbai, Delhi, Chennai etc.
By Road - You can also visit this destination by road as well owing to the good connectivity of this place via road networks.
By Train - The nearest railway station is situated in Guwahati which is about 104 km away from Shillong.
You can plan your trip and create your own route to the city with Adotrip's technically driven circuit planner. Click here
Source: History TV18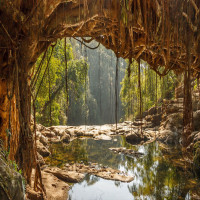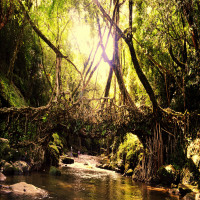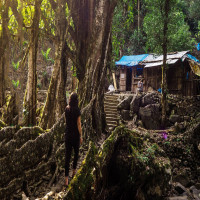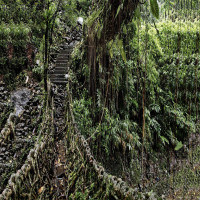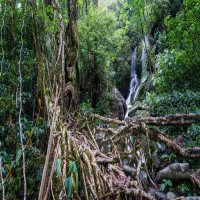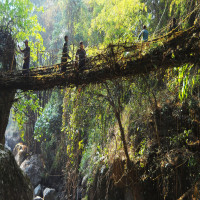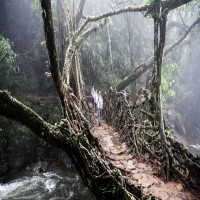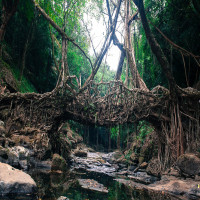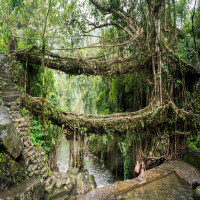 Accommodation
Meals
Transport
Destination
Overall