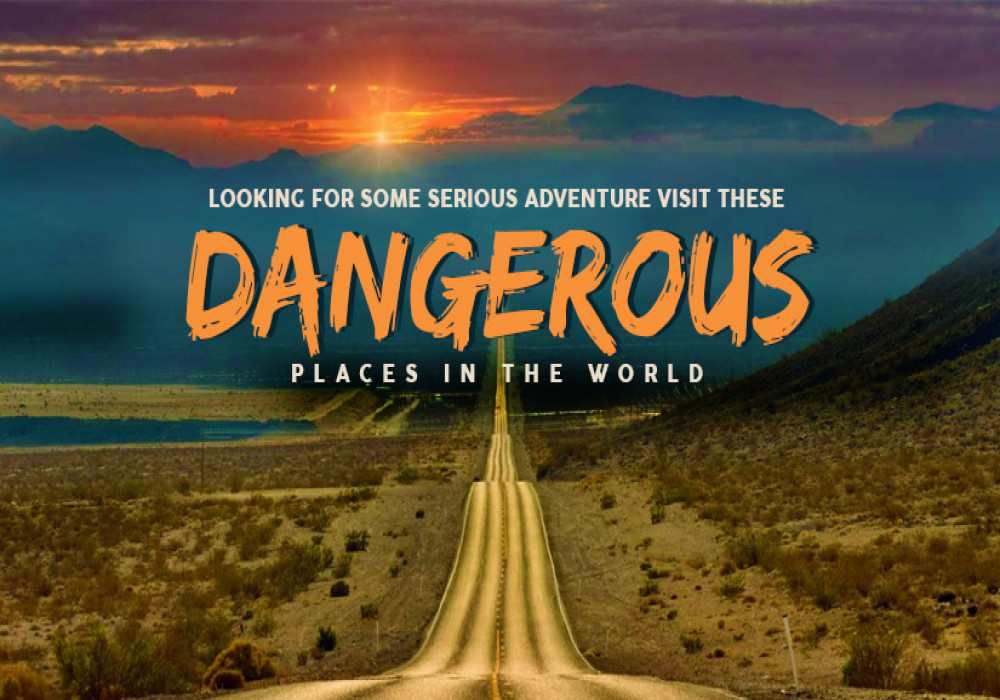 12 Most Dangerous Places in the World For Some Serious Adventure
Like Drew Berrymore said, if you don't take risks, you have a wasted soul. Life is about daring yourself because routine or a comfort zone makes you hollow from inside. You need to push yourself a little more to know adventure is the best therapy. And if this grabs your attention, imagine how it would be to click a shot from the most dangerous tourist places in the world. So all you daredevils out there, get that perfect Insta shot and give your amigos a glimpse of a daring dude in you. Hold your horses and scroll down till the end to explore epic locations around the world that raise the bar of thrill.

12 Most Dangerous Places in the World
If thinking about it makes you excited, imagine actually doing it. Here is the list for all adventure junkies out there, check this!
1. Death Valley National Park, USA
Doomed as the name suggests, Death Valley is marked as one of the most portentous valleys in the world. Located between Nevada and California, Death Valley is the lowest point in North America that is also known as a land of extremes. The valley has recorded the highest temperature ever on our planet i.e. 134 °F (56.7 °C). Harry Potter actor Dave Legeno is one of the people who lost his life in the scorching heat of Death Valley. Also, it is still a mystery that rocks as heavy as 700 pounds move on their own at Death Valley. Defying all logic, the sand sings, if you hear it closely. Also popular as Devil's Golf Course, it's believed only the devil can play golf in an arid and eerie place on earth. Land with eroded hills, craters, rare species of fish, darkest night skies, and a lot more makes it one of the challenging tourist destinations in the world.
2. Volcano Tours in Hawaii, USA
The mesmerizing land of Hawaii is way beyond tranquil beaches and fresh floral air. Yes, it is among World's Dangerous Tourist places. There is no other place in the world where you will witness active volcanoes this up close like in the Hawaiian Islands. Boasting the huge Volcanoes National Park, Hawaii is home to one of the last active volcanoes - Mount Kilauea that has been continuously erupting since 1983, and also the largest volcano in the world - Mauna Loa that rises up to 13,680 feet above sea level. This National Park has an arrangement of lava boat tours that takes the tourists through red hot flowing rivers of lava, volcanoes, lava waterfalls, tropical rainforests, and geological formations. Hawaii Volcanoes National Park has reported many casualties and deaths in the past due to lava haze and also one can encounter dangers such as flying rocks and scalding ocean water.
3. Snake Island, Brazil
Considered as one of the deadliest places, Snake Island in Brazil is definitely one of the most dangerous places on Earth. 90 miles from the city of Sao Paulo, this super deadly island is home to the largest concentrated population of snakes in the world. According to research, Snake Island aka Ilha da Queimada Grande has about five snakes per square meter. It is said that snakes on this Brazilian island are so venomous that they can melt human flesh. This island is the only place in the world where the golden lancehead viper is found and the most venomous snake in the world, the Bothrops thrives. Due to the extremely high risk for tourists and black market demand for lancehead venom, the Brazilian government has strictly prohibited visits to Ilha da Queimada Grande.
4. Skellig Michael Mountain, Ireland
Rugged, remote, and treacherous; the rocky island located just off the western coast of Ireland is one of the dangerous tourist destinations in the world. Home to 600 uneven steps that lead to ancient monasteries, getting on to the site of Skellig Michael Mountain is quite a challenge as tourists have to take an hour-long boat across rough waters, and in many instances, boats cannot even dock because of high tides. While tourism is on rising after this spot was featured in Star Wars The Force Awakens, the government became wary due to the rock falls, rough weather conditions, and safety issues on the island. Only 4 boat licenses are granted every year and a limited number of tourists get a chance to visit Skellig Michael Mountain.
5. Lake Natron, Tanzania
The perilous salt lake in northern Tanzania is one of the most caustic areas on earth that calcifies animals into stones. Yes, it's real! The highly-reflective and chemically dense waters of Lake Natron seems like a glass door that dupes hovering birds thinking they're flying over an empty space. The moment they land on the lake, their body corrodes within minutes. A few years back, a helicopter pilot became prey to the same illusion and his helicopter crashed and was rapidly corroded by the alkaline water of the deadly lake. The spectacular sight of this scariest lake draws many researchers, photographers, and tourists towards it, however, one needs to be careful while visiting this dangerous spot in Africa.
6. Oymyakon, Siberia