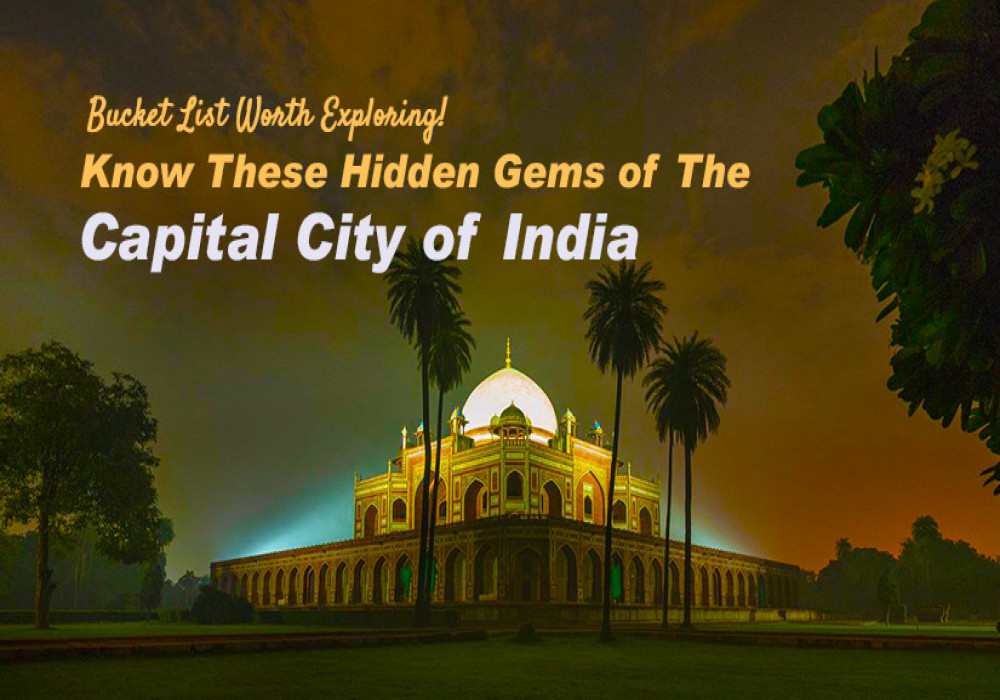 14 Lesser-Known Historical Monuments of Delhi
To witness the unbeatable charm of lesser-known historical monuments of Delhi is undeniably the most amazing experience for history buffs and tourists. The beauty of these forgotten and faded-in-time monuments is that they fasten and bind one generation to another.
Dotted with centuries-old history and spectacular architectural marvels, the capital is marked as the favorite historical destination in India on the tourist map.
14 Lesser-Known Historical Monuments Of Delhi That You Need To See
Out of an overwhelming number, we have handpicked the best historical monuments of the capital that must be on the bucket list of every travel enthusiast. Scroll down to learn about these hidden gems of Delhi.
1. Ala-i-Minar
Ala-i-Minar lies within the Qutub complex in Delhi. Estimated to be built around 1300 CE, Alai Minar is Alauddin Khilji's incomplete grand monument that was his vanity project to mark the victory of his army who conquered many kingdoms across India within a short span of his reign. He was so proud of these glorious achievements that he became adamant to outdo Qutub Minar which was built by Qutub-ud-din Aibak and was considered to be the tallest building of that era.
As the wealth poured in, he decided to build a massive monument that is double the size of Qutub Minar. However, this monument just remained a dream project as Khilji died in 1316 CE and the construction was stalled. Today all we see is just a rough-edged circular mass that has a story to say.
2. Adam Khan Tomb
Also known as Bhool Bhullaiya, Adam Khan's Tomb is the octagonal monument that lies behind the Qutub Complex. Adham Khan who was the son of Maham Anga, a wet nurse of Akbar, was a general in Akbar's army. He murdered Atgah Khan in 1561 who was Akbar's favorite general and was the husband of Jiji Anga. This brutal act and betrayal of Adam Khan led to fury and Akbar ordered to throw him down from the ramparts of Agra Fort till he died.
Maham Agha died after the fortieth day of grieving and mourning her son's death. The tomb was commissioned by Akbar in 1562 and both son and mother were buried in this tomb that has thick walls that enclose a maze of passageways. This grey sandstone and rubble masonry monument are believed to be cursed by Rani Roopmati whose lover Baz Bahadur was killed by Adam Khan.
3. Atgah Khan's Tomb
Atgah Khan Tomb situated near the famous Sufi shrine, Nizamuddin Dargha in Nizamuddin Basti is one of the most magnificent mausoleums of the Mughal era that is made up of red sandstone and exquisite marble. Mirza Aziz Kolkaltash who was the son of Atgah Khan built the tomb in the memory of his father in 1566-67. The chief advisor and foster-father of the Mughal emperor Akbar, Shamsuddin Muhammad Atgah Khan was brutally murdered by Akbar's foster brother, Adam Khan.
Distressed by the death of Atgah Khan, Akbar ordered the construction of a tomb for him right next to the Dargah of Hazrat Nizamuddin. Inside the medium-sized square tomb are the peacefully lying graves of Atgah Khan, his wife, and his daughter. Don't forget to miss this beautiful architectural masterpiece when you visit Nizamuddin Dargha.
4. Bara Batasha
Located next to the Humayun Tomb's enclosure, Bara Batasha Tomb was commissioned in 1603 and was completed in 1604. This beautifully adorned tomb was made in the memory of Mirza Muzaffar Husain who is believed to be the son-in-law of Akbar and the great-nephew of Humayun.
Constructed in typical Mughal style, the tomb is a single storey monument that is 30 feet tall and has a square structure that is strikingly similar to the Jal Mahal and Humayun tomb. Also famous as the Bara Batashewala Mahal, it is one of its kind funerary complex that does not exist anywhere else in India. Bara Batasha is definitely a must-visit place in Delhi.
5. Balban's Tomb
The Tomb of Ghiyas-ud-din Balban, the elaborated name to Balban's Tomb is located in Mehrauli. This rubble masonry tomb that was built in 1287 CE is a significant historical monument of Delhi that boasts Indo-Islamic architecture. A ruined rectangular structure that is believed to be the grave of Khan Shahid who was Balban's son lies to the east of the tomb. Ghiyas-ud-din Balban was a Turkic ruler of the Mamluk dynasty which is also known as the Slave dynasty.