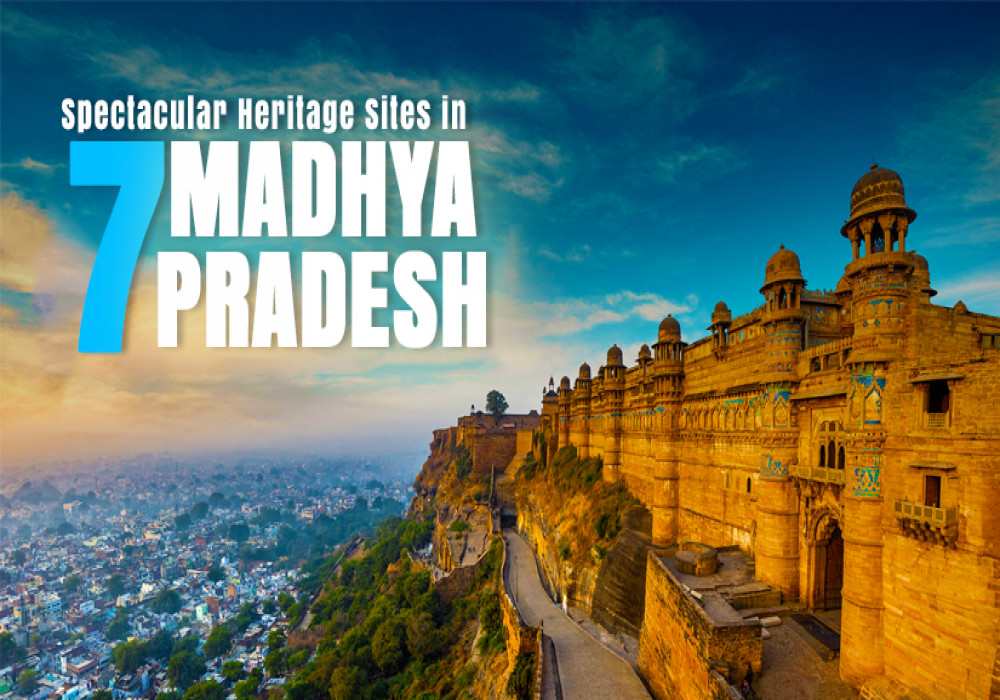 Heritage Sites in Madhya Pradesh | Ancient Ruins & Architectural Marvels
Replete with rich cultural heritage, the heart of India - Madhya Pradesh is acknowledged as a quintessential hub of heritage sites from the bygone era. The central state of India not only reflects the architectural brilliance of ruling empires but also takes us back to the golden age of India. Dotted with ancient temples, UNESCO World heritage sites, forts, caves, palaces, and more, the wide terrain of Madhya Pradesh offers more than eyes can meet.
Top 7 Heritage Sites in Madhya Pradesh
1. Khajuraho Group of Monuments
Built between 950 to 1050 AD, Khajuraho in Madhya Pradesh is the most renowned heritage site that is famous for aesthetic erotic carvings etched on the walls of temples. Located in the Bundelkhand region, the incredible cluster of monuments covers 25 beautiful temples and caves that stood the testimony of time. Also declared as the UNESCO World Heritage Site, Khajuraho is the most popular historical destination in Madhya Pradesh that is visited by a large number of tourists from all over the world. Khajuraho World Heritage Site is indeed the pride of Madhya Pradesh Tourism.

2. Orchha Fort Complex
Home to a cluster of ancient monuments comprising forts, palaces, temples, and other edifices, Orchha Fort Complex is one of the most famous heritage sites of Madhya Pradesh that attracts tourists from all over the world. Located in the Niwari district of Madhya Pradesh, Orchha is just about 18 km from Jhansi. Built-in the 16th century, Orchha Fort was established during the reign of Rudra Pratap Singh Bundela who was the famous Rajput ruler of his era. Offering tourist attractions such as Jahangir Mahal, Sheesh Mahal, Raja Mahal, Phool Bagh, Rai Praveen Mahal, etc, the architectural splendor of Orchha heritage sites reflects the glory of Bundela Rajputs which is absolutely a feast for eyes.

3. Sanchi Stupa