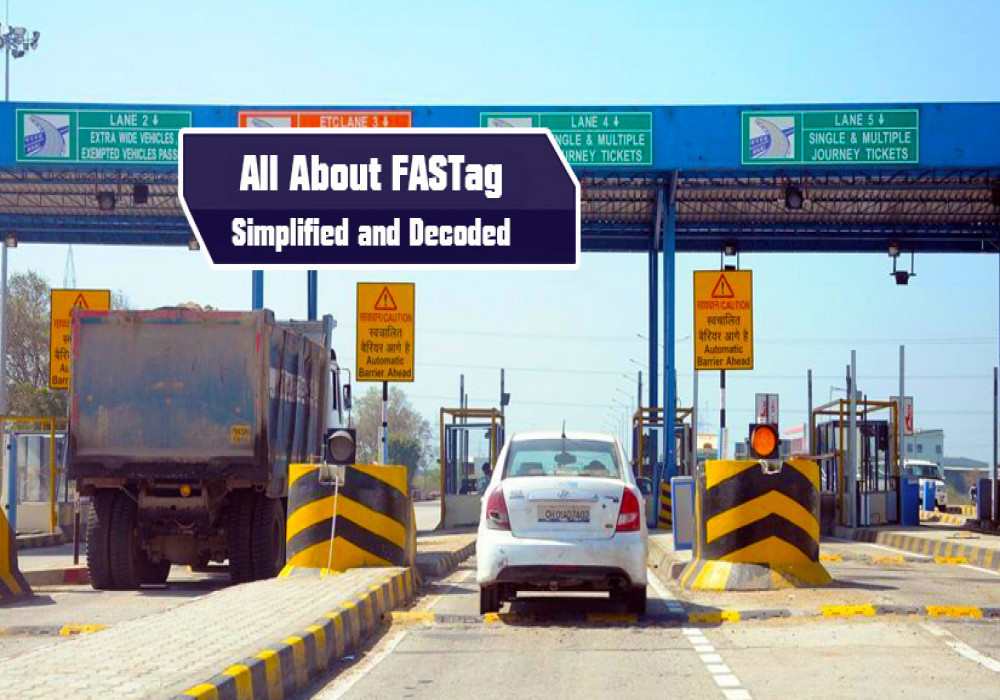 FASTag: Everything You Need to Know About This Electronic Toll Collection Mechanism
Indian government paved the way for FASTag a few weeks ago and let us tell you that it is a lot more than just a mandatory new rule in the country. To help you understand this new initiative by the government, we are here with all the answers to your ifs and buts regarding this. FASTag has been introduced by the GOI to resolve the traffic issues at the toll plazas and enhance seamless flow of vehicles at National Highways. So, without much ado let's get started.
1. What is FASTag?
FASTag is an electronic toll collection method under which the vehicle owners can pay the toll charges directly from their bank accounts without stopping at the plaza. National Payments Corporation of India (NPCI) under the National Electronic Toll Collection program, has launched Radio Frequency Identification (RFID) technique empowered tags that are called FASTag for electronic toll collection while the vehicle is moving.
FASTags have been made mandatory in India from December 1, 2019. Currently, the service is available on 600+ toll plazas across India. The prime objective behind digitalizing the process is to enhance efficiency, and transparency in the toll collection process and improve convenience for travelers. Besides reducing the congestion around the toll plaza, it will also reduce cash handling, and will also help in conducting quick audits.
2. How FASTag will work?
FASTag is fundamentally an RFID chip that will be placed on the windscreen of a car. These tags will be read and scanned by the cameras installed at the plaza which will further connect with the bank server to deduct the toll amount directly from your account. FASTag is vehicle specific and it cannot be transferred to another vehicle.
FASTag is a prepaid and rechargeable tag just like a SIM card. You can recharge the tag online from any NETC member bank. It is valid for a period of 5 years or till the time it is readable, detectable and not tampered, whichever is earlier.
3. How to get FASTag?
You can buy FASTag from 24 NETC member banks at their selected branches or from the POS at the National Highway Toll plazas. You can also purchase FASTag from Amazon India and Flipkart, the popular e-commerce platforms.
4. What all documents are required to be submitted to apply for FASTag?
Along with the signed FASTag registration form you are required to attach 2 Registration Copies of your vehicle, Passport size photograph of owner, and KYC documents (Aadhar Card, PAN Card, DL, Passport).
5. What are the benefits of having FASTag?
FASTag will save you a lot of time that you were earlier spending in looking for change.
It will save fuel and will reduce your travel time because now you don't have to wait in long queues.
This will also significantly reduce air pollution.
Reduced congestion around the toll plaza.
6. What is the price I have to pay for my vehicle and are there any additional banking charges that I have to bear?
Yes, the toll charges are different for different vehicles hence you are adhered to pay the price depending upon the vehicle type. Following is a chart that will help you determine the price you have to pay.
ONE-TIME TAG DEPOSIT AMOUNT
Besides this, one will also have to pay the service tax and convenience fees for online recharge. You will get a refund at the time of closure of the FASTag account.
7. Would I be penalized
if I do not get it done for my vehicle?
FASTag is mandatory for all the private and commercial vehicles in the country and if a vehicle without FASTag wants to pass through a toll then the vehicle owner has to pay double the price of the normal fare which he/she is entitled to pay.
8. What all banks offer FASTag service?
There are two types of banks that are associated with the process - one is issuing bank and the other is acquiring bank. The issuing banks are primarily working with the vehicle owners and will provide them with FASTags. On the other hand, the acquiring banks will work with toll plaza and vehicle owners both and will offer their services to both these parties. Here is a complete list of issuer and acquirer banks.