Do you think India is never clean? You are wrong, visit this Asian village in the East Khasi Hills and you will know. This village is declared as the cleanest village of Asia. One ought to visit this serene village once for sure because this village has all characteristics to mesmerize you. Mawlynnong is largely known to be the cleanest village of Asia which is a designation in itself. This village is largely popular for its unexpected cleanliness and of course the unadulterated natural beauty. There have been a lot of initiatives in the place which is indeed the reason behind its successful cleanliness in not only India but also in entire Asia. Residents participate completely in keeping the village as clean as possible. Smoking and using of polythene are strictly banned in the village and rainwater harvesting is very much encouraged among the inhabitants.
Places to visit in Mawlynnong
Roots Bridges is one of the most amazing places which you should visit with your loved ones. This awe-inspiring place is the kind of deal which you must definitely be exploring and discovering new aspects of! The overall beauty of this place is quite intense and worth exploring. Read More...
Mawlynnong Waterfall
This waterfall is simply an impeccable delight to watch especially with the people you love and respect. This place is audacious enough to offer you some really interesting perspective regarding travelling.
Also Read: The tranquil sea and the lush greenery of this place will make you fall in love with the peaceful vibes!
Things to do in Mawlynnong Village
Brun Khongmen Viewpoint
This viewpoint is located on a tree which is at the Riwai Village. From this spot, you can get some of the most phenomenally enticing views of nature's vista which will simply take your breath away.
Go See Balancing Rock
This is something which you must look forward to visiting! Here, you will be witnessing a huge piece of rock which has been quite accurately balanced on a very small piece of rock. This scene is enough powerful to evoke a very wide variety of questions from the tourists and travellers who see this scene. Moreover, what is really unbelievable is the fact that there have been many storms as well which have been unable to shift this from its place.
Umngot River Dowki
If you want to see that what the crystal clear waters are like then this is the place which is a definite visit to this place. The crystal clear and flowing waters of this place make it one of the most tantalizing tourist spot to visit in Mawlynnong village.
Events and festivals in and around Mawlynnong Village
Quite a popular festival in India, the autumn festival can be called a delightful extravaganza. This festival of our country acts as an immense cultural platform showcasing the tourists and travellers from our country as well as from the abroad to get to know about us in a much better light. Read More...
Nongrem Dance
Nongrem Dance Festival is celebrated as the thanksgiving festival by the locals. Moreover, in the Khyrim state, this festival is particularly celebrated with great zeal. What is really interesting about this place is the fact that it is mostly related to the goat sacrifice.
Celebrated in the mid-July on a yearly basis after the period of sowing is over. Being the most religious festival, the Behdienkhlam is celebrated with great enthusiasm. This festival is quite popular particularly in the Jaintia Hills District of Meghalaya. Furthermore, what you will be quite surprised to know is that this specific festival is also known for chasing away the Demon of Cholera. Read More...
Best time to visit Mawlynnong Village
The summer season is one of the best time to visit Mawlynnong village. The overall temperature of this place is neither too hot and neither too cold during this time.
How to reach Mawlynnong Village?
By Air - Meghalaya has no airport. However, to visit this place you will have to catch a flight to Guwahati which is around 160 km away from the main city.
By Road - This place has very good connectivity via roads thus you can easily travel to this place and enjoy some of the scenic travel getaways.
By Train - The nearest railway station is also situated in Guwahati. And you may be specifically required to take a bus or a taxi from Guwahati to Shillong if you want to reach your destination.
You can plan your trip and create your own route to the city with Adotrip's technically driven circuit planner. Click here

2 Days

Natural Beauty

Meghalaya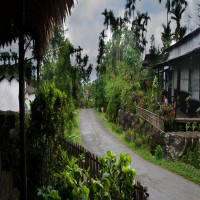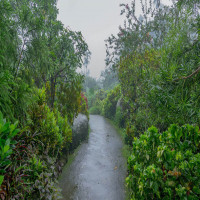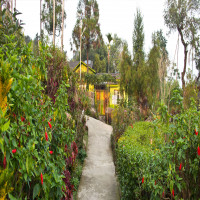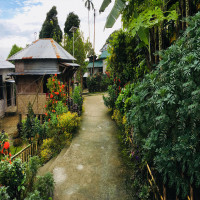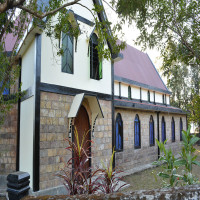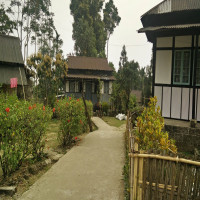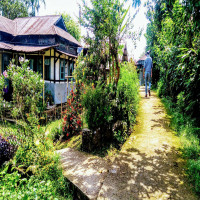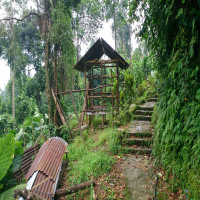 Accommodation
Destination
Meals
Transport
Overall