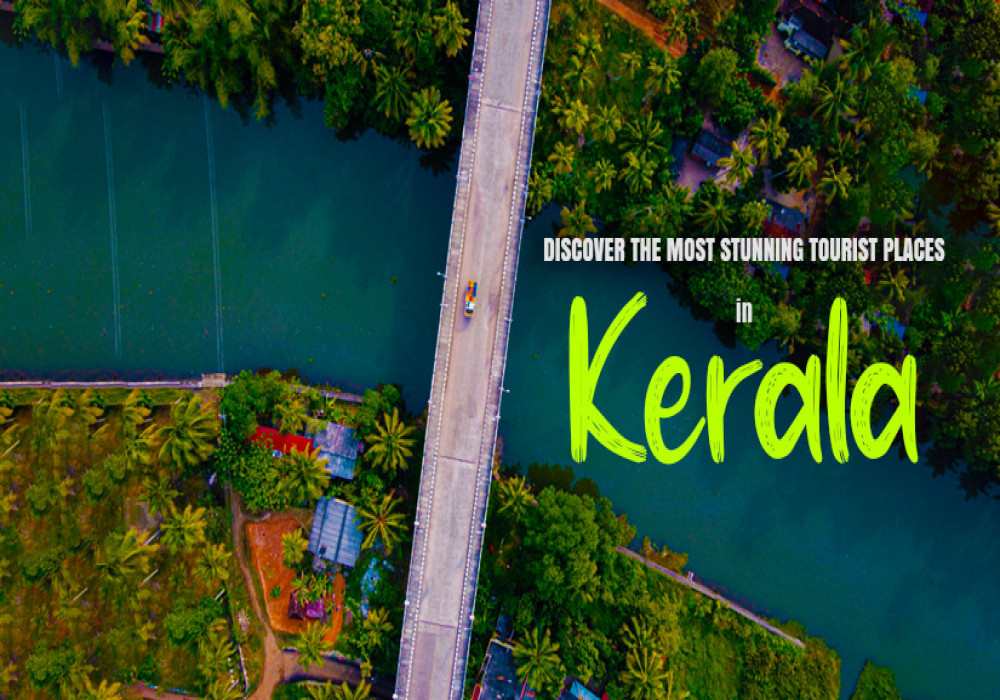 Best Tourist Places In Kerala That Are Travellers Delight
Tucked in the lap of bounty nature, Kerala -the little paradise in the southern part of India is famous for the best tourist places, ecotourism, Ayurvedic treatments, aromatic spices, verdant tea gardens, paddy fields, serene backwaters, tranquil beaches, stunning art forms, amazing wildlife, beautiful temples, tasty food, warm people and whatnot.
Right from the best tourist places in Kerala to uncountable things to do, God's own country is a place that will take your heart.
Best Tourist Places In Kerala
Check out the list of breathtaking locales to make the most out of your Kerala trip.
1. Alleppey: Venice of the East
2. Munnar: The most stunning hill station of Kerala
3. Thekkady: Heaven of Natural Spices
4. Kovalam: Beautiful Coastal Town of Kerala
5. Thrissur: The cultural capital of Kerala
6. Wayanad: A treasure trove of Kerala
7. Kochi: The Queen of Arabian Sea
8. Kumarakom: Birdwatcher's paradise in Kerala
Alleppey
One of the oldest planned towns in India, Alleppey is an utterly beautiful place in Kerala which is famous for surreal backwater experience, stunning beaches, and verdant paddy fields. The official name of Alleppey is Alappuzha and this scenic town is visited by a large number of foreign as well as local tourists to relax at various Ayurvedic and yoga centers. People can also indulge in thrilling activities at Alappuzha beach.

Best things to do in Alleppey
1. Houseboat Cruising at Alleppey
2. Ayurvedic Treatments
3. Yoga and Meditation
4. Parasailing, Motorboat rides, etc
5. Village Tour
6. Food Tour
Best time to visit Alleppey
The ideal time to visit this charming town is anytime in winters that fall between October and March.
Munnar
Home to mountains, green belts, and three rivers -Mattupetti, Periavaru, and Nallathanni, Munnar is another gem for Kerala Tourism that is a delightful discovery for tourists. Munnar is famous for its typical valley experience that includes expansive lush green tea gardens, exotic species of flora and fauna, and the most captivating vistas. This quaint hill station of Kerala is definitely worth visiting as it is also a popular romantic escapade.

Best things to do in Munnar
1. Salim Ali Bird Sanctuary
2. Eravikulam National Park
Also Read: Another Statue in Progress! Now Karnataka Plans A 125 F...
3. Atukkad Waterfall
4. Shikara ride in Kundala
5. Tea Gardens
6. Camping and Trekking
Best time to visit Munnar
The ideal time for visiting Munnar is anytime between March to September when the weather stays pleasant. Avoid monsoon season as it heavily pours, restricting most of the activities during this period.
Thekkady
Boasting the largest tiger reserve of India, Thekkady is also famous for its exquisite wildlife experience which includes pachyderms and exotic flora and fauna species. Another thing that makes Thekkady popular is cardamom plantation that covers the hills. Enjoy the most stunning views if you plan a road trip to Thekkady as the distance between Thekkady and Munnar is barely 122kms which takes around two and half hours by road. Don't miss out on this little haven in Kerala which is tucked away from cacophony.

Best things to do in Thekkady
1. Wildlife Safari
2. Trekking & Rafting
3. Sail through Periyar Lake
4. Watch Mullaperiyar Dam
Best time to visit Thekkady
October to February and June to September are ideal months to visit Thekkady which is one the best places to visit in Kerala.
Kovalam
Just 25 km from Trivandrum lies a small coastal town Kovalam which is famous for shimmering crescent beaches that have shallow waters and low tidal waves. The beaches of Kovalam have gained popularity amongst the honeymooners and foreign tourists as it is quieter at this side. Also, the shoreline is impeccably clean and ideal for sunbathing, swimming and getting sunkissed. Enjoy herbal body toning massages in this best tourist place in Kerala.

Best things to do in Kovalam
1. Basking on the Palm-backed beaches
2. Swimming in shallow waters
3. Catamaran cruising
4. Visit Vizhinjam Cave Temple
5. Visit Sagarika Marine Research Aquarium
Best time to visit Kovalam
Temperature during the winter season is conducive. You can plan your trip to Kovalam somewhere between November to February.
Thrissur
The land of sacred sites and vibrant festivals, Thrissur is where you can witness the beautiful side of culturally exquisite Kerala. Formerly known as Trichur, the cultural capital of Kerala is famous for ancient temples, beautiful churches, mosques, and museums. Thrissur is the Gold capital of India that is famous for the production of gold and diamond jewelry. One of the major attractions in Thrissur is colorful festivals such as Thrissur Pooram festival, Onam festival that are celebrated with great enthusiasm and marked by a large number of people.

Best places to visit in Thrissur
1. Vadakkumnathan Kshetram Temple
2. Tomb of Shakthan Thampuran
3. Archaeology Museum
4. Athirapally Falls
5. Heritage Garden
Best time to visit Thrissur
Enjoy the electrifying vibe of Thrissur during the festive season which is April and May. You can also visit anytime between the winter months i.e. October to March.
Also Read: 10 Famous Festivals Of Kerala That Should Be On The Bucket List
Wayanad