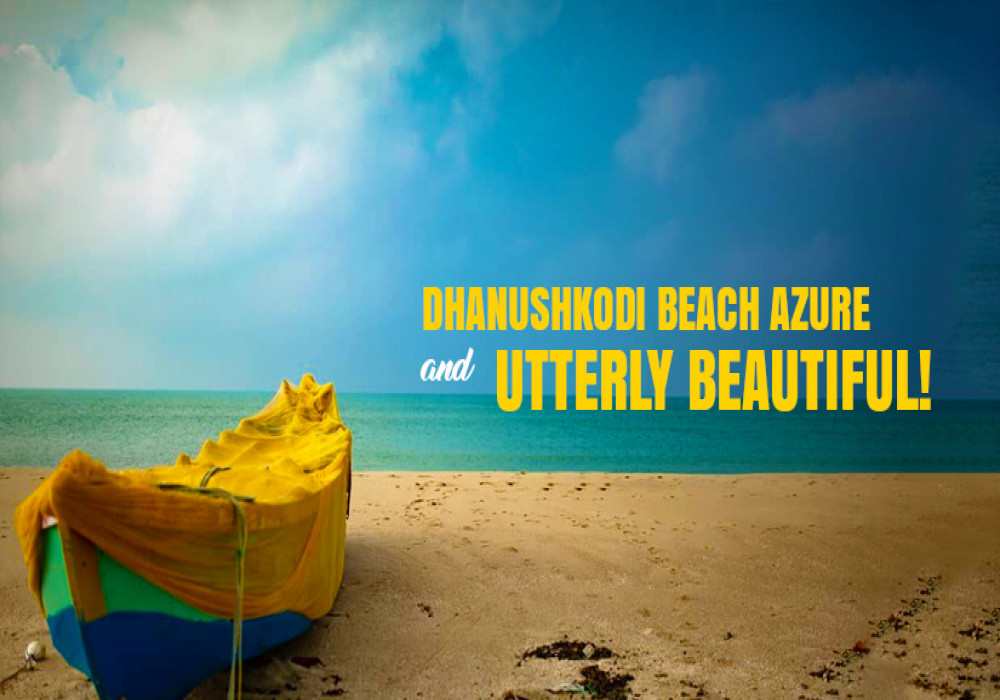 Top 5 Attractions of Dhanushkodi Beach Near Rameshwaram
Dhanushkodi, the "lost land" of Tamil Nadu is one of the immaculate tourist places in India for many reasons. Resting on the southern tip, this utterly beautiful beach is about 25 km from Rameshwaram. Despite being named as the ghost town, Dhanushkodi Beach remains a popular tourist place in Tamil Nadu because of its pristine shoreline and past stories. The best time to visit Dhanushkodi Beach is ideally between the months of October to March when the weather remains pleasant. Beach itself is a landmark, however, there are many exotic locations around the beach that are worth witnessing.
Top 5 Attractions of Dhanushkodi Beach That Are Totally Spellbinding
Brimming with azure beauty, this holiday place in India should be on your bucket list. Scroll down to know what is famous in Dhanshkodi?
1. Ram Setu or Adam's Bridge
According to Hindu Mythology, this causeway across the sea holds a religious significance. This ancient bridge was built by the army of monkeys (Vanar Sena) who helped Lord Rama to reach Sri Lanka where his beloved wife Sita was imprisoned by the demon king, Ravana. Also known as Adam's bridge, according to science Ram Setu is a natural bridge formed by limestone shoals across the sea that connects Pamban Island in Tamil Nadu to Mannar Island in Sri Lanka. The carbon dating of beaches near Dhanushkodi and Mannar Island sync with the date of Ramayana which is believed to be 7000 years old. Though the bridge is submerged in water due to the rise of sea level, the historical records suggest that it was walkable till the 15th century. The bridge is one of the top attractions of Dhanushkodi and people from all over visit Rameshwaram to witness this unusual mystery of nature or mythology, debate is perpetually on!

2. Gulf of Mannar Marine National Park
The Gulf of Mannar Marine National Park is the first biosphere reserve of the country that is spread across 6.23 square kilometers. This Marine National Park comprises 21 archipelagos along with coral reefs, seagrass, mangroves, and shallow-water habitats that thrive in the Gulf of Mannar. Home to salt marshes and algal communities, this wealthiest region brings together three aquatic ecosystems that are breathtakingly beautiful. This place also becomes home to flamingos and gulls that migrate during the winter season. One of the main attractions of Dhanushkodi, this heavenly park is home to ethereal creations of nature. Kindly note that prior permission is needed to visit these islands and tourists can enjoy the bounty of marine life only in glass-bottom boat rides.

3. Sea Surfing and Enchanting Vistas
Dhanushkodi Beach near Rameshwaram offers not just the enchanting view but also the thrill of sea surfing to the visitors. The expansive shoreline, cool wind, and pleasing sound of crashing waves are simply serenading. The sublimity of sunrise and sunset is one of the reasons why this beach in Tamil Nadu is a paradise for photographers. It will not be wrong to call it one of the cleanest beaches of India as this side of the country remains less-explored. One of the top attractions of Tamil Nadu Tourism, Dhanushkodi Beach is no less than heaven.

4. Tragic Story Behind The Ghost Town
Behind the pristine beauty of Dhanushkod lies a somber past when this little port town was crumbled by the cyclone. The entire town was swallowed by the cyclone that hit the town on 21st December 1964. More than a thousand people, including fishermen, pilgrims, and travellers approaching the island via a train on the Pamban Bridge lost their lives in the calamity. After this incident, the government declared this place a ghost town. No one is allowed to go to the beach after 6 pm as people have experienced paranormal activities in the area. However, the eeriness didn't hinder tourist footfall and it is safe to visit Dhanushkodi.
5. The Pamban Bridge and Islands
Situated in between India and Sri Lanka, Pamban Island or Rameshwaram Island is a famous pilgrimage center that attracts tourists from every part of the country. Brimming with temples, this little island is most popular for floating stones near Hanuman Temple. Also, Pamban Bridge on the island is famous as it displays excellent architectural excellence. The second-longest sea bridge in India. Built on the Palk strait, it is the first sea bridge of India that was swallowed in the cyclone of 1964. It is the second-longest sea bridge that connects Rameshwaram with the Indian subcontinent.

Once the lost land of Tamil Nadu, Dhanushkodi has once again emerged as one of the best places to visit in India. This beach destination is known for its matchless serenity that is away from hustle and bustle. With so many exciting things to do near Dhanuskodi beach, you must plan at least a short trip here.
Self plans your trip with our AI-driven circuit planner tool or simply reach out to our expert for an exclusive tour package. Adotrip will be happy to help you plan the best trip at an affordable price. Don't forget to check the flight tickets with us because we offer the most economical fares to our customers. Make beautiful memories!

Also Read: Ultimate Travel Guide To Explore The Seven Sisters of N...
--- Published By Shradha Mehra