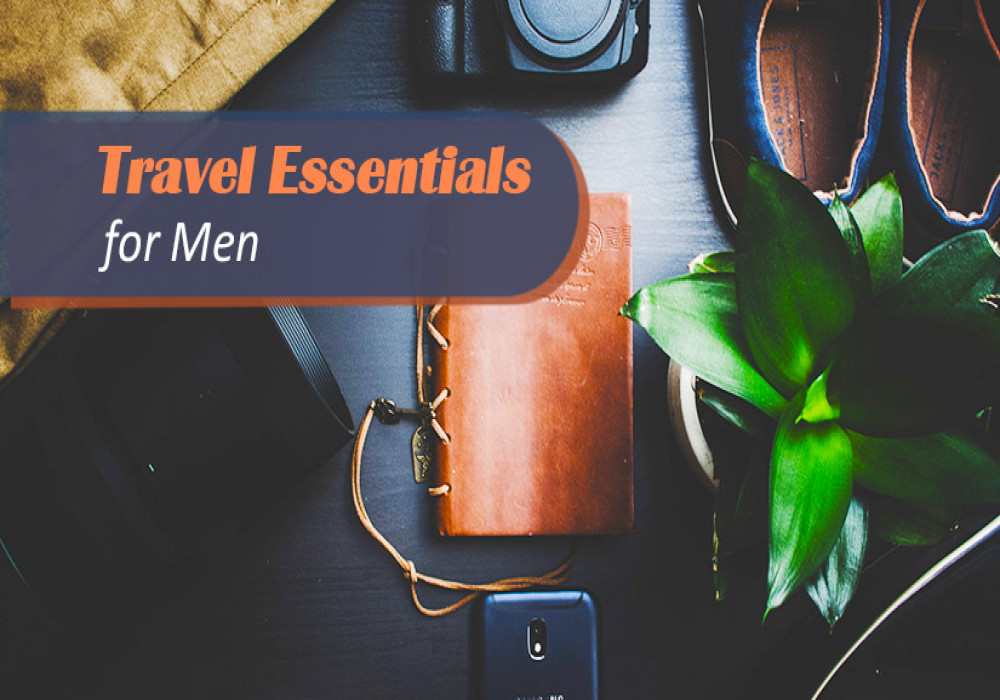 Top 6 Travel Essentials for Men: Stay Simple But Significant!
Hola, Amigos! Decode the dress code and archive the look at the airport and also find a complete list of travel essentials that no men would ever miss packing before they step out on a sojourn.

Style is a way to say who you are without having to speak likewise traveling with élan flaunts the men's social status. It's not fair to judge I know, but do we really not judge? Umm… don't worry we all are the same. So let your style turn the heads when you are traveling for business or globe-trotting to grab some breath. Even if you are a sartorial sage we are sure to equip you with enough styles that can match with a kinda layoff you have planned. Read and mug up the Backpacking Travel Checklist and Nail it every time.
1. Ace the airport look like a pro
The airport has now become a global stage for good dressing, depending on a kind of travel you can pick one of the two looks that can save you from looking like a schlub. If you are heading for an official trip then comfy jeans with a neutral color tee, topped with a blazer can make you look classy.
For a leisure trip, when comfort is the agenda then you can wear joggers with a hoodie and pair it with premium quality sneakers. Don't sacrifice on style for comfort because the dapper-looking men have the advantage to get an upgrade.
2. A travel bag, always at first
Whatever life throws upon you on the road, a sturdy travel bag can handle it. Buying the best of travel basics is a necessity and not a luxury for a vagabond. Because they carry their life around the world in a suitcase with them. The most important thing for men who constantly trot is to invest in a piece of solid luggage as they are mostly abused while traveling.
A water-resistant backpack that is good for stashing essential transit items is another thing where your investment will be worthwhile. Not only these expensive travel gears are good to flaunt whilst traveling but they also make your trips completely fret-free.
3. Travel kit, you cannot ditch
Sagacious men are the ones who pack the things right. To avoid the stress of unexpected travel complications, it's a must to prepare your kit than to be sorry. Assemble compact packs of your masculine essentials than to use the hotel toiletries.
- Hygiene is very important while traveling as we are exposed to different environmental conditions so keeping your shampoo and body wash is a must.
- Toothbrush, toothpaste and dental floss are mandatory for oral ramifications.
- To avoid unpleasant body odor from long trips, keep a deodorant that will make you smell good.
- Unkempt appearance is a complete no-no, keep your razor, shaving cream and aftershave to maintain the suave look.
- Moisturizer and lip balm are always good to carry.
- Band-aid, nail clippers, few medicines, hand sanitizer, and protection can also be a part of your travel kit.
- A minimalistic compartment of your supplies is better than stuffing unnecessary items.
4. Clothes, mix n match the mood
Every trip has a different sartorial requisite. Be it a formal business look or a comfy cool dude look, your homework practically starts with packing the right clothes for every trip. It's tedious we know and which is why we thought to share the load. Always be aware of the activities you might indulge in. There are a few basics like wrinkle-free shirts, solid tee-shirts, denim shorts, chinos, cropped trousers, a blazer can always be paired differently to instantly change your look. All of these rolled up in a suitcase can fix all your travel statements.
For men, it's always classy to stick with conservative hues of blue, tan and grey apart from white and black which are always handy in your wardrobe. Don't forget to pack undergarments, socks, handkerchieves, swim shorts and boxer shorts. The most important things for travel clothing are cleanness, durability, and packability so pack wisely and travel in style.
5. Shoes, save grace Man!
Men are usually noticed by the labels, logos, and shoes, therefore, he should never compromise on the pair of shoes he is carrying. It starts with buying lightweight and comfortable shoes that can fit the occasion. It will not add extra weight and you can pack a few styles to match the attires. The challenge begins when it is traveling for business and combining it with leisure. Loafers are universal, they usually look best with all the looks. A pair of sports shoes can solve your activity requirements and flip flops can suffice for your lazy strolls.
Also Read: Travel Again India: In the wake of Unlock 4.0, Madhya P...