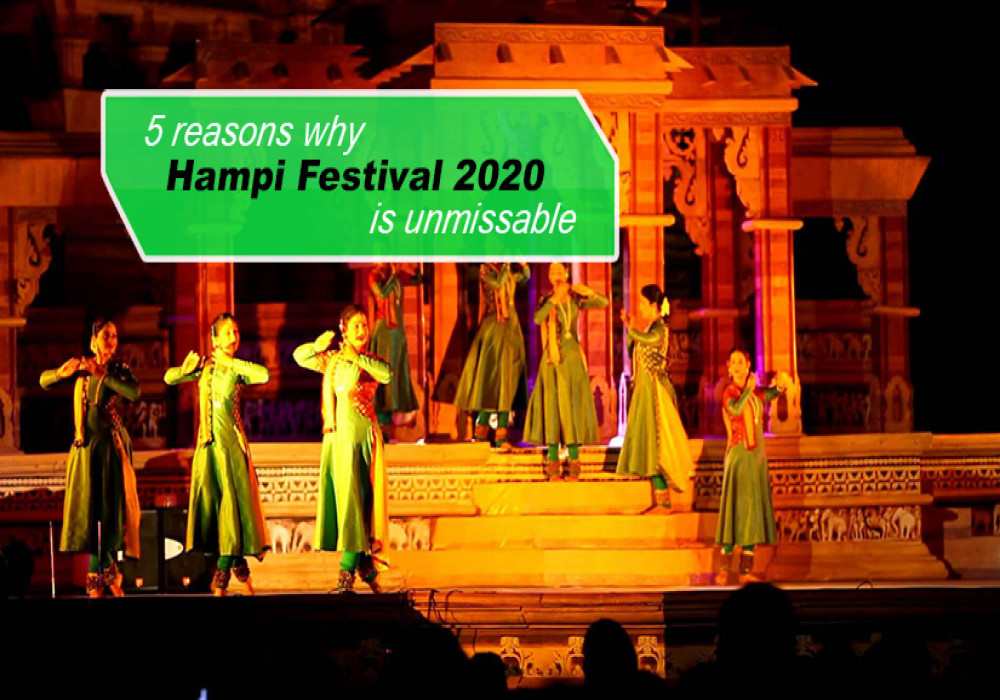 5 Reasons Why Hampi Festival 2020 is Unmissable
Hampi is an ancient, significant and one of the celebrated cities from the bygone era that forms a significant part of Indian Heritage. This city served as the capital of the great Vijayanagar empire and gained popularity for its culture, architecture and wealth. This ancient city has also been recognized as a UNESCO world heritage site for being a treasure trove of its time.
Hampi Festival or Vijaya Utsav is one of the most popular festivals in Karnataka that celebrates this city, its culture, and its heritage. People from all around the country arrive in the city to be a part of this grand 2-day celebration. Here are 5 good reasons for you to visit the Hampi Festival in Karnataka:
The Mesmerizing and the Magnificient Architecture of Virupaksha Temple
This temple is Hampi Utsav's venue. Virupaksha temple is a 7th-century Hindu temple that is known to be the oldest functioning temple of the country. Virupaksha temple is dedicated to Lord Virupaksha who is believed to be an incarnation of Lord Shiva. From its architecture to its vibes, everything will certainly amaze you at a glance!
Escape into the Culture and Folk Art of Hampi with Janapada Kalavahini
This is a popular concert that features music and dance shows along with eye-delighting light and sound shows that are worth witnessing. Puppet shows and fireworks are also worth witnessing and capturing in the camera.
The Great Grand Procession and Jumbo Safari
Besides the cultural extravaganza, a grand procession of elephants also mesmerizes the audience. These elephants are trained around the year to take part in the festival and are decorated with vibrant accessories for this grand celebration. The Jumbo safari holds a special charm amongst the locals and is a must-watch event of the festival.
The Decorated and Delightful Raja Marg Street
Raja Marg is a road that leads to the Virupaksha Temple. The road is of utmost importance during the festival as locals believe that this was the guardian shrine that protected the Vijayanagar empire. The street is decorated with fancy lights, especially for the vibrant festival.
Shop the Antique and Unique Handicraft Items Here