Baikunth Resort of Kasauli in Himachal, was all glammed-up for a musical get-together of 2019. This year it was a smashing hit and a complete soul-rejuvenating experience for music lovers. It is in its 8th edition now and the dates to the 2019 gala are 19th and 20th April. Initiated in 2012 by Genesis Foundation, the real motive behind the festival is to gather funds for severely ill children who are battling heart disorders. The stage of Kasauli Rhythm & Blues Festival, had seen many big giants from the music world such as the electric Shilpa Rao, the evergreen Usha Uthup and the most-loved Lesle Lewis. This time also, the festival was in full swing.
All About Kasauli Rhythm & Blues Festival
Kasauli Rhythm & Blues Music Festival aka KRBF is a yearly musical festival which was founded by Genesis Foundation in 2012. The festival is organised in beautiful Baikunth Resort of Kasauli, Himachal Pradesh. The Foundation believes in the fact that Music is the best way to bring the positive change in the society. The motive behind the festival is to collect donors for the treatment of heart-diseased children. Every year, the festival is graced by renowned artists from the music industry. Several independent singers also perform at the festival to participate. The soulful music at great ambience like Kasauli is enough to hold-on the positive vibes.
Major attractions of Kasauli Rhythm & Blues Festival
Who were the Charmers for Day First?
Shubhangi Joshi Collective. People were seen spending some meaningful time while listening the Shubhangi Joshi Collective who brings something new every time. The amalgamation of every member of the brand makes the show a captivating affair one can ever experience.
Maati Baani. Listening to"Maatibaani" rockers-Niral Kartk and Kartik Shahi, leaves with beautiful feeling. The duo had taken the music scene by storm with their mesmerizing voice and contemporary and conventional collaboration. It ended up on a peaceful note.
Also Read: The native Assamese and tribal cuisine are a part of this cultural food festival
Parikrama. Parikrama Band made people go gaga with their sparkling performance. This band had brought something new to its audience by mixing Classic Rock with Indian musical instruments such as Tabla, Sitar, Santoor and many more.
Who were the Charmers for Day Second?
Explore the Carnatic Music. A South Indian Classical Music with the Soundarya Jaychandran Band. With numerous achievements in her kitty, she is an awesome musician. One could feel her charm around him/her. She rocked it with her soulful voice while producing mind-blowing music playing guitar.
Thaikkudam Bridge. The unpredictability of the music artists is something that brings something new for listeners. Thaikkudam Bridge Band surely lived up to the expectations of its audience. The 15-member band has always brought something new and surprising. The vocals, the sound engineers, and others created a third-world scenario for people.
Food Fiesta at Rhythm & Blues Festival
'The food arrangement was awesome. Right from the indian to continental cuisines, people were enjoying different tastes.
How to Reach Kasauli Rhythm & Blues Festival?
By Air. The nearest airports are Chandigarh Airport, Bhuntar Airport and Kullu Airport. From Chandigarh Airport, it will hardly take an hour to reach Kasauli. Several renowned flights provide regular service to the airport. It is well-routed with major cities of India such as Delhi, Mumbai, Kolkata and Chennai. Another airport is Kullu-Manali Airport which is located at Bhuntar. It is 11 kilometers away from Kullu and 52 kilometres away from Manali. The airport is well-linked with other major cities of India.
By Rail. The nearest railway stations of Baikunth Resort are Sonwara Railway Station in Sanwara and Koti Railway Station in Koti with the distance 11.2 and 21.9 kilometres respectively. The railway stations are well-developed and can easily be found with several modes of local transport means.
By Road. The roadways of Kasauli hill station are well-structured and have easy connectivity with places like Delhi, Chandigarh, Solan, Shimla and Ambala.
You can plan your trip and create your own route to the city with Adotrip's technically driven circuit planner. Click here

2 Days

Dance & Music

Himachal Pradesh
Venue

Baikunth Resort of Kasauli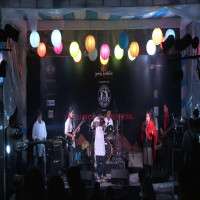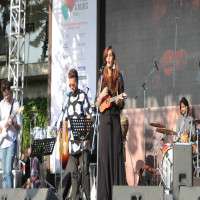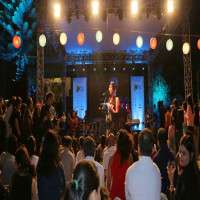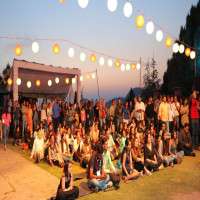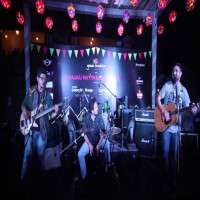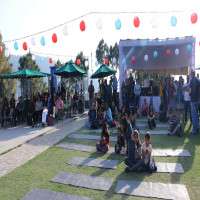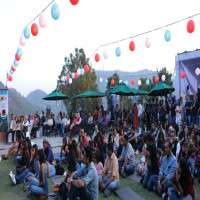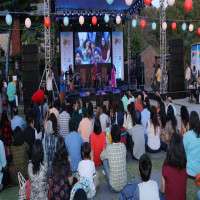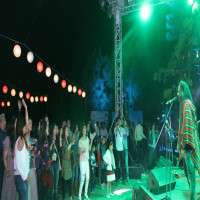 Accommodation
Destination
Meals
Transport
Overall