This place is one of the most popular tourist attractions in Karnataka. The Shivanasamudra island is situated between the Kaveri river and divides it into two parts named as Gaganachukki and Barachukki. It is an amazing view and is definitely a picturesque location. Shivanasamudra is a small island town in the Mandya area of Karnataka. Shivanasamudra is 65 km east of Mysore and 120 km away from Bangalore. Located on the banks of the River Cauvery, the region is encompassed by forested hills and lavish green valleys. Here the Cauvery River winds its way through the Deccan Plateau and drops downstream to form the lovely twin waterfalls. The western stream is known as Gaganachukki while the eastern one is known as Bharachukki. Gaganachukki falls down tallness of 98 meters with the greatest stream of 667,000 cubic feet for each second. This is where Asia's first hydroelectric power station was set up in the year 1905. Bharachukki is one km far from the Gaganachukki fall. The falling edge of Bharachukki is somewhat more extensive than that of Gaganachukki. One of its segments follows a 'U' simply like the much-admired Niagara Falls. The rivers here are very solid and the valley is very deep. Accordingly, swimming isn't permitted here because of security reasons in Shivanasamudra.
Top attractions of Shivanasamudra Falls
Somnathpur
Somnathpur is quite an amazing tourist destination known for its phenomenal Prasanna Chennakesava Temple. Particularly being one of the famous representations of the Hoysala architecture this tourist spot has also been nominated for the UNESCO World Heritage site.
It is quite interesting to know that Mysore is also the second biggest city in Karnataka. And there is no doubt in the fact that Mysore also retains an iconic world charm with all its immense palaces and heritage buildings etc. And perhaps that is the main reason owing to which it is known as the City of Palaces. Read more...
Talakadu
Talakadu is yet another historical destination which was once a very famous pilgrimage site situated on the banks of the Kaveri River. Moreover, Talakadu is a very beautiful place which is surrounded by temples.
Things to do around Shivanasamudra Falls
Explore The Charm of Kaveri River
Forming the island of Shivanasamundra along with Srirangapatnam which are around 80 km apart from each other, the Kaveri River is a gem to visit, explore and discover. The island for Shivanasamundra Falls is a very famous tourist attraction which your children will especially love.
Also Read: Located at Changthang in eastern region of Ladakh this lake is a gigantic spectacle of nature
Best time to visit Shivanasamudra Falls
The best times to particularly visit the Shivanasamudra Falls would be the Monsoon season. As this is the time when the river is loaded with water enhancing its charm!
Visit Shimshapura Falls
Situated in the Shimsha village this place is one of the most amazing places to travel to with your loved ones. The aura and the charm of this place will simply charm you to your core.
Shimsha Dam
The Shimsha Dam is also known as the Markonahalli Dam. It is constructed across the Shimsha river and at a height of 731.57 meters. This dam was built by Krishnaraja Wodeyar IV, for the purpose of irrigating 6,050 hectares of land.
How to reach Shivanasamudra Falls?
By Air –The nearest airport is situated in Mysore.
By Train – You can travel to this place by train as well. The nearest railway station is situated in Mysore.
By Road – To reach this place by road you can either drive to this place yourself or you can take a bus. There are buses available at regular intervals of time thus making it easier for you to travel to this place.
You can plan your trip and create your own route to the city with Adotrip's technically driven circuit planner. Click here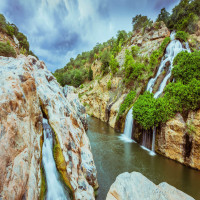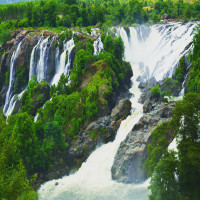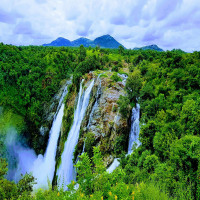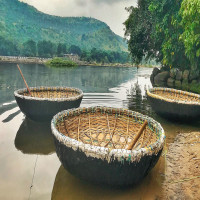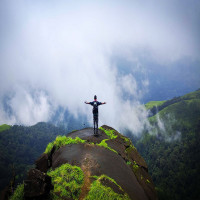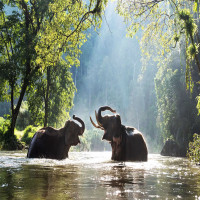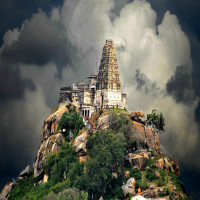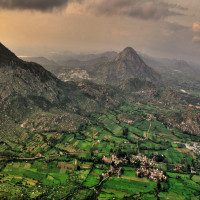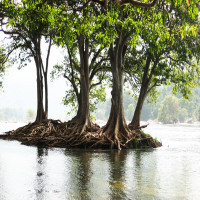 Accommodation
Meals
Transport
Destination
Overall