Considered as one of the tallest waterfalls in India, Dudsagar waterfalls are truly a brilliant example of epic beauty. It is situated in the Bhagwan Mahaveer Sanctuary and Mollem National Park forming a border between Karnataka and Goa. This particular area is surrounded by deciduous forests. The waters which come cascading down from the rocks form a magical view of the place, especially in the monsoon season. On various occasions, one can also see a train crossing by from in front of the falls. This scene is simply a visual delight.
When one looks at these waterfalls from a distance, it seems like an overwhelming stream of milk falling with much pressure from the top to down the hill that again forms three streams, making their way to the ocean.
History of Dudhsagar Falls
There are some legends and stories which are associated with this place for a long time. According to one such story, it is believed that once there was a princess, the daughter of the king of Ghats.
One day she was bathing in the lake situated near the palace. After completing her chore, the princess along with her maidens sat beside the lake and drank milk from a jug, apparently made of gold, and embedded with precious stones and diamonds. She repeated it on a different day,

a handsome prince chanced to be riding in the woods nearby. When he heard the laughing sound of the girls, he became curious and wanted to know what was happening. And after some searching, he found and saw the barely clad princess. However, to protect her honour, the maidens in a frantic attempt poured the milk from the jug around her. And it is this reason why these popular waterfalls are known as Dudhsagar.
Why You Should Visit Dudhsagar Falls
Falling from a height of 310 meters, Dudhsagar falls are the fourth largest in India. This wonder of nature attracts the attention of a lot of tourists on an annual basis. For someone who likes to explore nature, and has a great love for photography, this destination is a must-visit.
Top Attractions at Dudhsagar Falls
Goa-Karnataka border. A four-tiered waterfall sited right of the Goa-Karnataka border, this destination is mesmerizing beyond words. As per the locals, the clouds come from the heavens, touching directly the earth.
Also Read: The mythological stories attached to this lake have been a thing of attraction for the tourists
Bhagwan Mahaveer Sanctuary and National park. Quite close to the fall and situated in the city Mollem, this attraction has a wide range of species for you to explore. Besides that, you can also click some amazing pictures at the national park.
Things to do Near Dudhsagar Falls
Tambdi Surla Temple. It is sited quite close to the Falls. Visit the place and appreciate the adorable architecture of the temple. Visitors come to this place throughout the year not to just offer prayer but also to experience a new culture and meet new people.
Devil's Canyon Trek. This one is located in the Bhagwan Mahaveer Sanctuary and is also one of the famous trekking spots here. Actually, this place is a gorge and also has a beautiful river running through it. This place is very close to Tamdi Surla Temple. Visiting here, you might also get a chance to spot some rare animals.
Best Time to Visit Dudhsagar Falls
October to May is the best time to visit Dudhsagar Falls. This is a great time for sightseeing and exploring this place while enjoying to the fullest.
Famous Food and Clothing of Goa
Goa is the kind of place which is also known as the 'Rome of the East' or 'Miami of India'. Here the people dress up according to the tropical climate. Generally, people wear cotton clothes. The catholic women of Goa usually dress up in gowns and other western attires. The Hindu women wear the traditional dress which is the Nav-vari saree. Some other traditional costumes of Goa are Pano Bhaju and Vakal. Whereas the men here wear urban and modern clothing. The fishermen are mostly seen wearing bright shirts. Moving to the Goan cuisine, it is quite delicious and is a mix of Portugal, Hindu and Muslim styles. The people of Goa use a lot of vinegar and coconut milk while cooking.
How to Reach Dudhsagar Falls
By Air. Traveling to Goa by a flight is a great decision. For this, you will need to deboard at Dabolim airport. It is situated at a distance of 29 kilometers away from Panaji. It is well-connected via some of the major cities like Delhi, Pune, Mumbai, Kolkata, Hyderabad, etc.
By Train. If you plan to travel to Goa via train then the nearest railway station is Madgao. This station has good connectivity via other nearby and major cities like Delhi, Pune, Hyderabad, Kolkata, and more.
By Road. Traveling to Goa via car with your loved ones is an experience worth remembering. You can easily travel from Indian cities like Delhi, Pune, Hyderabad, Kolkata, and Bengaluru. You can consider taking routes via NH 48, NH 50, NH 52 basis your location.
You can plan your trip and create your own route to the city with Adotrip's technically driven circuit planner. Click here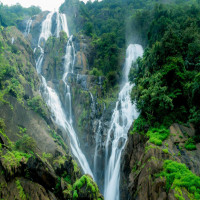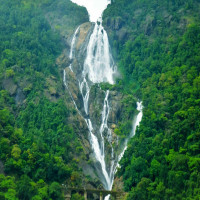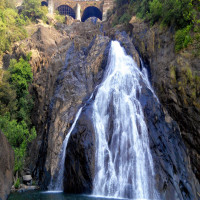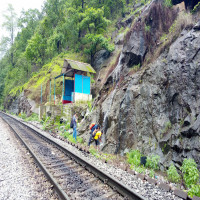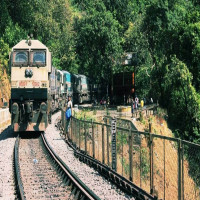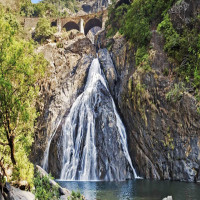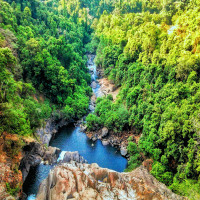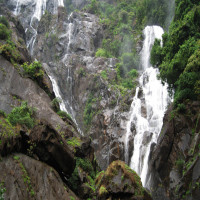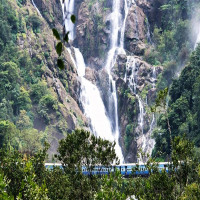 Accommodation
Meals
Transport
Destination
Overall