Vacationing by the beach is always a great idea. It helps you unwind your soul and get drenched in nothing but happiness and joy. Nowadays, mostly every beach has been commercialized which has resulted in just too many people pouring in for having fun. As a consequence of this, most of the beaches have become quite overcrowded.
However, Laxmanpur beach situated on Neil Island is definitely a great place to explore, especially if you want to give yourself a break and relax. This beach is quite an ideal location for activities like swimming, sunbathing etc. The white shell sands and the dead corals make this place great for snorkelling as well.
The absence of all the commotion and chaos furthermore makes this place a must-visit for people who are looking for some peaceful time and calmness in life.
Why You Should Visit Laxmanpur Beach?
Situated on Neil island, this beach is an unexplored destination located far away from the popular tourist destinations of the Andaman and Nicobar islands. Only a few fortunate wandering souls know about this spot and its impeccable panoramic views. The quiet sunset, breathtaking views, and a long walk add a lot more to this beach in terms of its emotional exuberance.
Dead corals, white shell sand, clear waters, the blue sky along with the enthralling views of Laxmanpur beach feel like watching the finest piece of art by a painter that is meant to evoke all sorts of positive emotions within your being. Considered as a non-commercial travel spot Laxmanpur beach is worth visiting once in your lifetime. The coral reef is the major highlight of Laxmanpur Beach. You can observe the dead coral on the beach shore and even beneath the water surface while snorkelling. The best part is that you do not have to get deeper into the sea to observe the intriguing underwater ecosystem of corals.
Places to visit in and around Laxmanpur Beach
Corbyn's Cove Beach - This beach is situated at a distance of around 8 kms from the city centre. The calm sea waters and the vast clear views of this place only add to the dramatic beauty of the whole environment. Some of the most amazing activities which one can enjoy here are scuba diving, surfing and snorkelling.
Radhanagar Beach - Radhanagar beach has been crowned as 'Asia's Best Beach' by the Time Magazine. The perfect beauty of this beach is what keeps the tourists hooked to this place. Stretching for about 2 kilometres in length this place is quite an amazing option to explore.
Also Read: You will feel nothing but love and grace in this place
Things to do in Laxmanpur Beach
Snorkelling - Dead coral along the shore of the beach simply adds to the snorkelling experience and makes it unique. You can enjoy the unique and colourful aquatic life underwater along the Laxmanpur beach.
Nature Photography - Every view is a perfect frame to admire! For nature photographers and photography enthusiasts, the place is a paradise. One can capture the underwater world, birds, trees or the sunset through a camera lens.
Scuba Diving. The shallow waters that surround the Laxmanpur beach are a great spot for water sports such as scuba diving. Scuba diving here will give you an opportunity to witness the aquatic life very closely.
Swimming and Sun Bathing. These two activities are always on the to-do list when someone is visiting a beach. The stunning views, divine calm, and the underwater action that surround the Laxmanpur beach will surely make you go swimming.
Capture a Sunrise or a Sunset. Coming back without experiencing or admiring a sunset or a sunrise on a beach is disrespect to nature! If you are on the Laxmanpur beach either arrive at the place early or stay till late to experience a beautiful sunrise or a sunset.
Food and Clothing of Laxmanpur Beach
When it comes to clothing, generally the people prefer to wear light and fashionable clothes such as hat, shirts, sunglasses, shorts, slippers. As for the food Fish Curry, Macher Jhol, Chilli Curry, Coconut Prawn Curry are some of the rich delicacies popular here.
Best time to visit Laxmanpur Beach
Being surrounded by ocean, the island observes moderate weather throughout the year. You can visit the beach at any time of the year but if hot and humid weather irritates you then planning a trip around winters is a great choice. The beach receives maximum tourist footfall from October to April so one can plan a trip during this time.
How to reach Laxmanpur Beach?
By Water. The local government runs ferry service which can take you to the Laxmanpur beach. You can take the jetty from the main market on Neil island to Laxmanpur village which is just 2km away.
By Air. The nearest airport is Port Blair or the Veer Savarkar international airport. From there, one has to take the local transport available or the ferry service to reach Laxmanpur beach.
You can plan your trip and create your own route to the city with Adotrip's technically driven circuit planner. Click here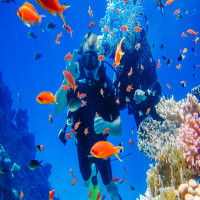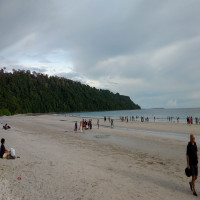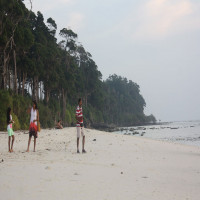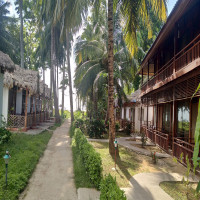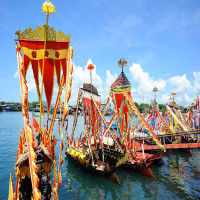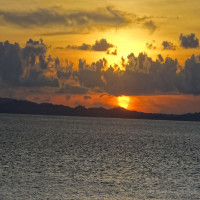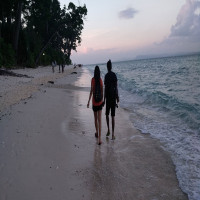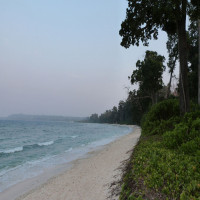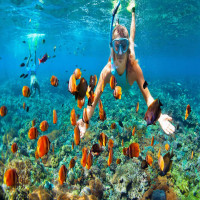 Accommodation
Meals
Transport
Destination
Overall