Another splendid place of Chandigarh is Sukhna Lake. Undeniably, Chandigarh is an important and one of the poshest cities of India and Punjab as well. Sukhna Lake is a tourist attraction and one can do a lot over there to entertain themselves. Boating, games, enjoying sunsets are some of the major things to do at Sukhna Lake. Sukhna Lake is a manmade lake at the Shivalik Hills (a small foothill) in Chandigarh, India. It is a rainfed lake which was created in 1958. The manmade lake was created by Le Corbusier and P L Varma Chief Engineer. It is the lake where motor boats and vehicles are prohibited to maintain the serenity around the lake. One of the main attractions of the city, you will love to spend your quality time with your loved ones.
Top Attractions in Sukhna Lake
Sukhna Lake Park
The lush green space around the lake is great to have a tranquil experience. Also, you can ride on paddle boats and jogging trails.
Sukhna Wildlife Sanctuary
The Sukhna Wildlife Sanctuary is situated in Shivalik foothills. The reserved shelter for animals were declared as wildlife sanctuary in the year of 1998.
Also Read: Located at an altitude of around 4,522 m this place is all about finding peace and serenity
Garden of Silence
A great meditative space for people who looks for a tranquil place. The garden features a sculpture of Buddha in a seated position.
Butterfly Park
As the name suggests, you can witness 35 species of butterflies. Also, one would love to visit the conservatory with enormous types of shrubs, flowers and trees.
Things to Do in Sukhna Lake
Shikara Ride
Enjoy the boating ride at Sukhna Lake. there are two types of peddle boats are available.
Le Corbusier Sketches
Notice the amazing sketches that is made by Le Corbusier that shows a great sketcher in him.
CITCO Cafeteria
Enjoy the view while having your favourite coffee at CITCO Cafeteria at Sukhna Lake.
The souvenir shop
The Chandigarh Administration provides you this souvenir shop at Sukhna Lake. there are several gift items you can buy for your loved ones.
Best Time to Visit Sukhna Lake
The Sukhna Lake remains opened from 5AM-9PM for all days of the week. It takes almost 2 hours to explore the site. So, whoever you are, local or outsider, experience one of the beautiful places of India.
How to Reach Sukhna Lake?
For Locals- If you are a local, residing in Chandigarh itself, you can easily take buses, autos and taxis to reach the destination.
For outsiders-Also, if you are an outsider and planning to visit the place, it takes only 15 minutes to reach the lake from Chandigarh Railway Station.
In case, you want to travel by air, you can book your tickets for Chandigarh International Airport. It takes 35 minutes to reach the lake from airport.
You can plan your trip and create your own route to the city with Adotrip's technically driven circuit planner. Click here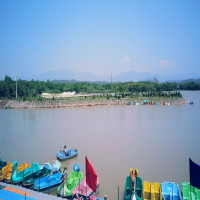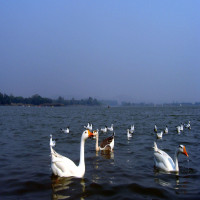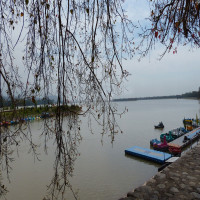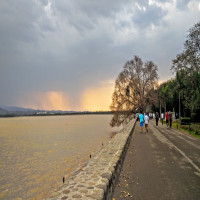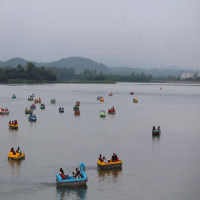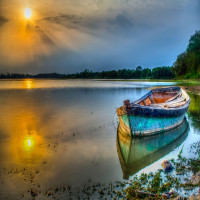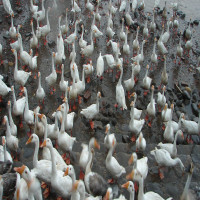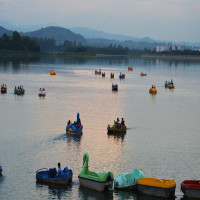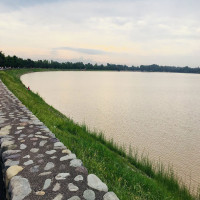 Accommodation
Meals
Transport
Destination
Overall