Enough of Hauz Khas Fort, Red Fort and all. The world has been there. Delhi has a lot more to offer which is still unexplored by many just like this 6 km long fort. This fort is in South Delhi and hardly sees any crowd. A quiet and lonely space from the Tughlaq dynasty. It's high time we come out of the Mughal phase.
Top attractions in Tughlaqabad Fort
The architecture of Tughlaqabad Fort
The architecture of the fort is awestruck that is distinguished into two sections where one section is the citadel and palatial residences. The entire construction is done on the granite and covers 6 km of land; the architecture of the fort will leave you astonished.
Tughlaqabad Fort - Haunted!
The fort has a rich history and the place used to rule by the Ghiyas-ud-din Tughlaq and he was quite happy in constructing this fort. He ordered his labour to build it, however, it disappointed the other emperor named Sufi, who confronted during its construction. Later, the place got abandoned and got the tag of a haunted one.
Artificial lake
The tomb is built up in the main centre of the fort and explore the artificial lake that has now transformed into Mehrauli-Badarpur road.
Tomb of Ghiyas-ud-Din Tughlaq
Tomb of Ghiyas-ud-Din Tughlaq has an entryway that is built up on the red sandstone, alongside, one can explore the lush green lawns. Built up in the centre and is a remarkable construction where three graves are placed- the voice gets amplified here.
Things to do near Tughlaqabad Fort
View the open courtyards in Khirki Masjid, Delhi

Enjoy the Pandava Ekadasi in ISKCON Temple, Delhi

Appreciate the Mughal style architecture in Qutub Khan's Tomb

Experience the peace and solitude in Bijay Mandal, Delhi
Best time to visit
The ideal time to visit the fort remains between October to March as the weather is good, it is open all 7 days and the entry time is 09:00 AM to 05:00 PM.
How to reach Tughlaqabad Fort?
You can plan your trip and create your own route to the city with Adotrip's technically driven circuit planner. Click here
Also Read: How has it got UNESCO Heritage Site Title?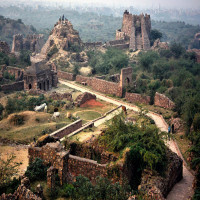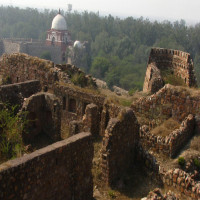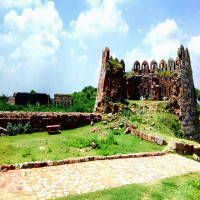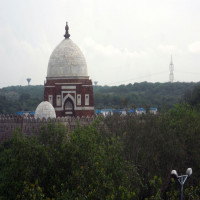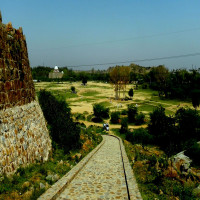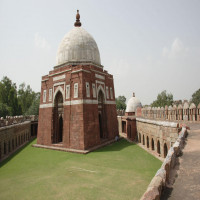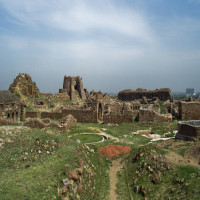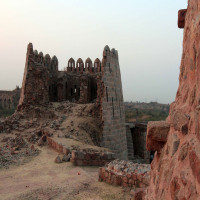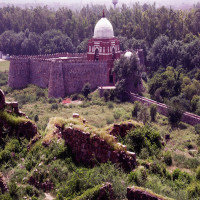 Accommodation
Meals
Transport
Destination
Overall