Kerala is highly famous because of its beach weddings nowadays and why not when the beaches here are no less than an epitome of beauty and grace. This place is known for its new year celebrations, sunbathing and water sports to name a few. Plan your trip well and include this beach in your list and surely your trip will be one of its kind.
Places to visit in Kovalam
Light House Beach
The lighthouse beach is one of the most enthusiastic places to visit in Kovalam and also one of the most crowded ones. The height of this lighthouse beach is around 30 m in length. It was built on the Kurukamkal hill right along. And for having the most amazing views you would have to climb the 140 stairs of the lighthouse as it is from here that you will be able to get the most prolific views of the immense beauty of nature.
Hawah Beach
Hawah Beach is one of the most amazing tourist destinations to visit in Kovalam. This place is somewhat less crowded as compared to other destinations of this place. And it is interesting to know that this place is also known as Eve's beach. More so, this place looks absolutely stunning during the dawning as well as the dusking hours of this place.
Karamana River
Originating from the southern part of the Shaydri range this place is definitely one of the most attractive tourist destinations to visit in Kovalam, Kerala. The Karamana river covers the outskirt regions of the Kovalam which goes by the name of Karmana and thus the river is also named Karamana. The main cause owing to which the tourists visit this destination to specifically enjoy boating!
Also Read: Situated on Neil island, this beach is an unexplored paradise
Things to do in Kovalam
A Sightseeing tour
Needless to say that Kovalam has got a very cool bunch of tourist attractions and destinations. And this is a fact which is the cause of attracting more and more tourists on an annual basis to this amazing town. If you are planning a sightseeing tour then it becomes imperative on your end to plan a half day tour to particularly roam around the city and explore sites such as Samudra, Hawa beaches along with the Karamana River.
Spending a night in the houseboat
There is no doubt in the fact that floating in the peaceful backwaters which have a picturesque as well as a rustic backdrop along with the paddy fields is the kind of thing which every traveller would like to achieve, isn't it? And if this is yours too then spending a night in a houseboat in Kovalam might just offer you this amazing opportunity for yourself!
Go for a catamaran ride
When it comes to a must do things than having a Catamaran ride in the strong tides is one option which you must definitely consider and keep it in the must-do list of your Kovalam travel. What can be amazing than the fact that riding on a traditional wooden catamaran boat is an amazing travel experience in itself? And if you visit this place then you should definitely plan to go boating at Vellayani Lake while specifically enjoying the stunning views of the spectacular natural beauty.
Events and festivals in & around Kovalam
Village Fair
Also known by the name of "Gramam" the village fair in Kovalam is celebrated with great enthusiasm. The place where the fair held is amazingly decorated with exclusive beauty of Kerala. Moreover, this festival also showcases the village's culture, art along with the beauty of the mind offering the tourists with special drinks and foods.
The Elephant Festival
This is a three-day festival celebrated on the 9th January every year. In this festival, the elephants are decorated with immensely beautiful necklaces as well as the garments. We can also go to the extent of saying that this is one of the most important festivals of Kerala. And undoubtedly the elephants at this festival look quite royal!
Best time to visit in Kovalam
The best time to visit Kovalam is from November to February as this is the time of the year when the overall temperature is quite pleasant and is good for travelling around.
How to reach Kovalam?
By Air – If you are planning to visit Kovalam by air then it is important for you to know that the Trivandrum International Airport is the nearest airport which is located at a distance of around 15 km away from the main city from where you can take a cab or a taxi.
By Rail – If you are planning to visit this place by rail then the Trivandrum Central Railway station is the nearest station located at just a distance of around 12 km from Kovalam. What is quite good about this is to know that this station is connected quite perfectly with all the major cities of Kerala as well as other cities.
By Road – If you are planning to visit Kovalam by road then you should know that Kerala offers many buses to travel to the state to reach Kovalam.
You can plan your trip and create your own route to the city with Adotrip's technically driven circuit planner. Click here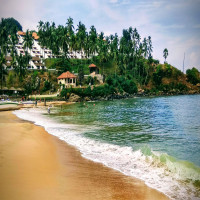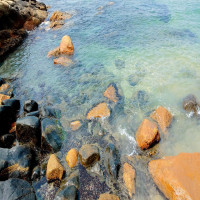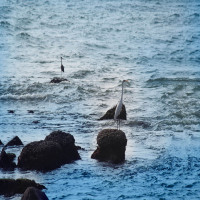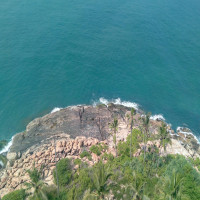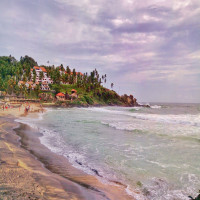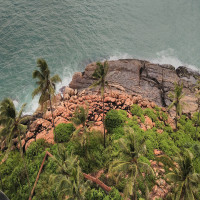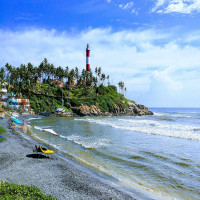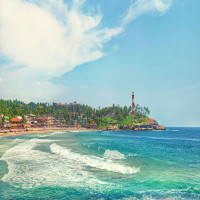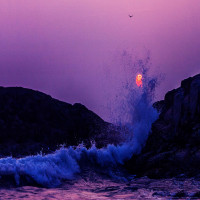 Accommodation
Meals
Transport
Destination
Overall