Hampi is probably one of the reasons for pride and honour for the nation. The group of monuments at Hampi is a UNESCO World Heritage Site which is located in the state of Karnataka. In the ancient times back in the 14th century, it was the centre of Hindu Vijayanagara Empire capital and was India's richest city at that time. It was also known to be the world's second largest medieval-era city before the Vijayanagar Empire got defeated by the Muslim Sultanates. They captured the capital and literally destroyed it to an extent that Hampi is just a centre of ruins now. The ruins of Hampi are spread over 4,100 hectares. It has remains from last Hindu kingdom in the south and still highlights the richness of the Vijayanagar Empire. There are many temples, monuments and infrastructures in Hampi which are major tourist attractions and are a must-see.
Places to visit in Hampi
Virupaksha Temple
The Virupaksha Temple is also known as the Pampapathi Temple. This place has its roots back to the 7th century and since then it has been constantly running. With this, it is one of the oldest functioning temples to run in India.
Vithala Temple
The Vithala temple is known for its overall amazing architecture. However, the Vithala Temple dates back to the 16th century and quite a great example of its enriching architecture.
The Elephant Stables
If you ever visit Hampi then you should definitely visit the Elephant Stables. This will bestow an altogether new perspective to you. And back in the day, the elephant stables served as an enclosure for these royal elephants in the Vijayanagara Empire.
Things to do in Hampi
Seeing the Ruins of Vijayanagara
If you visit Hampi then you get this amazing chance of seeing the sights of the ruins of Vijayanagara. And by visiting this place you will get to ponder on the question that how must they have made all this. And then you will also experience a somewhat sad emotion that why did such a thing happen to this place?
Also Read: An epitome of historical beauty
The Narsimha Statue
There is no doubt in the fact that the Narsimha statue is one of the most brilliant sights which you would be seeing in Hampi. What is really astonishing to know about this statue is the fact it has been carved out from a single stone. Now, that is interesting to know, isn't it?
Hampi Bazaar
Hampi Bazaar is the kind of place where you can shop for jewellery, clothes and antiques. Moreover, it was also the residential area where the nobles used to stay. This place has undoubtedly many things to offer to its visitors.
Events and festivals in & around Hampi
The Pattadakal Dance Festival is quite famous among the people of Hampi. It is organized by the Government of Karnataka in the very town of Pattadakal. The performance of the participants in this festival are quite awe-inspiring. Read more...
Celebrated on an yearly basis, this is the kind of festival which is out and out amazing. What is interesting to know about this festival is the fact that once it was a favourite pastime of the royals. However, now, it is no less than a tradition. On this day, buffaloes are raced against each other along with a farmer. Read more...
On this festival, you are much likely to witness a lot of dance and music. There are even puppet shows which are organized particularly for the entertainment of the local people and tourists. This festival is an amazing concoction of fireworks and entertainment. Read more...
Best time to visit Hampi
The best time to visit Hampi is from October to February. During these months the temperature is quite cool and pleasant making your trip an unforgettable one.
How to reach Hampi?
By Air – For travelling to Hampi by air you will have to land on Belgaum airport as that is the nearest link to Hampi which is located at a distance of around 270 km. From there, you can manage your travelling either by cab or a bus.
By Train – This place is well connected with train routes. So, reaching Hampi by train also becomes quite easy for the tourists.
By Road – This tourist destination is very well connected by road. Either you can take public transportation or drive there by yourself.
You can plan your trip and create your own route to the city with Adotrip's technically driven circuit planner. Click here

2 Days

Historic sites

Karnataka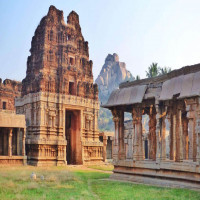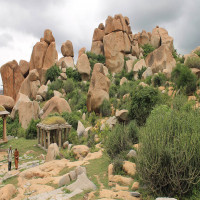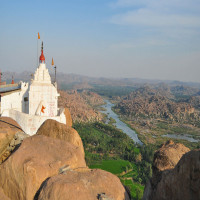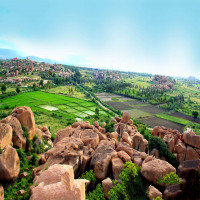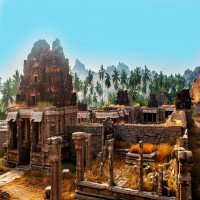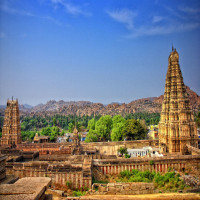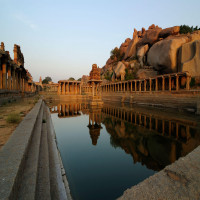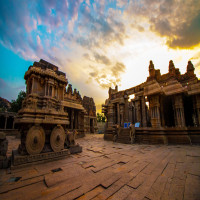 Accommodation
Destination
Meals
Transport
Overall