Pahalgam is an epitome of beauty and natural flawlessness. It is beyond imagination how serene this hill station is in the heart of Kashmir which is known as the heaven on Earth. The lush green mountains covered with snow is a treat to eyes and that is why it is the most popular tourist attraction of the north Indian state of Jammu & Kashmir. Anyone visiting the state cannot resist going to this epic boon. This place is also famous because the holiest yatra of Hindu devotees initiates from here. Mountain trails run towards the Amarnath cave which is Hindu shrine and a huge pilgrimage site. Parallel to it runs the Lidder river which is a gorgeous company to travel the place.
Places to visit in Pahalgam
Aru Valley
If you are planning to visit someplace amazing then Aru valley in Pahalgam is the kind of travel destination which must definitely be on your travel bucket list. The lush green grasslands along with the thick and dense forests which are interspersed with modest as well as playful streams of water make this place to be truly amazing.
Chandanwari
The Chandanqwar is also particularly situated with Amarnath Yatra and it is the starting point of the Amarnath Yatra which is situated near Pahalgam.
Lolab Valley
The Lolab valley is situated in the northern district of the Kupwara of the state of Jammu and Kashmir. This valley is specifically laid with immense charm and beauty of the raw nature. Now, this is the kind of place which you must be visiting with your loved ones.
Things to do in Pahalgam
Betaab Valley
The Kondana caves are specifically located in a small village which is particularly named in Kondana which is 33 km north of Lonavala. This group has got about 16 Buddhist caves. Excavated in the first century itself BC shows wooden pattern prominence.
Also Read: The only hill station of Rajasthan, also known as an 'Oasis of the Desert'
Kolahoi Glacier
Situated over the Lidder River, Kolahoi glacier is also known as a hanging glacier and is specifically known for its amazing and breathtaking views. Moreover, the only way of reaching this place is through trekking. Here one can also hire ponies along with the horses for specific stretches of the journey.
Mamaleshwara Temple
The Mamaleshwar temple is located at a distance of about a kilometre from Pahalgam. This temple has been specifically dedicated to Lord Shiva and has been constructed out of stones.
Events and festivals in & around in Pahalgam
Snow Festival
If you ever visit Pahalgam then attending the snow festival is one of the top priority options which you can consider with your loved ones. This festival was started in the year 2003 and is quite popular among the people till date owing to all the fun and happiness which it brings with itself.
Normally celebrated on the 13th and 14th of every April Baisakhi is a historical festival of Sikhism. And it is also celebrated with equal zeal in Pahalgam. Read more...
Celebrated on the 13th Jan of every year. Lohri is a festival which is all about spreading love, happiness. This festival celebrates the harvest of sugarcane crops in the month of January. On the night of this festival, people light up a bonfire, sing songs along with eating winter delicacies. Read more...
Best time to visit in Pahalgam
The timeframe between March to November is just the best time to visit Pahalgam.
How to reach Pahalgam?
By Air - Pahalgam does not have an airport. The nearest airport is situated in Srinagar which is around 47 km away.
By Road - There are regular buses to Pahalgam at regular interval of time.
By Train - Pahalgam also doesn't have any railway station. The nearest railway station is situated at a distance of 47 km away in Sri Nagar.
You can plan your trip and create your own route to the city with Adotrip's technically driven circuit planner. Click here

1 Day

Hill Station

Jammu And Kashmir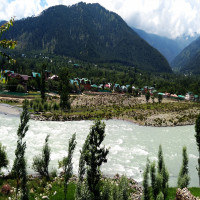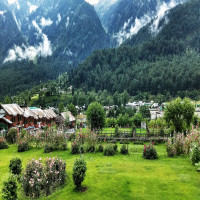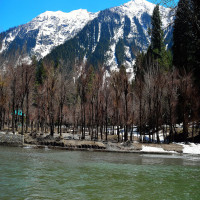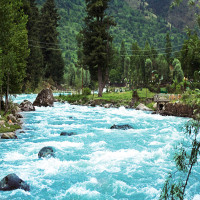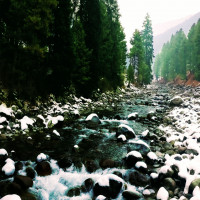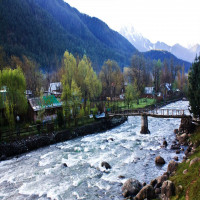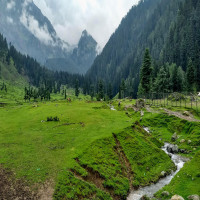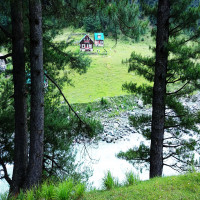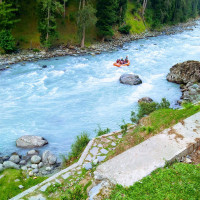 Accommodation
Destination
Meals
Transport
Overall